What makes modern hotels feel so sleek guide, Luxurious holiday accommodation advice, Tourist vacation rooms
What Makes Modern Hotels Feel So Sleek Tips
20 Jan 2021

Modern hotel rooms today are no longer about extravagant wooden furniture and elaborate upholstery. Adapting to rapid social changes, most guests now prefer rooms with neutral contemporary designs or minimalistic spaces.
While comfort is still the most important factor in choosing a room, guests also look for a modern and smart environment with sleek, tech-savvy amenities. With the evolving trends in hotel rooms, guests look for well-designed rooms with spaces for work, relaxation, and increased technology.
Below, are a few things that make modern rooms feel sleek.
What Makes Modern Hotels Feel So Sleek Guide
1. Smart Technology For Rooms
Nowadays, modern travelers expect hotels to have smart rooms – rooms that have Smart TVs, digital controls, and fast wi-fi. While an outdated technology, such as CRT Televisions, may disappoint a modern traveler, a smart room with apps or devices that help adjust the temperatures or dim the lights can immediately make you feel at home. Adding digital entertainment options, like Netflix or tabs to make reservations in restaurants or spas, is an easy way to seamlessly integrate modern technology into the hotel room.
Additionally, a trend that's getting popular for modern hotels is having a digital library with various movies and programs for guests to choose from. This is a simple and cost-effective addition that can add to your hotel's smart room features.
2. Modern Amenities
The fittings and fixtures are also one of the many ways to have a sleek, modern hotel room.
Although this can be overlooked, a bulky AC will age the room 10 years back in time. On the other hand, low, sleek a/c units can add to the contemporary and sleek feel of the room. Adding cove lights and under-bed lights, which create a soft glow, will also add to the room's relaxed feel and design style.
USB ports are one of the most essential amenities that travelers today look out for. Thus, instead of having a central charging point, it's important to have several USB ports and plug points for charging.
3. Interior Design
For your room's interiors, a natural color palette with warm tones will work well. Many hotels are using pastels to provide a feeling of luxury.
To get a contemporary look, use furniture with clean, simple lines. Just as the shapes of the furniture matter, upholstery also plays an important role in the overall feel of a room.
For a sleek look, keep away from patterns as they create untidy aesthetics. Instead, use textured materials that complement the clean minimalistic feel of the room. For a sleek feel, instead of a cluttered space with elaborate furniture and ornate designs, keep the room looking calm and simple.
4. Work Desk
Nowadays, most travelers carry various devices, like laptops and tabs, and often require a work desk with charging points. Thus, having a simple table that's well-lit is a requirement in hotel rooms today.
You can also place a coffee maker with some good coffee capsules. Just adding a good coffee maker that guests can use for their morning cup of coffee can enhance the guest's experience.
Keeping the Budget Low
Yes, revamping your hotel rooms cost a lot of money – from redoing the interiors to changing the furniture and updating equipment can be an expensive proposition.
However, you can still keep your budget low by following these tips below:
Using Refurbished Equipment: Updating the electronics in your hotel room with new equipment can be costly. Hence, opt for gently used and refurbished equipment. Doing so can save you money and you can still update the electronics in your room.
Painting Walls in Neutral Tones: If you don't have the budget for an entire upgrade, just changing the wall paint of the room can make it look contemporary and sleek. Change your contrasting accent walls and dated wallpapers to neutral, natural colors or pale pastels.
Rearrange the Room Layout: An easy and inexpensive way to make your hotel room look different is to change its layout. Today, guests prefer decluttered spaces with functional areas. You can rearrange spaces for relaxation and work. Also, remove any furniture pieces that are not functional but add to the clutter, such as TV cabinets.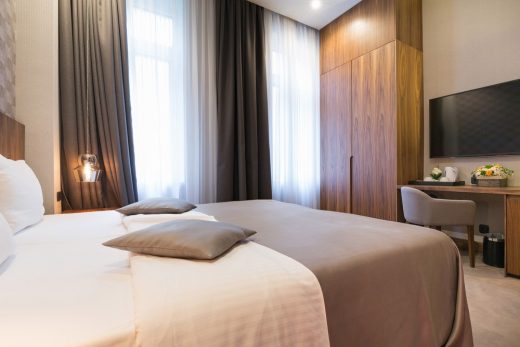 Conclusion
Travelers today will look for a home away from home – a personalized space for relaxation. With technology becoming integral to our lives, the need for smart rooms is an obvious trend that's here to stay. While revamping the interiors and rearranging furniture can make the room look modern, what makes it sleeker is to update the electronic devices and creating tech-friendly smart rooms.
Comments on this guide to What Makes Modern Hotels Feel So Sleek article are welcome.
Hotels
Hotel Architecture
Accommodation Buildings
Recent Accommodation Architectural Designs
NoMad London, 4 Bow Street, Covent Garden, London, England, UK
Design: Roman and Williams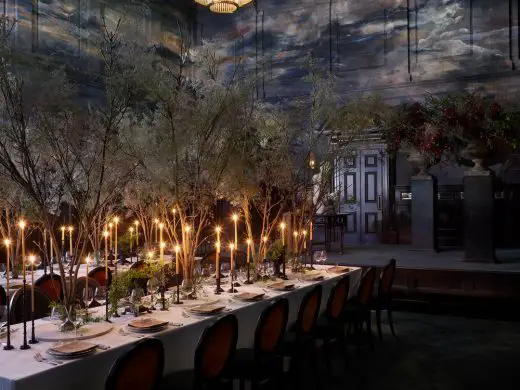 photograph : Simon Upton
NoMad London Hotel Covent Garden
B&B hotel in Getafe, Madrid metropolitan area, Spain
Architect: CuldeSacTM Custom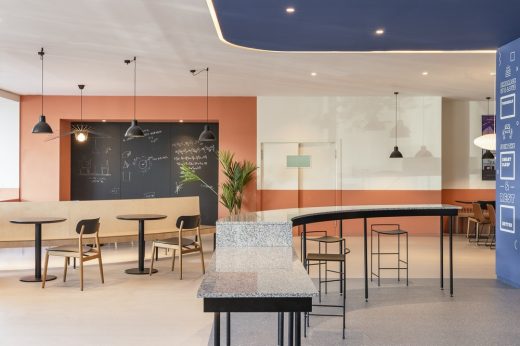 photo : David Zarzoso
Getafe Hotel Building
Comments / photos for the What Makes Modern Hotels Feel So Sleek Advice page welcome