Types of bed sheets materials and sizes guide, Property bedroom tips, Online home advice
Types of Bed Sheets – Materials and Sizes
15 Jun 2021
A good bed sheet can actually transform the complete look and feel of your bedroom. However, apart from picking the right kind of color and design, it is very important to know all other aspects of a sheet that may impact its quality as well as your sleep quality and your overall health.
If you are looking forward to getting a new bedsheet for your bedroom, try to know the different types of bed sheets that are available in the market to pick from. Below mentioned are all the different kinds of bed sheets, based on their size, material, thread count, ply count, as well as usage, along with their properties for you to make the best possible choice.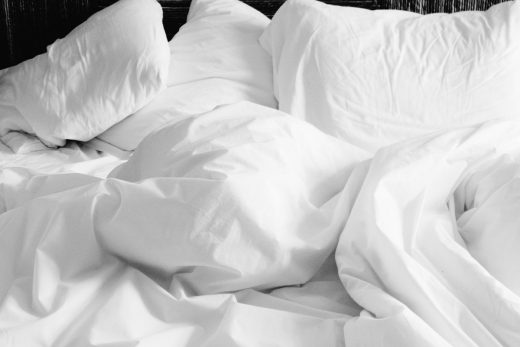 Types of Bed Sheets Help Guide
Different Categories of Bed Sheets:
Fitted Bed Sheets
Flat Bed Sheets
Fitted Bed Sheets
A fitted sheet is placed directly over the mattress, with pockets on all 4 corners. All 4 pockets of the sheet have elastic that allows the sheet to tighten perfectly over the mattress. These sheets are quite stable once placed over the mattress and do not move or slip off easily. It is very important to have the right size of Tencel Fitted Sheets to prevent discomfort while sleeping.
Flat Bed Sheets
Flat sheets are the ones under which people lay down. The main purpose of a flat sheet is to protect your blankets from body sweat over the night. Flat sheets are available with or without pockets as well. If you have a problem making your bed or rollover during the night, you should prefer getting a flat sheet with pockets to prevent slipping at night.
Types of Bed Sheets based on their Sizes:
Twin Bed Sheet
Double Bed Sheet
Queen Bed Sheet
King Bed Sheet
California King Bed Sheet
Split King Bed Sheet
Twin Bed Sheet
Twin size is mostly used for the beds in children's bedrooms. However, if you have a slightly larger twin bed or wish your child to easily make his/her bed and have ample cover all throughout the night, we would recommend you to go in for a Twin XL sheet size.
Double Bed Sheet
Also termed as "full" sized sheets, these sheets are perfect for those beds which are larger than twin-sized beds but smaller than queen-sized beds. These sheets provide a good enough spread for two people to sleep under it comfortably.
Queen Bed Sheet
A queen-sized sheet is made to fit perfectly over a queen-sized bed. However, it is very important to check the exact size of your bed before you buy a queen-sized sheet as sizes may vary a little from manufacturer to manufacturer. A queen-sized sheet can also be picked for a double-sized bed if you prefer a loose-fitting sheet.
King Bed Sheet
A king-sized sheet should only be preferred for king-sized beds. This sheet size is actually very large to be managed easily. Therefore, you should consider getting a king-sized sheet only if you have a standard king-sized bed.
California King Bed Sheet
A California king bed is slightly narrower than a king-sized bed, however, is equal in length. California-king-sized beds are actually rare finds, therefore, finding a sheet that may fit your bed is going to be very difficult. Also, California king-sized sheets are also much expensive than other standard sheets.
Split King Bed Sheet
Spit king is actually sized the same as a king-sized bed. However, the only difference is that it uses two equal-sized mattresses. Therefore, you would need two equal-sized single-fitted sheets but a single flat sheet under which two people can sleep comfortably.
Types of Bedsheets based on Material:
Cotton
Linen
Lyocell
Flannel
Silk
Polyester
Fleece
Microfiber
Acrylic
Bamboo
Chenille
Cotton
Cotton sheets are one of the most commonly used as well as available sheets. Cotton sheets are not only comfortable but also are good to use during all seasons. They also can be washed in a machine whenever required and do not stain easily.
Pros: Breathable, Durable, Cooling effect
Cons: Difficult to find a good quality cotton sheet, easily scratchable, might look cheap
Linen
Linen is an eco-friendly material that is extracted from the flax plant. They soften with use and provide the users with good ventilation and also can be beneficial for the skin.
Pros: Hypoallergic, breathable, long-lasting
Cons: Wrinkles easily, expensive, may soften only after multiple washes
Lyocell
Lyocell is highly eco-friendly and is made with cellulose extracted from eucalyptus trees. Also, any waste that is produced during the manufacture of lyocell sheets can be used for manufacturing other products. However, these sheets might not be as breathable as cotton sheets.
Pros: Hypoallergic, antimicrobial, smooth, and soft
Cons: expensive, not really breathable
Flannel
Flannel is a sheet material to be used for winter nights. Flannel sheets are actually made by piling up a thick layer of cotton by fluffing it. These sheets retain your body heat and keep you warm during cold nights. The expense of a flannel sheet increases with its weight.
Pros: Breathable, super warm, easy to clean, have attractive designs
Cons: May pile up with time, may shrink after wash, may bleed color
Silk
Silk sheets are by far one of the most luxurious-looking sheets in the market. They have a cooling feature and provide you with a comfortable night's sleep.
Pros: Hypoallergic, luxurious looking
Cons: Expensive, slippery, need more dedicated care
Polyester
Polyester sheets are usually made by blending polyester with other materials like cotton or wool. However, a person having any kind of allergic reaction or have sensitive skin should prevent the use of polyester sheets.
Pros: Cost-effective, lightweight, easy to wash
Cons: Stiff, scratchy, not quite breathable
Fleece
Fleece sheets are made of synthetic fibers. Fleece sheets seem to be highly attractive and are highly insulating. Therefore, they are recommended to be used only in warmer regions. A specially formulated "Polar Fleece" can be used for colder climates.
Pros: Soft & breathable, moisture resistant, budget-friendly
Cons: Requires extensive cleaning, may shrink with wash
Microfiber
Microfiber sheets are made with finely woven polyester. These sheets are much more breathable and softer than normal polyester sheets. However, they are not really recommended for warmer rooms.
Pros: Easy to clean, a wide range of colors and designs, budget-friendly, long-lasting
Cons: Highly flammable, cheap-looking material, manufacturing process harmful for the environment
Acrylic
Acrylic sheets are made with synthetic material and are not that comfortable to sleep in. However, they are available in a number of bright colors and may lighten up your interiors. Pilling may also occur with multiple washes of the sheets.
Pros: highly durable, may transform your interiors
Cons: rough and stiff, not good for sensitive skin
Bamboo
Bamboo sheets are actually made of rayon, which is extracted from bamboo. The sheets made with this amazing material provide you with the benefits of a cotton sheet, paired with the look and feel of a silk sheet, without an expensive price tag.
Pros: Soft and silky, budget-friendly, breathable
Cons: the manufacturing process is highly harmful to the environment
Chenille
Chenille bedsheets have a smooth piled-up, velvet-like texture and feel. This texture is achieved by wrapping a layer of fabric over the core material. Chenille sheets can be made of a number of fabric materials like cotton, silk, rayon, as well as polyester.
Pros: rich looking, soft, durable, heat resistant
Cons: may shrink with the wash, difficult to handle, stretches easily
Bed Sheets types based on Thread Count:
Up to 300 Thread Count Bed Sheet
300-650 Thread Count Bed Sheet
1000 and Above Thread Count Bed Sheet
Higher thread counts always hint towards a better-quality sheet. However, the quality of the sheet may also be dependent on the quality of the thread being used. For e.g., a cotton sheet would always be softer and smoother than a linen sheet, regardless of the thread count. Below mentioned are the sheets based on their thread count for you to pick wisely.
Up to 300 Thread Count Bed Sheet
Any sheet that has a thread count of below 300 would be really rough and stiff to sleep on. Therefore, buying a sheet that has a thread count of below 300 would be not worth your money.
300-650 Thread Count Bed Sheet
A thread count of 300-650 is considered to be the most comfortable, of good quality, as well as worth the price. However, before you buy any sheet based on the thread count, it is very important to check the Genuity of the manufacturer. Some of the sellers simply exaggerate their thread count to increase their sales.
1000 and above Thread Count Bed Sheet
If you are willing to spend a little extra to achieve the highest quality comfort and softness, a sheet with 1000 thread counts would be perfect for you. The maximum thread count that you must consider is 1200. Beyond 1200, the sheet would start becoming heavier for regular use and not worth buying.
Types of Bedsheets based on their features:
Flat Sheet with Pocket
Sensory Compression
Sheet Set
Flat Sheet with Pocket
These sheets are perfect for those two rolls over or turn sides a lot throughout the night. A regular flat sheet may get tangled up and pulled off in this process, which will force you to make your bed every morning. Flat sheets with pockets come with an extra length of fabric that can be tucked below your mattress, just like a fitted bed sheet, to prevent the sheet from getting pulled off each day.
Sensory Compression
Perfect for those who have sensory or nervous issues. These types of sheets provide you with the feeling of a heavy blanket, without having to deal with its heating quality during the summers. These sheets are tucked to either side of the bed and have a stretchy quality, applying pressure on the person underneath to calm their nervous system and provide them with a calm sleeping experience.
Sheet Set
When you wish your complete bedding to look highly coordinated, you simply need to search for a good quality sheet set. It avoids you from taking up the hassle of finding matching pillow covers, with your flat sheet and fitted sheet. A sheet set usually comprises a fitted sheet, a flat sheet, and 2 pillowcases, matching each other for the perfect bedding.
Types of Bed Sheets based on Pocket Depth:
Standard
2. Deep Pockets
Standard
This is the most commonly used as well as most commonly available pocket depth in the market. Standard pocket bed sheets are perfect for all standard-size mattresses. They fit in perfectly over your mattress and provide your sheet the required amount of stability during the night. However, if you are picking a sheet for your child or you tend to toss and turn a lot, a deep pocket sheet would probably be better for you.
Deep Pockets
If you wish to have a sheet that is easy to put on your bed or if you have thicker mattresses, it is best for you to go ahead with a deep-pocket bed sheet. These types of sheets also are more stable and do not pull off easily even if a good amount of pressure is applied. They are a bit expensive than the standard pocket depth sheets.
Types of Bed Sheets based on weave types:
Percale
Sateen
Twill
Dobby Weave
Patterned weave
Percale
This is one of the most common types of weaves that bedsheets have. These have a weave of one yarn over with one yarn under, forming a matte-type pattern. Bed sheets with percale weave are prone to wrinkling, however, are highly breathable and perfect for warmer climates. Cotton sheets are usually made with this weave pattern.
Sateen
Sateen sheets have a weave structure of one under and three over. These sheets are highly smooth and elegant looking. They are not as durable as percale sheets, however, are perfect to be used for colder seasons.
Twill
A twill weave consists of one over and two understructure. This weave is specially used to create a diagonal pattern in the bedsheets. These sheets are also wrinkle-resistant due to their thick nature. Twill sheets easily shrink, however, are much cheaper than other weave options.
Dobby Weave
A dobby weave leaves small geometrical or striped patterns throughout the sheet. This type of weave usually leaves a texture to the bedsheet, due to its small geometric elements.
Patterned Weave
When a weave is added to the sheet to create a pattern, instead of printing, it is known as a patterned weave bed sheet. Some of the most common patterns that are added to the sheets through weave are damask and brocade, which leave a luxurious feel to the sheet.
Types of Bed Sheets based on number of Plies:
Single Ply
Two-Ply
Multi-Ply
Single Ply
When a thread that uses only a single fiber is used to weave a bedsheet, it is considered to be a single-ply bed sheet. Single Ply bed sheets are considered to be the most high-quality due to the purity of the thread being used. However, you can still explore other options available.
Two-Ply
When a thread with two layers of fiber is used to weave a bed sheet, it is termed a two-ply bed sheet. Two-ply bed sheets tend to be rougher and also have a shorter life span.
Multi-Ply
When a sheet is made with a threat that has more than two fibers wrapped around it, it is known as a multi-ply weave. Multi-ply weaves have more chances of having a cheaper material being used for the weave.
Tips to buy the best sheets for your Bedrooms:
Select the fabric carefully:
Some bed sheet fabrics tend to create a warmer environment while sleeping, whereas; others tend to create a cooler and more breathable environment. Moreover, some people are even allergic to some kind of natural or even synthetic fibers. Therefore, it is very important for you to check out all the qualities and features of a fabric before you finalize your bedsheet.
Pay attention to the thread count:
A thread count refers to the number of threads that are being used in one square inch of bed sheet. As already explained above, the quality of a bedsheet may be highly dependent on the thread count. Good quality and affordable sheets should have a thread count of between 300-650. It is recommended not to go for a sheet with a thread count of below 300 as they tend to be highly rough and uncomfortable. The maximum thread count that you can go for an enhanced quality of the sheet, without compromising with the weight and thickness of a sheet is 1200.
Double-check the sheet size:
Achieving the desired look and easily managing a bed sheet may become really difficult if you buy even a slightly smaller or bigger sheet. Even standard mattresses may vary a little in size from brand to brand. Therefore, do not forget to get hold of the exact size of your mattresses before you consider buying a bedsheet.
Look for an elegant color and design:
Once you are confident enough about your choice of fabric and size, another important aspect that you need to focus on is the color and design of the bedsheet. If you have subtle flat walls in your room, you can go all bold with your bed sheet colors and patterns. However, if you have wallpapers or textured walls in your room, we would recommend you to go ahead with flat subtle bed sheets.
Always look for washing instructions and return policy:
If you wish to be able to throw your bedsheets in your washing machine whenever they seem a bit dirty or catch the smallest possible stain, it is very important to look for bedsheet fabrics that are machine washable and easily throw away the stain. Also, if you are going in for an expensive and branded bed sheet do not forget to go through its return policy for a smooth transition, if required.
People often pay great attention while buying their mattresses, however; randomly pick a good-looking color and design when it comes to buying a couple of sheets to cover them. We hope that the above-mentioned information will help you know the importance of picking a good quality and befitting bedsheet for every individual and season. All the above-mentioned types of bedsheets, based on different categories will also allow you to pick a sheet that perfectly suits your requirements and preferences.
Comments on this guide to Types of bed sheets, materials and sizes article are welcome.
Beds and Bedrooms
Bedrooms Posts
Ways to make your bedroom look like a million bucks
What was original purpose of headboards
How improving your sleep can improve your wellbeing
Building
Architecture Articles
Comments / photos for the Types of bed sheets, materials and sizes advice article page welcome