Kind of Insurance for Architect Guide, Professional Indemnity Tips, Architecture Business Help
What Kind of Insurance Does an Architect Need?
3 Dec 2020
Architects can be faced with many types of risks in their job. Designing a building carries a fair share of responsibility, as construction projects are costly and even a small mistake can cause a major issue. If you're self-employed or own a business, getting proper insurance coverage is your responsibility. Here's a guide on the types of insurance you might need, and what it's likely to cost you.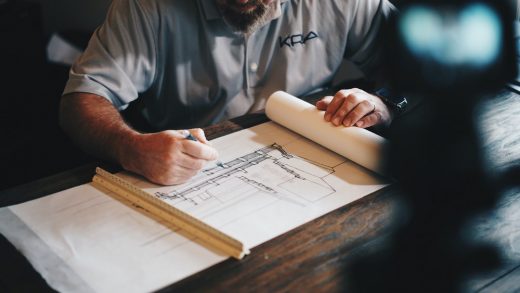 photo by Daniel McCullough, courtesy of Unsplash
What Kind of Insurance Do Architects Require
Managing the risks of giving advice
Professional indemnity insurance is one of the most important types of business insurance for professions that are paid for providing a service or giving advice, such as architects. You can be held liable for mistakes such as an error in your drawings, failing to anticipate a potential issue, going over the project budget, or giving poor advice.
If a client claims they've incurred a loss due to your design, PI insurance covers your legal defence costs, which can add up to a significant amount. If you're found liable in court, PI also covers the compensation payments to your client.
The need for PI insurance is highlighted by professional bodies, as well. The Architecture Registration Board recommends that architects have a minimum PI coverage limit of £250,000 for every claim. Insurance coverage can also be a factor that clients consider when choosing an architect. Major corporations or public sector organisations are especially likely to only take on architects with proper coverage for their building projects.
Accidents involving the public
Another popular type for many professions is Public Liability. It's meant to cover the costs of an accident occurring with someone else's property, or members of the public.
If your job involves in-person contact with other people, e.g. clients, there's a good chance you could benefit from Public Liability insurance. It helps to manage the financial risks of property damage, for example, a flood in your office bathroom causing water damage to another office below you. Public Liability insurance also protects you if a member of the public injures themselves on your business premises. For example, if a client trips and falls in your office, you could be found liable. Even if a case brought against you is not justified, PL insurance can cover the legal costs of making your case in court.
The cost of Public Liability insurance and Professional Indemnity insurance for an architect starts from around £900 a year. Depending on factors like your turnover, contract size and types of work you do, you might have to pay more, or less. Be prepared that prices can easily rise to well over £1,000 a year, depending on your circumstances.
Protecting your equipment and vehicle
Specialist equipment can be costly, and it can be hard to imagine doing your job without the necessary tools. Whether you need a computer, 3D scanner or something else for your job as an architect, chances are it has not been a cheap buy. Business Equipment Cover is what protects your tools in case an accident should happen. For example, if a fire breaks out in your workplace, you fall victim to a burglary, or if you simply drop a piece of equipment and break it. The exact perils covered will depend on the terms of your insurance policy.
If you use a car for carrying out your job, e.g. meeting clients, vehicle coverage is another type to consider. Commercial Vehicle Insurance applies to company-owned cars, whereas a personal car would need business use to be declared on the regular policy.
Work injuries and accidents
As with any kind of job, injuries and accidents happen, no matter how steady we are on our feet. If you are visiting construction sites or other higher-risk premises as part of your job, Personal Accident insurance is especially worth considering. A serious injury could render you unable to work for a long period of time, causing a considerable loss in wages. The Personal Accident product can cover your living expenses if a workplace injury prevents you from working.
It's important to bear in mind that Personal Accident insurance is considered a "benefit", meaning that the premium is not a tax-deductible business expense. The cover is usually paid out weekly for a temporary injury, and as a lump sum for a permanent disability.
Comments on this guide to managing the risks for architects practices article are welcome.
Insurance
Insurance and Tax
Common Types of Accidents on Construction Sites in UK
How to get free tax advice in 2022?
Building Articles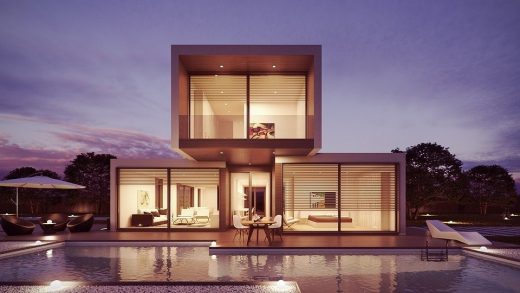 image courtesy of article provider
63 Madison Avenue
Architects: WilkinsonEyre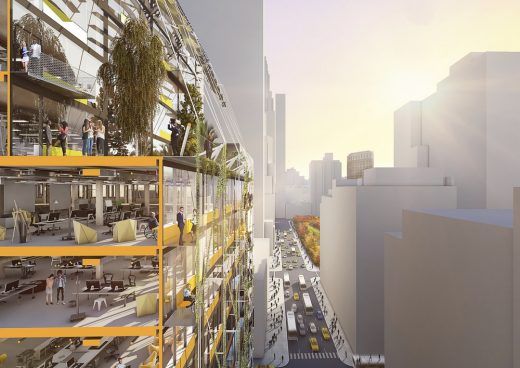 photo courtesy of architects
Comments / photos for the What Kind of Insurance Does an Architect Need Advice page welcome