Trusted Coworking Skills Advice, Office Community Tips, Brag Neuberg, Property Guide
WeWork Helped Popularize Coworking, Then Spun Out Of Control
1 Feb 2020
WeWork Helped Popularize Coworking, Then Spun Out Of Control
Although its beginnings can be traced back to the 1990s when hackerspaces started to emerge, the coworking concept really began to take root in 2005 when programmer Brag Neuberg opened the first official coworking space.
To say coworking spaces have "caught on" since then is an understatement – in fact, the number of coworking spaces is expected to grow at an annual rate of 6% in the US and 13% elsewhere until 2022. Coworking is the new normal when it comes to renting workspace.
WeWork Coworking
Today, you'll find coworking spaces in every major city across the globe. Even traditional commercial offices and hotels are starting to integrate it into their building design.
What exactly is a coworking space?
A typical coworking space layout: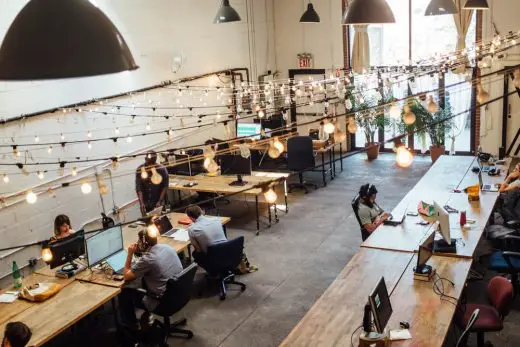 photo : Shridhar Gupta on Unsplash
A coworking building is designed to accommodate people working independently as freelancers or in a small startup or project team.
In terms of layout, these spaces are set up to facilitate interaction and collaboration which is why they tend to be open plan.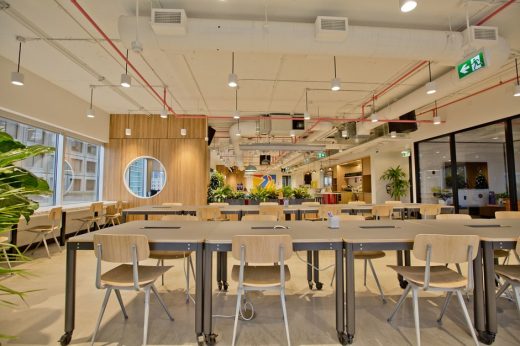 photo : GoToVan https://www.flickr.com/photos/gotovan/44420378630
Common features include:
Long bench desks
Private phone booths or work pods
Meeting rooms and event space
Reception
Kitchen area
Breakout space
Bike storage
Business amenities, i.e. WiFi
How does WeWork fit into the coworking narrative?
The story began when co-founders Adam Neumann and Miguel McKelvey noticed the building they were working in together had surplus space and came up with the idea of using it as a coworking space for entrepreneurial types.
They successfully negotiated with their landlord and opened Green Desk in 2008, the earliest iteration of what a couple of years later would become WeWork.
WeWork opened its first workspace in New York City's SoHo district in 2010. With the We Company as its parent company and help from investors, the business currently operates over 800 coworking spaces globally. It's one of the largest coworking brands out there.
WeWork really helped to popularize the coworking concept. They tapped into the zeitgeist of entrepreneurship at exactly the right time, designing workspaces and building a brand that centred around the notion of "community" in the 21st century.
Like other operators, WeWork offers tiered membership plans to suit a range of budgets and business needs. These include hotdesk, dedicated desk and private office memberships.
How did it spiral out of control?
Things started to go downhill for WeWork when its co-founder and CEO at the time, Adam Neumann, filed for an IPO in August 2019 and subsequently experienced mounting losses and issues around corporate governance.
Critics argue that WeWork was grossly overvalued at $47 billion, and if it was positioned as a real estate company, it would not have been valued so highly.
Then, in September 2019, Wall Street Journal announced that Neumann would be stepping down as CEO. The IPO has been shelved, thousands of employees have been laid off and new co-CEOs have come on board.
Does this spell the end for coworking?
Absolutely not. No matter what happens to WeWork as a company, the coworking concept will continue to be a valuable asset to businesses around the world. New niche and indie operators are popping up all the time and large ones continue to expand in new markets.
Businesses love the flexibility associated with flexible solutions like coworking. Instead of being tied into a lengthy office lease, coworking enables them to leave, scale up or downsize at short notice. And because amenities are included in the price, it's also very convenient.
Other large coworking brands to look out for include:
Knotel
Impact Hub
Your Alley
District Cowork
Serendipity Labs
Spaces
The future looks bright for coworking. Billions of dollars have been invested into the industry, the demand for flexible workspace from corporate clients is increasing and experts predict 30 percent of the office market will be flexible by 2030. Watch this space!
Comments on this guide to how WeWork Helped Popularize Coworking article are welcome.
WeWork Designs
WeWork Articles
WORKTECH 18 New York, Soho, New York City, NY, USA
WORKTECH18 New York is the forum for all those involved in the future of work and the workplace as well as real estate, technology and innovation. The event attracts some of the biggest and brightest names to debate, discuss, and divulge the latest thinking:
Expo at WeWork, Soho
WeGrow school
Architects: BIG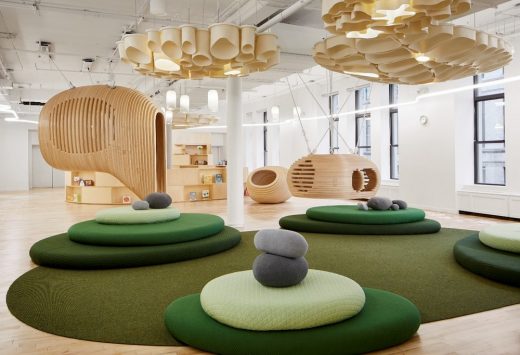 photo © Dave Burk
WeGrow school Building
BIG and WeWork's collaboration and belief in creativity manifests through the first WeGrow school in New York City.
Building Articles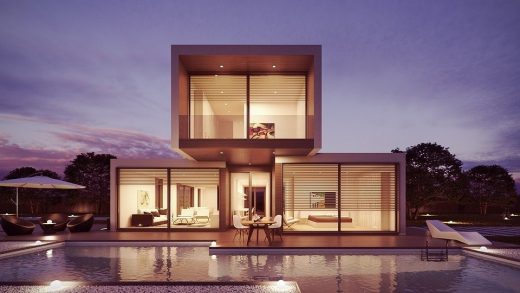 image courtesy of article provider
Comments / photos for the WeWork Helped Popularize Coworking page welcome