Brilliant ways to make your kitchen look more luxurious, Home cooking space tips, Luxury property
Ways to Make Your Kitchen Look More Luxurious
29 Apr 2021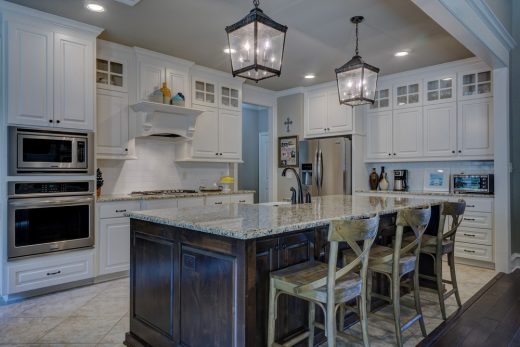 Everyone wants a kitchen that looks like it is straight out of a home magazine. You may often watch the home network with longing and wish you could have a kitchen like the one advertised. The good news is, you can.
Making a luxurious kitchen does not have to be as difficult or as expensive as you may think. Oftentimes, the kitchen will only need a few additions or changes to get that luxurious feel.
Of course, remodeling the kitchen can also create luxury vibes, but a complete remodel is no longer necessary to create your dream luxury kitchen. Follow these tips below to see how you can make your kitchen look more luxurious in simple and effective ways.
Add new hardware
Cabinets do not always need to be fully replaced. Sometimes a good hardware change will do the trick. Door handles and pulls can add an accent color to your kitchen which can be further highlighted with some matching décor.
Choosing hardware that matches your lighting can also incorporate these two features together and make your kitchen look like it was designed by a professional.
This project is also great because it can be DIY and provide a new look on a small budget.
Add new lights
Speaking of matching your hardware to your light fixtures, getting some new fixtures can drastically change the way your kitchen looks.
Try adding in a chandelier or chrome fixture to make your kitchen look modern and trendy. Lights that can dim also make your kitchen look chicer. You can have them bright during an event or party, but low lit when you're having a quiet night in.
Under-cabinet lights can also make your kitchen appear more luxurious. Lighting under the cabinets is also great for cooking and reading, as it makes your materials more visible and easier to use.
Add in a nook or bar
Giving your kitchen an extra space for a nook or bar can make your kitchen highly personalized and more comfortable.
A breakfast nook can include cushioned seating making it a perfect spot to eat, read, or even work on the computer. It is also a perfect and quiet space for children to work on homework or do another activity.
If you don't think you would use a reading or eating nook, a bar is a great addition to the extra space in your kitchen. Wine coolers, nice, stemmed glasses, and pretty bar books will rival the fancy bar in your neighborhood. People will want to go to your house to drink and hang out, rather than to the closest bar.
Coffee bars are also a great option and can be made to look fancy as well. Get some matching mugs that look chic and go with the theme of your kitchen. Buy a great coffee maker or espresso machine and some coffee accessories to make this at home coffee station.
Add in a backsplash
If you have an outdated or old backsplash, adding in a new one can completely change the way your kitchen looks. It makes a huge statement and will be one of the first things that are noticed when someone enters your kitchen.
It can also match the color scheme of your countertops or cabinets to give the overall kitchen a complete and modern look. Backsplashes can be cheap by just adding in a high-quality adhesive product rather than using mortar or other materials.
Add in quartz countertops
The glossy and smooth texture of quartz makes it a highly coveted addition to any luxurious kitchen. Quartz is also highly durable and resistant to virtually every element such as heat, scratches, and dents. Quartz is meant to be used and cooked on.
Quartz is also highly affordable but can be made to look like more expensive materials, such as marble. It can be made in virtually any color or design, making it highly versatile. So, even when you change or remodel other parts of the kitchen, the quartz will still match all your new designs.
See more here about how Caesarstone can create amazing quartz countertops for you. They are the best in the business and make highly affordable and beautiful counters.
New cabinets or painted cabinets
Of course, new cabinets can always change the way your kitchen looks and feels. However, completely replacing all the cabinets can be expensive and time-consuming.
If you aren't interested in completely revamping the cabinets, try painting them. Good paint can also cover up any stains or aging that your current cabinets have. This can be a great and fun DIY project for you and your family. Make sure to use a primer or sealer.
If you have any questions, ask someone at the local hardware store for the best paint for cabinets and the best primer to ensure that the paint does not peel. You can always hire a pro as well if you do not want to paint the cabinets yourself.
Add glass panels to the cabinets
This is another great way to change the cabinets without completely pulling out the old ones and putting in new ones. Glass panels on cabinets can be great for displaying beautiful dishes and matching cutlery as well.
Sections of your current cabinets can be cut out and the glass can be added in and sealed. A professional should be able to do this in a relatively short amount of time. Some people opt to do this by themselves too.
Add chic décor
Decorations can really go a long way when changing the vibe of a kitchen. Luxurious kitchens usually use décor that is simple and minimalistic. Try to get accents and frames that match well together.
These can be the same color or within a similar color palette. A beautiful bowl of fruit or a jar of glass marble can also add a trendy look to your counter and table space.
This décor also lasts much longer than flowers or other plants, but still makes the environment feel friendly and alive.
Comments on this Brilliant Ways to Make Your Kitchen Look More Luxurious article are welcome.
Kitchens
Kitchen Design Style Posts
Extend Kitchen Cabinets to the Ceiling
Choosing The Right Shelves For Your Kitchen
Building
Residential Architecture Articles
Comments / photos for the 8 Brilliant Ways to Make Your Kitchen Look More Luxurious page welcome