Time for a new kitchen faucet guide, Home taps, Property interior decor advice
Time For A New Kitchen Faucet? Here's What To Look For!
12 August 2022
The kitchen faucet is a very important part of the sink. It determines how fast you can wash your hands off or rinse your plates, and many more. If you go to the market, you'll come across plenty of different types of kitchen faucets. But it's wise to be careful while choosing one because if you don't do proper research and make a wrong choice, you'll be stuck with it for years.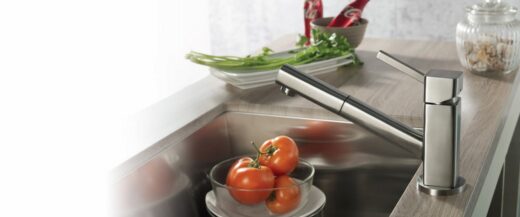 Make your Kitchen Standout with Modern Kitchen Faucets!
When you are renovating or remodeling your kitchen, the sink and faucet should be bought together. The reason for this is that most sinks have three holes for mounting a faucet. Two of these holes will host the handles, while the third will be occupied by the spout. The fourth hole may or may not be used; if it is, it will be filled with a side spray or soap dispenser.
To help you make an informed decision on which kitchen faucet is right for your kitchen, we've put together a list of the top five models that are currently available.
Types of Kitchen Faucet Trending these Days
Following are the types of kitchen faucets that you must know about:
Single Hand Faucet
Single-handle faucets are among the most common kitchen faucets found in homes. A single-handle faucet has only one lever, which you can turn from left to right to control the water temperature. When you turn the lever all the way on either side, you get cold and hot water; leave it in the middle for water at room temperature.
While purchasing a single-handle faucet, the distance between the mounting hole and the backsplash should be considered, as you don't want the lever to hit anything in the background every time you use it. Since this type of kitchen faucet only requires one mounting hole, you can add soap dispensers or/and spray nozzles on your sink to utilize any extra ones.
Two Handle Kitchen Faucet
A two-handled kitchen faucet is one of the most common types of faucets. With two separate levers, you can switch between hot and cold water. Most are attached to a central piece, but some models have the handles placed a few inches apart from each other.
Most faucets require one or three mounting holes in the sink and separate connections to hot and cold water. They also have a center handle that allows you to choose between warm and cold water.
Pull Out Kitchen Faucet
You've probably seen these faucets in use in restaurants and modern kitchens. They can be pulled out straight or have a flexible hose that can be pulled in any direction, making them a great addition to any kitchen.
This kitchen faucet is a faucet that is installed in your kitchen. It's designed to make it easy for you to fill pots and pans with water, especially if you have big sinks. This type of faucet makes cleaning the basin easier since you won't need to put your hands in the sink.
Pull Down Kitchen Faucet
A pull-down kitchen faucet differs from the more popular pull-out one as it extends straight down instead of extending outside. This is because many people prefer to have their faucets easily accessible while cooking.
A goose-neck spout on this type of faucet lets you direct the water stream toward the spot you want to clean. Some pull-out faucets come with an extendable hose that can maneuver around to clean dishes and pots in the sink, keeping your sink spotless.
The spray pull-down kitchen faucet is a great addition to any kitchen. Its special design helps keep your hands dry while you are cooking and washing dishes without putting you in the awkward position of reaching down into the water to adjust the temperature or flow.
Factors to Consider While Getting Luxury Faucet
Following are the things you should look for:
To choose a faucet for your kitchen, consider the appearance, maneuverability, and extra features of each type of faucet. A goose-neck faucet is usually best for everyday use. Avoid choosing too fancy a faucet for everyday use.
When choosing a kitchen faucet, people often first consider appearance. The style of your kitchen will help you decide on a faucet that matches not only the look of your kitchen but also the rest of its fixtures.
Appearance and function are equally important when it comes to kitchen faucets, so consider whether you'll need a sprayer that reaches all the way to the edges of your sink or if you'd prefer an elegant spout.
The sprayer's features should include the spray types you need and touch, motion, or voice controls. The flow rate (measured in gallons per minute) is a good indicator of how quickly containers will fill, how much water pressure will be produced, and how much water will be wasted.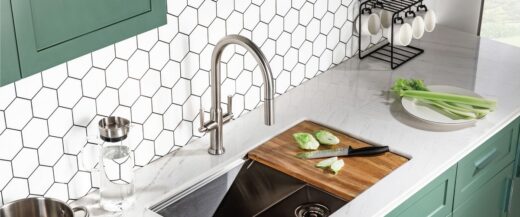 It depends on whether you'll be doing the installation yourself or hiring a plumber. Fortunately, most faucets are very easy to install, so you shouldn't have any problems doing it yourself. However, if you choose a more complicated one to install or have any other reason not to do it yourself (or just don't want to), you'll want to factor in the cost and inconvenience of having a plumber or other professional come to do it for you.
You will probably already have a professional kitchen designer or renovator involved if you're having your kitchen renovated or custom built.
A well-chosen kitchen faucetcan be a joy to use and will stand the test of time. If you are planning to replace your faucet in the near future, we hope that our guide has given you some useful information about the different features available.
Comments on this guide to Time for a new kitchen faucet article are welcome.
Kitchens
Kitchen Design Style Posts
9 expert tips to nail your UK kitchen extension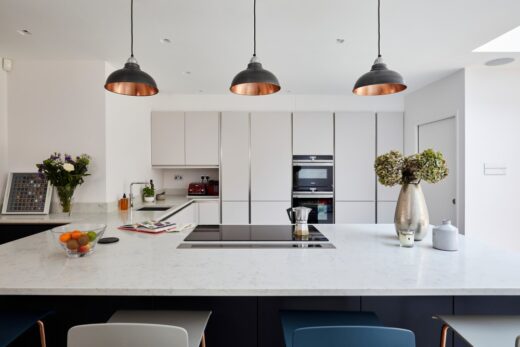 Design A Sleek Contemporary Kitchen
Kitchen design ideas that are eco-friendly
Top ways to bring color into an all-white kitchen
Buildings
Residential Architecture Articles
Comments / photos for the Time for a new kitchen faucet advice – page welcome