Guide to Vintage metal signs are ideal in home decor, Building Signage Advice, Online Help
Why Vintage Metal Signs are Ideal in Home Decor
30 Dec 2020
Let's admit it or not; vintage signs are great decorations for your home despite the modern times. It adds a lovely character and style to any room — bedroom, kitchen, living room. Vintage decorative signs have never been out on the trend. Despite the fact that experts have different assessments of what retro and vintage implies, designers can offer great thoughts on how to incorporate the old signs in your interior design.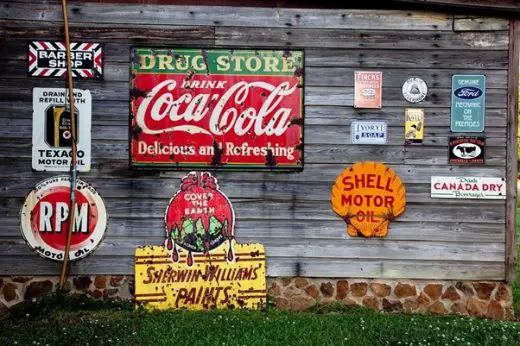 Image Credit: Pixabay
Here's a Reason Why Vintage Metal Signs is an Ideal in Home Decor
Have you found attractive the old-time beauty of a worn-out road sign? Have you wondered where to find these things? Well, you often found it in the flea market or in some tremendous second-hand store close to your place.
In case you're considering putting something unusual and fun in your home's interior, the sign is an ideal decision. It permits you to add style, personality, and originality to your home. If you also consider custom signs, you can have them in any signage company near you.
Vintage Sign is a Home Accessories with History
The word 'vintage' has connected to the creation of wine, a French term that means "aged wine" and utilized as an imprint to a specific crop or year. Later on, the term vintage was used as an everyday language and was applied to describe when does an object was made. Thus, the term is determined as a date for something.
If you are thinking about how vintage signs have become popular as home decoration? Well, everyone has their own reasons to be in love with the vintage items, but the nostalgic feeling that radiates and the appeal of old times charm us. And, of course, it's a case-to-case basis for everybody. A particular company or a brand may influence you to have it. It may look fashionable to you, which may be the most trend in the market and in-home decor. Regardless of any reasons you have for choosing it, no one can beat the vintage items' beauty.
Installing a few vintage signs is the right way of adding character to your home. These could sometimes be a century-old, and they have a story to tell.
Vintage Signs is an investment in Home Decor
For many years, people have been fascinated by finding old things, bringing the past scents, and decorating their homes with unspoken stories. Whether we mention hairstyle, scarlet lipstick, and eyeliner application, clothing, music, patterns, or home decoration, vintage has never been out in style. Purchasing these items is an ideal investment because, with time, they become antiques, and their prices rise, and really often, the worth tag of vintage items is far higher and costlier than new ones. Keeping vintage items is some things inspiring.
How to Apply Vintage Signs As Home Decor
Having vintage signs as home decoration, you need accents and a character to show your style and make a unique living space. A slatted wood sign is ideal for incorporating vintage metal signs as it immediately transforms the appearance and the atmosphere.
When you consider vintage signs as home decoration and accessories, the primary thing you simply got to do is think about the interior's general design concept. They must complement the rustic style, Industrial and Loft style, Shabby chic style, eclectic, Bohemian, mid-century modern. However, vintage metal signs may look out of place in a contemporary style, and you've got to use these things within the right design style.
Comments on this guide to Vintage metal signs are ideal in home decor article are welcome.
Signage
Signs and Banners Posts
Why you need a logo for your business
Top 6 Benefits of Using Banners for Advertising Your Business
Building Articles
Contemporary Architecture
Comments / photos for the Vintage metal signs are ideal in home decor advice page welcome