Reasons to use chair mats at home or office, Building Design Tips, Online Advice
Reasons To Use Chair Mats
30 Apr 2021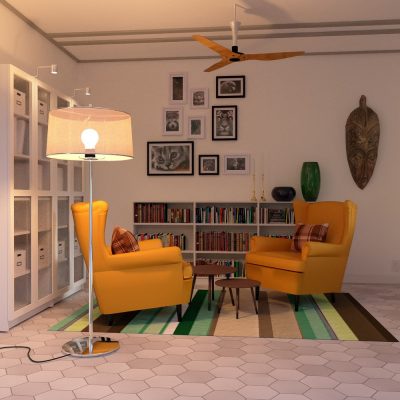 As workplace chairs have to take a lot of loads and go through heavy usage daily, they come with a strong built design including their base and the carter wheels. These strong bases can put a dent on the floor of your office, cause a lot of scratches, and make it look ugly. If it's an expensive floor setting or a rented space, then you need to take special care of it.
So, how do you protect the heavy chairs or the rolling chairs from spoiling your floor? No marks for guessing, it's the chair mats. Yes, you don't have to put anything on the wheels or the base, the simplest solution you have is chair mats as recommended by ChairWiser.com . We hope it answered your question regarding the usage of chair mats.
Now we will look into a little detail about why do you need office mats and what good they are to your floors. In the end, we will also provide you a buying guide for chair mats.
Reasons to Use Chair Mats at Your home or Office
Protect the Floor – As we discussed, the caster wheels of the rolling chairs leave dirty marks on the floor. This is because you have to move your chairs hundreds of times a day for so many reasons. No matter how hard the floor surface is, your body weight can impact tiles, hardwood, or even your decorative carpets. If you keep a chair mat beneath your chair, the wheels or the base can do no harm to the floor setting. The chair mats are specifically designed to absorb all the pressure you put on your chair. They act as a shield to protect your floor from scratches and dents.
No Spills – One can't afford to wash a heavy carpet daily and some beverages can be harmful to certain floor setups. Chairs mats will save you from such situations and almost all of the chair mats are resistant to damage from hot beverages. We can agree on this, that cleaning the floor or the carpet is a big headache. If you spill anything on the chair mat, you can easily wipe it off or just pick up the mat and get it washed instantly.
Enhance the chair's mobility – This is especially important if your seat is placed above a carpet. The fabric of the carpets restricts the free movement of your chair. Chair mats have a well-leveled surface that ensures smooth mobility of your chair while picking something from another corner of your desk or while sitting or getting up. When you are able to move your chair freely, it leaves a positive impact on your productivity.
Secure Warranty Cover – If you do not use a chair mat below your rolling seat, most floor set up providers and carpet companies do not approve repairs or replacements under warranty in case of damage. So, chair mats do not let the damage happen and if they occur by other means, your warranty cover will help you.
How To Choose a Reliable Chair Mat?
Chair mats give you security against abrasions from the rolling casters. It saves you from losing your money on carpets and renovation of the floor. But make sure you are not wasting the money by getting an inefficient chair mat. Here are the things you should consider before getting a desk chair mat for your home or office.
Check size and thickness – You should determine how much free movement you want with your chair and choose the chair mat accordingly. Also, decide if you need chair mats only to cover the chair area or the desk as well. Regarding the thickness, you don't have to worry much about plain floors and you can look for other aspects. But for carpets, a thin mat will sink with your wheels on the carpet and you won't be able to roll the chair freely. So, chair mats for carpets need some thickness so that the mat remains stiff and you can move easily.
Look for Particular Mat Types – Different floor settings need different mat types. If you keep your chair on the carpet, chair mats with spikes will be more suitable so that your chair doesn't slide unnecessarily. But if you are planning to get the chair mat for flat surfaces, you can go with furnished mats. This sure does sound paradoxical but most plain mats have anti-slip qualities and your chair mat remains firm.
Choose the required Shape – There are mainly 4 types of chair mat shapes. The first one is the regular one which is rectangular or square. Secondly, there are chair mats with a lip. It is similar to the rectangular/square mats but one side has a lip to save the place under your desk in case your roll your chair over that. Then there are bulb-shaped mats that go below the corner seat of the workplace or the L-shaped workstation. If you don't move your chair that often, there are circular chair mats that cover a very small area.
Decide the Budget and the material – The most budget material you will find for chair mats, is vinyl. Vinyl or PVC mats are thin and suitable for low pile carpets. You can also go for them if you do not use your workstation regularly. The polycarbonate mats are more durable and thicker options. If you have a beautiful floor and you don't want to hide it, you can choose the transparent polycarbonate chair mats. The most durable chair mats are tempered glass mats. They are comparatively heavy and cost a lot. But if you are looking for an eco-friendly option with years of security for your floor, they are the best. Visit Organized Work Tips for a list of best chair mat for carpet
Conclusion
Chair mats are available in different shapes, sizes, and colors. With so many options, you can easily choose what goes best with the aura of your workplace, room, or library. We hope now you are clear about the benefits of using chair mats. Rest assured, they are going to save your investments on the floor.
Comments on this Reasons To Use Chair Mats At Home Or Office article are welcome.
Building Articles
Residential Architecture
Comments / photos for the Reasons To Use Chair Mats At Home Or Office page welcome