Decorative Wall Panels Home Improvement Tips, Building Your New House, Property Guide, Real Estate
Decorative Wall Panels for Home Improvement
29 June 2020
Decorative Wall Panels – A Brilliant Home Improvement Choice!
Whether you have just bought/rented your new apartment or want to redecorate your existing apartment – home improvement is usually very hectic. However, it gets fun, easy and less hectic with Decorative Wall Panels! It is because these panels offer a blend of functional and aesthetic solutions for all kinds of home and apartments – see www.internalwallpanels.com.
If you are still not sure whether you should invest in decorative panels or not then read this article! In this article, we are going to share why decorative panels for walls is an ideal home improvement choice!
Decorative Panels Are Boost For Walls!
The panels are the talk of the town these days among modern house improvement market! Well, why wouldn't it be? It brings greater convenience, flexibility along with variety of options for the homeowners. Here is what you get when you choose decorative panels for your home walls:
–       Wide Material Options:
Unlike various other home decoration option, the wall panels come in different material. Be its natural wood, faux, stone (marble, granite, limestone) or concrete – decorative panels are available in all. So hence the consumer has ample choice to select the material as per their house and theme of the room.
–      Design And Texture Options:
Not only the material, but homeowners also enjoy plenty of options when it comes to texture and design. Whether you are leather lover or want a 3d print – decorative panels would never fail to please you. Furthermore, you will never run out of the colour and pattern options. It means that you can choose the perfect panel that will complement the entire space of your house.
–      Remarkable Durability:
One of the reasons why decorative wall panels are so popular is because of its durability. Regardless of the material used to manufacture these panels – their durability is unquestionable. Which is why decorative panels are considered as a wise investment for your homes.
–      Ease To Install:
When it comes to the installation of the decorative panels on walls it's super easy! It's so easy and requires less effort that one can DIY install these panels. It means that unless you have a very busy schedule you would not need to hire a professional contractor to do the job.
–      Less Maintenance:
You might find it hard to believe but decorative panels save you a lot of maintenance cost. How? Well, these panels cover the holes, scratches, or patch paint points on your wall. Decorative wall panels are the best and quick solution for anyone who doesn't want to spend a large amount of money on wall maintenance. Add the panels to the walls make them tidy, clean and classy.
–      Reusable:
Last but not the least benefit of investing in the decorative panels is that these panels are reusable. You can easily take them off your wall. It means if you are shifting your home you can take these panels with you!
Wall panelling is another word for style, sophistication, elegance, convenience and versatility!
Comments on this guide to Decorative Wall Panels: Home Improvement article are welcome.
Residential Property Articles
Contemporary Property Articles – architectural selection below:
Norra Tornen, Hagastaden, north of Stockholm
Design: OMA / Reinier de Graaf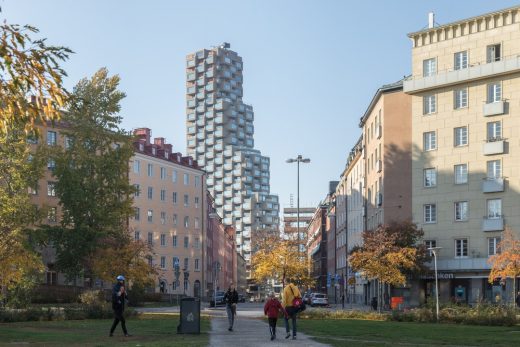 photograph : Laurian Ghinitoiu, Courtesy of OMA
Norra Tornen
Comments / photos for the 5 Decorative Wall Panels: Home Improvement Guide page welcome