Tricks in architecture and layouts of casinos, Best new Las Vegas buildings layouts, Nevada gaming resorts
Tricks in architecture and layouts of casinos guide
July 10, 2020
It's no secret that getting into any casino in Las Vegas, you lose a sense of time and space – see the website www.visitlasvegas.com. You don't notice how much time you spent at the table and how many cocktails you had. This is due to many factors (music, general atmosphere, selection of games etc.), but also includes the architecture and design of the casino facilities.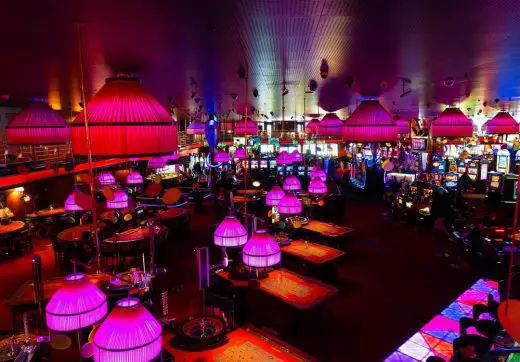 Tricks in architecture and layouts of casinos designs
Have you ever noticed the lack of sunlight in a casino? Or perhaps the concept of time, have you ever even seen a clock on the wall? This is all part of the clever design.
Most casinos utilize a design known as 'the maze'. This causes payers to weave between gambling tables and machines in the hope of them playing a game or two. Likewise, this also makes it difficult to spot the exit. Once again, diverting players' attention from leaving and encouraging them to gamble or hit another machine.
This article will discuss the tricks in architecture and layouts of casinos, including the maze design, the lack of clocks, sunlight, windows, and the general atmosphere present in casinos.
Tricks of the trade
As previously mentioned, a large percentage of land-based casinos utilise a maze-like design. This was first adopted in the 90s when some of the larger casinos in Las Vegas first opened their doors. No surprise, it was a hit and made the casinos lots of money.
Can anyone see an exit?
The maze design was adopted to make the exit difficult to locate, especially after one or two cocktails. This encouraged keen punters to hit up a machine or two on the way out. However, little did they know they wouldn't find their way out for another hour or two, possibly longer depending on the number of drinks they've had.
What time is it?
If you've ever been to a casino, you've likely noticed the lack of clocks. In some casinos, there is not one in sight. This is to shut off punters from the outside world, allowing them to be present in the moment, hitting up the table games, trying their luck on the slots, and spending all afternoon and perhaps all evening working their way around the maze… multiple times.
The same applies to sunlight. There is little if no windows or skylights in casinos. Instead, all lights are artificial, with large LED signs drawing customer's attention to certain machines, table games, and slots.
Table clusters
Another popular layout of casinos is utilising table clusters. This is where table games such as roulette and blackjack are clustered together. This is done to build excitement in the casino and works extremely well when players are winning. This existing atmosphere encourages keen punters to spend more money, trying their luck and fighting the odds of black or red, bust or win.
Why is it so difficult to get a drink?
Likewise, casino bars are often positioned toward the end of the maze, after all, table games and slots. This is designed so that to get a drink, players first must navigate the never-ending casino floor, packed with slot machines, table games, and excited punters.
Slot machines are always in sight
Finally, regardless of what casino you're in or where you're stood, there's always a slot machine in sight. There's a reason for this. This is to break up customers across the casino floor. If one area of the casino is particularly busy, the idea is that customers will flock to the free machines, trying their luck on the slots whilst the tables quiet down a little.
How does the architecture of online casinos work?
Emily Campbell, an expert at CasinoNow UK says: "Of course, an online casino cannot affect you by the location of the tables and bar, but they can affect you in other interesting ways. For example, one of the favourites of our portal, CasinoNow UK, Microgaming casino software has an undeniable number of advantages. Firstly, games are available in 40 different languages.
Second, the total number of games is more than 600. Third, Microgaming is licensed by the UK Gambling Commission, one of the most stringent and reputable regulatory authorities in the world. Fourth and finally, online casinos have progressive jackpot slots and new games released every month, the list goes on and on. The online casino software is an analogue of the building for a land-based casino; this is like the foundation of your successful game."
To conclude
The architecture of casinos are well thought, smart, and designed to vacuum keen punters into a variety of slots and table games. It's no coincidence you often can't find the exit, and it's certainly no mistake the bar being located on the far side of the casino floor.
Next time you find yourself in a casino, whether in Las Vegas, Atlantic City, or your local town, you're sure to pick up on the architecture and design. However, make no mistake that you'll fall for it, spending more money than you'd like, seeing the sun suddenly disappear, and losing track of time.
Comments on this Tricks in architecture and layouts of casinos article are welcome
Las Vegas Buildings
Las Vegas Buildings
The Luxor Las Vegas:



photo © Joe Lekas
Vdara Hotel Las Vegas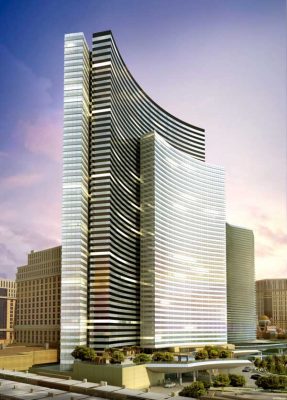 image : CityCenter Land, LLC
Monte Carlo Buildings
Monte Carlo Buildings
Hôtel de Paris Monte Carlo Reopening
The Pavilions Monte Carlo, Monaco Luxury Stores
Comments / photos for the Tricks in architecture and layouts of casinos page welcome