Trusted Beautiful Universities Guide, Higher Education Building Photos, Property Advice
Top Of The Most Beautiful Universities In The World
11 Feb 2020
You've heard of the Seven Wonders of the World, but have you ever stopped to consider the most beautiful universities in the world? Universities are cultural melting pots where people from across the country and even the world meet and work together to seek knowledge of the subjects they care about.
The beauty of these universities begins from the moment you look at them. To show our appreciation, we have compiled a list of the most beautiful college campuses in the world:
Most Beautiful Universities in the World
University of Cambridge
This is one of the most well-known universities and recruits its students from every corner of the world. It has played host to the likes of Sir Isaac Newton and Stephen Hawking, spawning many a genius over time. The University of Cambridge gets its name from where its located-in Cambridge, England, and is hands down one of the best college campuses in the world.
The university spans over 288 hectares worth of lush green land and romantic cobblestone. It dates back to the 13th century, with much of its initially established structure still preserved in top condition, allowing it to be deemed as a historical wonderland by all who visit.
Grenoble Alpes University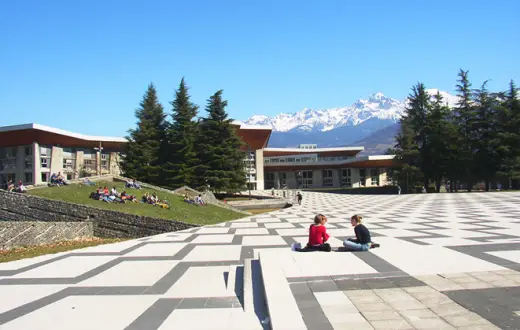 Located in France, the Grenoble Alpes University is the most beautiful university in France. It envelopes three mountain ranges within its official property space by resting next-door to the breathtaking French Alps.
Imagine being able to look out the window and see the graceful, snowcapped peaks looming above. The university spans across 175 hectares, all of which experience fresh mountain air billowing through its folds and buildings every day. It also has some excellent modern architecture worth marveling at.
Trinity College Dublin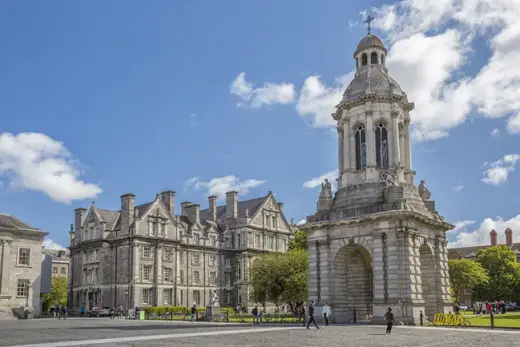 This Irish university was designed to resemble the blueprints of Oxbridge. Founded in 1592, Trinity College Dublin boasts lush green lawns and massive pathways leading up to all its buildings. It is one of the seven ancient universities of the United Kingdom.
The entrance has a traditional cathedral-style tower that greets all those who enter. This university has been featured in cinemas time and time again, including in the well-known film Educating Rita. It flaunts white and grey architecture that reminds visitors of renaissance times.
Queen's University Belfast

Queen's University Belfast is a staple part of Ireland's rich cultural heritage. The university was chartered in 1845 before opening its doors to the public in 1849. It looks like a palace more than an educational institute thanks to its exquisite gardens and red stone buildings.
The most notable landmark of the university is the Lanyon Building, which portrays Victorian gothic elements and tedious architecture through its many masts, floor-length windows, and sun-kissed stone walls.
The University of Colorado at Boulder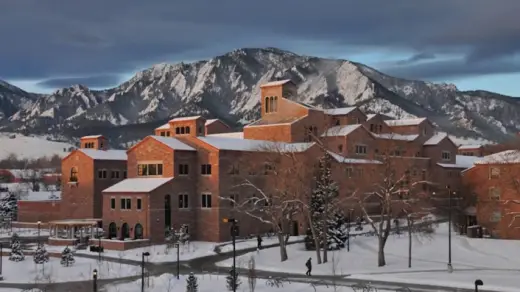 This university boasts a distinct architectural style knows as Tuscan Vernacular Revival. It is located near the gorgeous Flatiron Mountains that can be spotted from within the university's walls, making for a truly magical view.
The university also neighbors Chautauqua Park, where students are often spotted catching up with each other after a long day. The University of Colorado experiences harsh sunshine 300 days a year, which beats off its red-tiled roofs and a flattering Indiana limestone trim.
Royal Roads University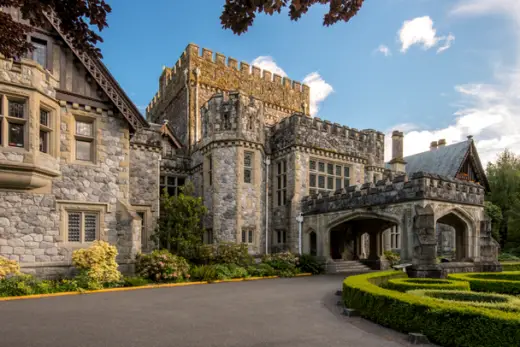 British Columbia has many incredible buildings, but the Royal Roads University is hands-down, the most enchanting place you'll find there. From an architectural viewpoint, the university bears a striking resemblance to a medieval castle with its beautiful grey stone walls and manicured lawns. The most stunning views offered by the university are that of the Strait of Juan de Fuca and the Japanese Garden.
University of San Diego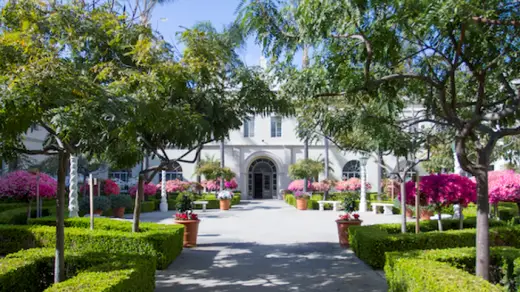 California is home to Los Angeles and Hollywood, so you're bound to see some fantastic sights there. However, it also has the University of San Diego, which stuns everyone who visits with its sheer grace and beauty.
The campus is known to regularly experience the ocean breeze blow over it, bringing along the fresh smell of the Pacific Ocean. The university also affords a view of the Coronado Islands, La Jolla, and the San Diego Harbor. Its buildings have a unique baby blue and white color to them to match the ocean nearby.
University of London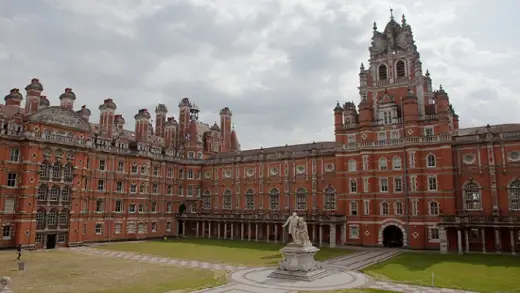 This university looks like a castle from a Disney film thanks to its looming towers and majestic architecture. Its architecture is massive and stands tall, proudly like a burst of color against the pale English sky. The long, marble, and stone pathways are a nod to traditional English heritage alongside the statues and paintings that dot the campus.
Furman University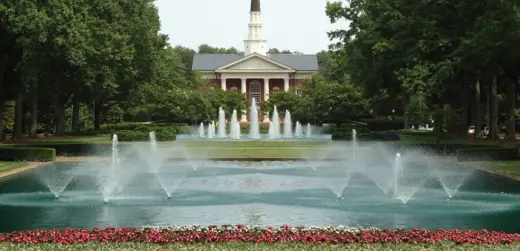 Furman University is located in the United States. It has produced many notable alumni, including the likes of John Watson and Amy Grant. The campus affords a fantastic view of the Florentine Bell Tower enveloped by a beautiful lake and complementary foliage.
Not only this, but the university also has an 18-hole golf course, an Asian garden, and 13 miles worth of hiking and biking trails, all of which contribute to its aesthetic and visual beauty.
University of Oxford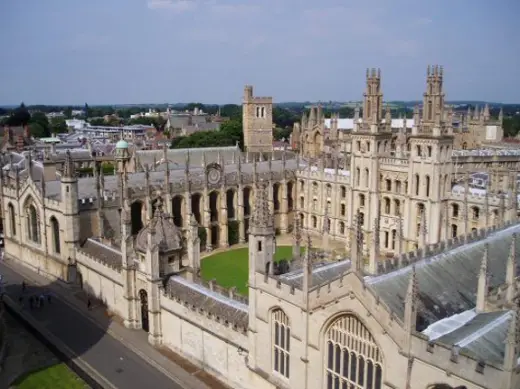 Everyone has heard of this place thanks to it playing host to many scenes from the world-famous Harry Potter films. The university was also ranked the number one most beautiful campus in the UK in a 2016 online poll thanks to its extensive variety of gothic spires, enchanting gardens, and stone buildings. It is the oldest university in the English-speaking world and proves it through its ancient architectural style.
Securing admission into the University of Oxford is no easy feat. Sometimes, students seek help and even try to find a good application essay for sale to help boost their chances of getting in. It's not uncommon for students to hire the best online writers to pen their college essays for them. In fact, the practice has become so commonplace that custom paper sales have begun to skyrocket with the demand for papers rising with each passing year.
Taroudant University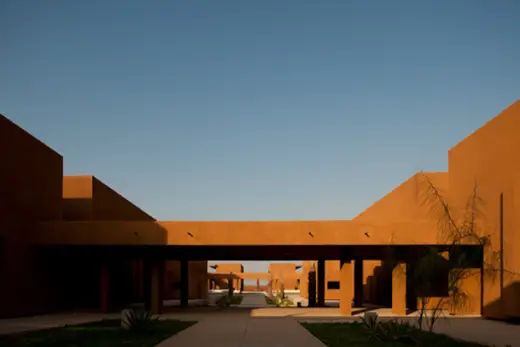 This Moroccan establishment will sweep you right off your feet! Set at the foot of the Precambrian Atlas mountains, Taroudant University is a combination of modern architecture and traditional design. The campus features sun-kissed buildings and shady, green nooks to let students hide from the heat.
University of Salamanca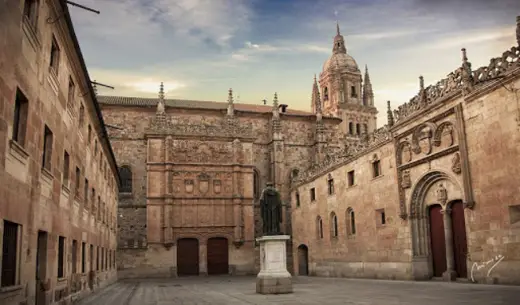 This university is part of the UNESCO world heritage city of Salamanca. It is the oldest university in Spain and dates back to the 13th century. It flaunts intense architecture and designs from the Baroque art era, making for a truly breathtaking sight.
University of Cape Town

The University of Cape Town affords a magical view of the Cape Peninsula thanks to its strategic location. It has Greek-style buildings that allow for unrestricted airflow through the campus, accompanied by warm green gardens and foliage that leave visitors stunned.
Xiamen University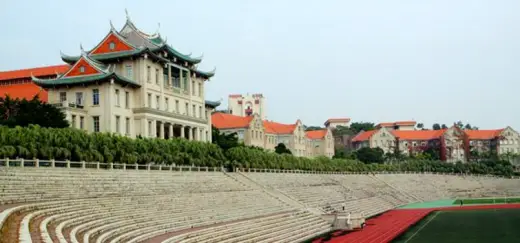 This Chinese university is located in the Siming District of Xiamen in Fijian Province. It borders the coast of the magnificent East China Sea and also features a view of serene mountains and hills rising behind it. Its expansive green gardens are nothing short of beautiful. To top it all off, the campus features impressive traditional Chinese architecture that history students would love to marvel at.
Conclusion
As you can see, the world is brimming with beautiful universities that can be found on every continent. If you don't plan on applying to some of them, visiting them as a tourist is an excellent idea, too!
Comments on this guide to Top Of The Most Beautiful Universities In The World advice article are welcome.
Building Articles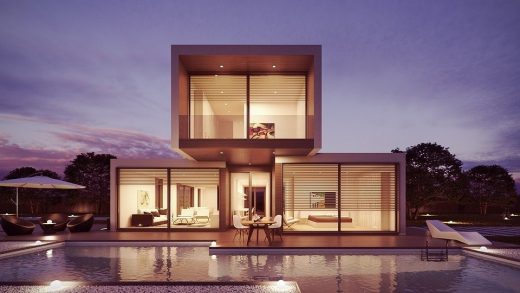 image courtesy of article provider
Art Gallery of York University, Toronto, Ontario, Canada
Design: Hariri Pontarini Architects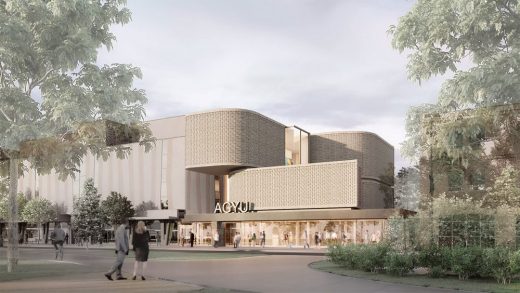 image courtesy of architects
Art Gallery of York University
Charnock Bradley Building, Scotland
Design: Atkins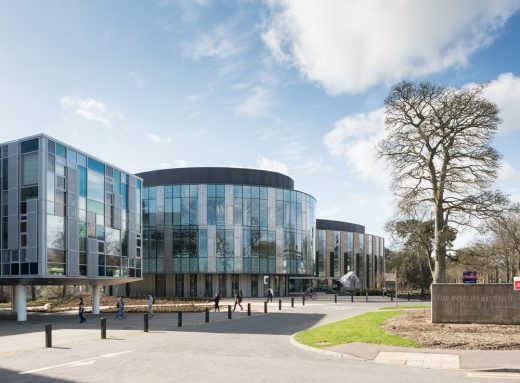 image Courtesy architecture office
Innovation Centre and Campus Hub at Edinburgh University
Comments / photos for the Top Of The Most Beautiful Universities In The World Advice page welcome