Top 10 ideas for building perfect outdoor space tips, House guide, Online residential design advice
Top 10 Ideas for Building the Perfect Outdoor Space!
19 May 2021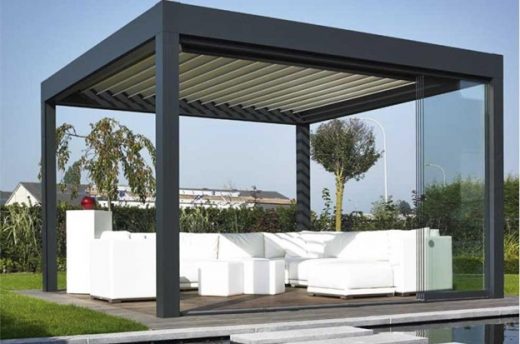 Homeowners are no longer satisfied with simple patio structures. Having open space around your house presents the risk of exposure to harmful sunlight. In recent years, people have become more interested in adding a shaded structure when revamping their outdoor space.
Classy, lavish decor isn't limited to a home's interior. People are now creating beautifully decorated, classy, yet trendy well-designed outdoor spaces that are perfect for enjoying the great outdoors
Here are 10 great ideas for outdoor shade structures to transform the look of your outdoor space.
Top 10 Ideas for Building the Perfect Outdoor Space List
1. Dining courtyard
Do you live in a place where sunny days are the norm? You can set up a semi-enclosed shaded area with sunblocks installed to act as a shield against the sunlight.
To turn this covered courtyard into a dining room, you can add some low lighting, fans, and proper dining furniture that is color-coordinated with the walls.
You can install a flat beam roof made from heat-absorbent materials to keep the area cool and pleasant for enjoying a meal any time of the day. To make the shaded area more convenient as a dining courtyard, you can make sure that it has access to the central kitchen or a separate smaller kitchen that's built especially for the outdoor space.
2. Shade sail pergola
This is an innovative idea for modern homeowners. This idea was first used by Geoff and Ben Kirbyshire, a father and son design and construction team, in decorating a formal English garden.
The fence in the surrounding theme was made out of pressure-treated timber and the patio out of Indian sandstone in two shades. The sandstone was laid in a random pattern several steps up to the raised seating area.
They used an actual ship sail to cover the raised deck so that it could be used for dining, sitting, and other outdoor activities.
3. Colorful awning
An awning can be used to create a shaded outdoor space on any sizable open-air terrace or balcony. Stretch a long piece of colorful canvas over the space to create a shade that can be retracted when not in use. You can also use some retro furniture to give the space a '70s vibe.
4. Natural shade
Do you have a large tree in your courtyard that is preventing you from transforming the space into a pleasant outdoor living area? If you can't cut the tree down, just build the shade around it. Trees are the oldest source of shade. The natural twist of the tree's branches can add an organic appeal to the decor.
You can try adding trees or plants to the setup to make it look more outdoorsy and inviting for you and your guests.
5. Rooftop tea room
If your only outdoor space is on your rooftop, you can build a rooftop teahouse. First, surround the area with walls that feature large windows. Add other furnishings, like a couch, table, chairs, etc. You can also decorate the shaded area with small potted plants or hanging plants. This can be an ideal place to hang out during the evening to enjoy a view of the city landscape.
6. Poolside shade
The most common use of shade over an outdoor space is around the backyard pool. Going back to the basics, you can decorate this poolside space in a mid-century modern style that glorifies swimming pool culture.
You can use vintage and retro furniture with brightly colored, polka-dotted umbrellas to give this outdoor shade structure a more old-fashioned design. You can also place beach chairs under the umbrellas to complete the whole retro poolside look.
7. Pull-down shades
Not all types of shades provide total protection from the intense heat of the sun. For instance, although an attached pergola provides shade from the scorching sun, it is unable to block the intense heat.
This is when you can use retractable pull-down shades. You can simply pull them down in order to use the space, then retract them when you are done.
8. Backyard garden sitting area
This is one of the most popular ways to decorate a patio or outdoor space. Create a level area and add a few stepping stones in the corner to separate the sitting area from the garden. Create a roof over the space using greenhouse glass to make sure the garden plants get enough sunlight.
9. Simple patio umbrella
There's an even more basic method of outdoor decorating: large, colorful poolside umbrellas. Situate a big umbrella over the sitting area to provide just enough shade for any kind of seated gathering. This is the most convenient way to decorate your outdoor structure when you don't have enough space in your courtyard or roof.
10. City courtyard
Does your home in the city have a large, open courtyard that opens onto a bustling street?
Putting hardwood shades covered with heat-absorbing paint on the roof and the walls can help cool down your outdoor space. Remember to leave some gaps between the roof and walls' wooden beams to let the slide grease come in. This can be the ideal space in your home for enjoying a leisurely coffee or having breakfast.
Revamp Your Space for Cozy, Classy, Chic Appeal!
Over the decades, several improvements have been made to traditional outdoor shade structure designs. However, people are still trying to find more innovative and unique ways of decorating outside spaces to make them more personalized and classy. Installing the ideal outdoor living structure design will increase your house's worth and enhance the atmosphere of the space.
Comments on this guide to Top 10 ideas for building perfect outdoor space help article are welcome.
Property Outdoor Space
Backyards and Outdoor Spaces Posts
Designing A Space For Outdoor Entertaining
Useful Tips To Help Make Your Outdoor Space Look Stunning
Ideas That Will Perfectly Transform Your Outdoor Space
Ideas that'll Transform your Outdoor Space into Paradise
Building Articles
Residential Architecture
Comments / photos for the Top 10 ideas for building perfect outdoor space advice page welcome