Trusted Holiday Home For Rent Advice, Best Vacation Property Tips, House Rental Earnings
Tips for Designing A Holiday Home For Rent
4 Oct 2019
If you have jumped on the band wagon and seen the massive potential earnings that can be gained from renting your home or holiday apartment/house to people going on vacation, then this article may just be of interest to you. We are going to give you tips on how you should decorate your vacation property in view of renting it out to vacationers.
In fact, we have been looking into this incredible business sector and how successful people have been in what was once an industry that had so many hurdles to jump in order to run a profitable private home operation.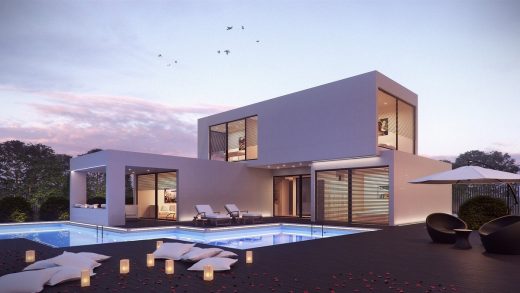 Holiday Home For Rent Guide
Today, the accommodation sector of the tourist industry is open game as vacation rental websites pop all over the World Wide Web. It has meant the hotels no longer dominate, and although the vacation rental business has put a strain on traditional hotel business, the added availability of holiday homes has improved the traveler's choice. In all industries the consumer should always have a wide variety of choice as this is why we set up free markets under democratic governments.
With the free market, anyone can now run their own property as a vacation rental and build up a business out of it. But what makes one property stand out from another?
Amenities, location, transport, and price are all considerations, but how do you get people to choose your property over others offering practically the same thing?
Of course, the way you decorate your property is going to play an important part. At the same time, you do not want to go over the top and spend thousands furniture and décor that is difficult to maintain, easily damaged, and has a short lifecycle. You also want the place to look great for photos that you will be placing on websites that guests will find your property to rent for their getaway!
In order to offer a place that has great furniture that is easy to maintain and/or replace if damaged, while making sure your vacation rental looks bright and modern, and also looks good in photos, we have put together some very simple ideas you can use.
Buy Furniture from The Same Store
If you purchase all your furniture from the same shop, then it is very easy to enter this information into your damage deposit contract with your guests. It is also easy to replace the furniture even if the original item is not in stock. This means you will need to be careful about the shop you choose to purchase your furniture because you will need to make sure they are consistent with the type of items they sell.
There is nothing worse than replacing a piece of furniture that clearly does not fit in with the rest of the furniture in the house or apartment.
Arguably the sofa is going to be one of your biggest outlays. The size of your property will also dictate what you need. A 3-bedroom place would indicate you will have quite a few people staying, so you will need plenty of seating. A small one-bedroom apartment would need a 2 seater and maybe a bean bag or arm chair if you can manage this.
Be Sensible with Colors
Now colors can a bit of a catch 22. The issue with light colored décor is that it stains easily, collects dust over time, and can begin to look old in no time at all. The other issues you will have are colors that fade easily. Light carpets are obviously a big no, and the same applies to curtains and things such as linens. This is debatably the hardest set of decisions you will have to make.
You certainly will not want to use expensive paint if you plan to paint the house white to keep it look light. This is because you will most likely want to repaint every year in order to keep that new look, which will keep your guests satisfied and help with recommendations as well as reviews if you are using a website with a rating system to connect with guests.
Kitchenware
Offer your guests both plastic and ceramic cutlery, plates, and cups. Obviously when it comes to glasses, you have not option other than glass. If you guests are happy using plastic, then great, there is unlikely to be any damage. However, ceramic items and glasses will get broken from time to time. Therefore, do not go all out on expensive stuff. These days there are so many cheap and very attractive looking options for these items.
You will also do well investing in a coffee maker, kettle, microwave, toasties maker, toaster, steamer, and pretty much everything else you can think of. The price of all these items is nothing compared to your income throughout the year. Plus, some of your guests will not have all of these items even in their own home, so these little additions could enhance the perception of their stay. Little comments in reviews such as 'I will miss using the steamer' or 'it was so good having a coffee maker'.
Bedrooms
Another good idea that may seem trivial, but it really does make a difference is placing a tea set in the bedroom, TV (it does not need to expensive), and alarm clock. Make sure the TV is fixed to the wall though because it is not unheard of for a guest accidentally knock the TV off the side.
As for linens, make sure you buy cheap but comfortable! Hard to do I know, but the trick is to buy in bulk if you have the funds. You can then stash some away in a storage point and lock this up. Put the key somewhere safe, give a spare to the cleaner, and keep one for yourself. This way if access is needed to new linens, your guests can quickly find the key you stashed, and access is given to these items without delay – another problem solved and a quickly satisfied guest.
As for mattresses, well this is a tough one. You can't keep everyone happy. Some people like soft, some like very hard mattresses, and some people right in the middle. One trick is to have a hard mattress under the bed, and always go for a semi-soft mattress as the main mattress. However, to be absolutely honest, having a spare mattress under the bed is a luxury.
Last of all, remember you will need to replace the mattress every 2 or 3 years, so do not go over the top spending loads on this. You may also want to look into mattress protection, however, wrapping a mattress up in plastic film is often the cause for complaint as most people find this uncomfortable. If you do take this, route, then make sure you have something soft to cover the mattress to make up for the hardness plastic wrapping can cause.
Bathroom and Toilets
Not much to talk about here unless you have a huge bathroom. Generally, bathrooms last a long time as they are the least used room. Just make sure your sides do not scratch easily, electric points are very safely installed, and that you use toilet seats that cannot be slammed shut. Having an expert in to make sure the fixtures and fittings are tight and solid is a must as obviously you do not want mirrors braking.
For the shower, always have a spare shower head available. If ever there was a common complaint, it is the shower head packing up for whatever reason!
Making Sure You Are Covered with a Damage Deposit Agreement
Last of all, you need to always make sure that you are covered when it comes to damages. We mentioned above that a good rule of thumb is to shop for all your furniture at the same place. This makes pricing up furniture easy and adding the cost of replacement on your damage deposit agreement.
Actually, creating your damage deposit agreement is a whole new subject. However, luckily there are a few websites out there that specialize in vacation rentals and they have this particular topic covered. Check out the Lodgify guide to damage deposits here.
Building Articles
Backwater House, Norfolk, South East England
Design: Platform 5 Architects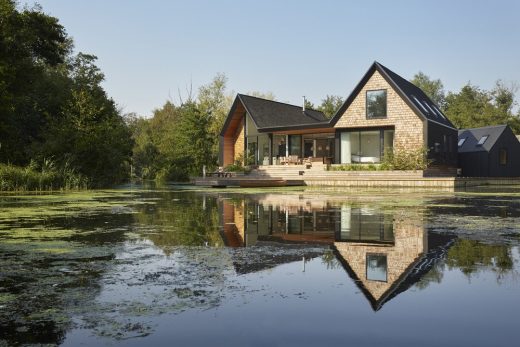 photograph © Alan Williams
Backwater House on the Norfolk Broads
Comments / photos for the Tips for Designing A Holiday Home For Rent page welcome