4 tips for creating a home gym Trends Guide, Healthy building design, Online fitness advice
4 Tips for Creating a Home Gym
26 Mar 2021
Home gyms are great additions because they encourage a healthy lifestyle and more ease when it comes to exercise. While you may think the initial costs of setting up a home gym and equipment might be high, overall, you'll save money on avoiding gym memberships and the commuting costs to your local gym.
Home gyms are also great for enabling you to keep focused and have more privacy when it comes to your workout.
Whether it's a huge, dedicated space with all manner of equipment or whether you're converting a small room with a few key workout items, any home gym is going to be beneficial.
Here are four tips for making it happen.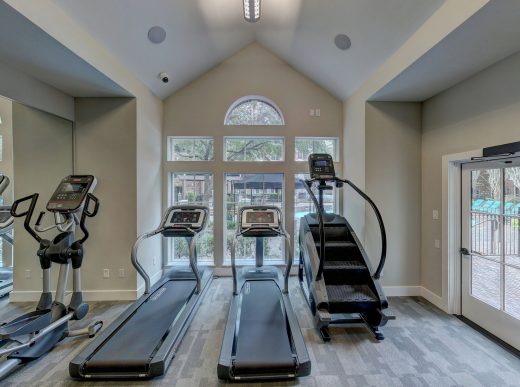 4 Tips for Creating a Home Gym Guide
Set Your Goals
To know how to build and furnish your gym, planning your fitness goals is a good idea so that you don't waste money on the wrong equipment initially. You may want to start off slow with some weights and general equipment, or there may be specific machines like treadmills you're looking to take advantage of.
Plan out your goals so that your home gym can be completely tailored for you.
Think About Different Forms of Exercise
The best gyms will offer a workout for all areas of the body, so you'll want to avoid kitting your gym out in similar equipment pieces. Variety is key so that you can always switch it up and get a full-body workout or concentrate on different areas of the body throughout the week.
There are pieces of equipment you will be able to find which can multi-task as full-body workouts, for example, kettlebells, TRX, and even Gym Mats. Alternatively, if you have room for a small indoor pool in your home gym space, this can be a fantastic addition for a full-body workout; there are many health benefits of swimming, and this can also give you a break from traditional machines.
To ensure that you can use your pool all year round, installing a pool heater is a great choice so you can take a swim whenever suits you.
Consider Which Space Will Be Best
Your home gym is going to house a lot of movement, noise, and heavy equipment. If you're planning on using a room or space in your house (perhaps a garage space or outside space), then be sure to think about how your home gym will impact your environment. The floor needs to be solid (and ideally insulated) to hold heavy machinery and keep noise levels down. The non-slip floor is also ideal. If you live with others, you may want to choose a room away from the house's main hub.
Keep it Clean
One extra effort you will have to make with a home gym is keeping it clean and tidy yourself. This means regular maintenance of equipment, disinfecting equipment, and general tidiness. Get into a habit of keeping the space clear to limit trip hazards and clutter.
Take Away
Building a home gym gives you the freedom to include whatever you need, so be sure to make a plan and save up for the right equipment to ensure your home workouts are everything you need them to be.
Comments on this Tips for Creating a Home Gym article are welcome.
Health and Fitness
The best kitchen appliances for healthy cooking
Buildings
Architecture Design
Comments / photos for the 4 Tips for Creating a Home Gym page welcome