Hiring a roofing contractor Tips, Roof Advice, Building Guide
Tips for a novice to hire an ideal roofing contractor
Sep 24, 2020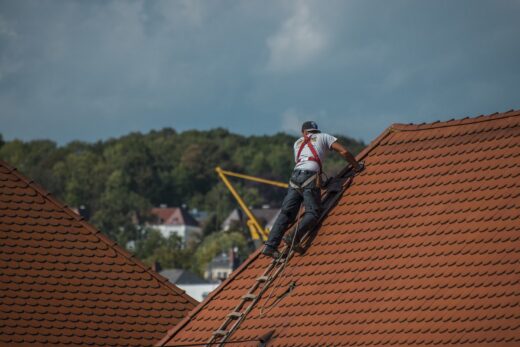 It is an exhaustive task to build the roof of any industry. It can take a large amount of time and labor both. All you have to do is do a good deal of research before deciding on the roof installation work. There are a lot of areas that you will have to consider before you start the process. It would be best if you had assistance from a good team of professionals to complete the task successfully.
You must communicate your ideas with your roofer and explain to them the overall look of the industry. It will help them to serve you better. The contractors follow a well-sorted plan to make the job done on time. All this will ensure that you get results that you visualized. You will first have to decide what your priorities are and your budget, then only can you get the job done according to your wishes. You may even get in touch with Benchmark Roofers to find out the kind of roofing services they offer.
Tips for a novice to hire a roofing contractor for your home
 Why is it necessary to prioritize certain factors before hiring a roofing contractor?
Decide what you want: First and foremost, you must decide on what your roofing requirements are. You will have to be clear about the purpose of hiring a professional roofer. What is it that you want them to do for you? Be specific. You will have to write down the different services that you expect from your roofer. It will give you clarity. It will help you to research accordingly. Also, you can get the right person only if you are clear about your expectations.
Set-up a budget: You must work on your account. If you are aware of your financial aspect, then decide accordingly; it will help you economize on your pocket. For this, you can compare the different market prices and then decide on your budget. From the budgeting to the per-day cost to the miscellaneous charges, all aspects need consideration. A reasonable budget will ensure a good deal.
Shortlist contractors: You will have first to do a fair amount of research, and after that, you will have to shortlist the different contractors that suit your requirements. Try to compare the services and price quotations of other contractors to know what each has to offer. After you shortlist them, give them a call. Ask them about their services and the cost of their service. Also, try to gather information about their experience and past customer reviews, if any. It will help you to get the right contractor within your budget.
Decide on roof material: You will have to decide upon the roof
material to get the estimated cost. You can get information from various online sources. Different companies give information about the materials that they sell. Try to gather data from these sources. It will help you decide on your budget.
Here it can be said that the more time you devote to research before roof restoration, the better it is for you. It will help you to get what you want within your budget.
Comments on this Tips for a novice to hire an ideal roofing contractor advice article are welcome.
Roofing
Roofing Posts
The Top Roofing Company For Your Business
Choose the Top Roofing Solution for your Home
Types of Roofing Materials: Explained
Buildings
Building Articles
Comments / photos for the Hire a good roofing contractor Guide page welcome