The rise of minimalist design advice, Home Style Tips, Property Decor Guide
The rise of minimalist design
9 Nov 2020
There is a popular misleading idea that minimalism is only about simplicity, cue in the common catch phrase that "less is more". Minimalism is much more than simplicity. Minimalist style has survived and evolved through many time periods not just as a result of its so-called association to simplicity but because minimalist design is, firstly, admittedly timeless, then bold and fun when it has to be, and eccentric, among other qualities.
Like several other trends and style periods, the popularity of minimalist design has seen its fair share of rise and fall. However, right now, thanks to budget cautious millennials and health conscious celebrities like Gwyneth Paltrow, minimalism is all the rage in the 21st century.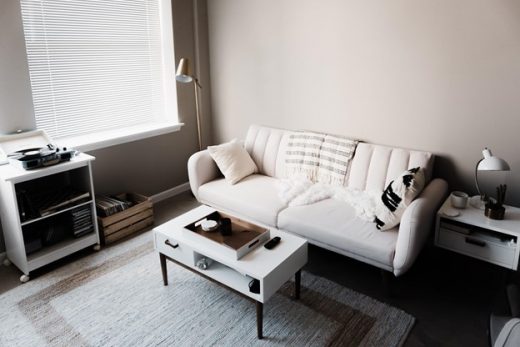 Photo by ian dooley on Unsplash
Minimalist design has remained popular for many reasons, most notably because it is influenced by a myriad of cultural traditions from the global east to the west. Traditionally, a typical minimalist home decor looks like neutral or muted walls, pared back decorations, a splash of colour or texture, and clean and geometrically angled furniture. We now see though that different types of people with different needs and cultural influences adopt a minimalist approach to life, and this makes minimalism more dynamic than usually purported.
According to its Japanese cultural roots, adopting a minimalist design in your home offers various benefits for your mood, spirituality and general wellbeing. A Zen philosophy is typically attached to its Japanese origins, in effect this philosophy suggests paying close attention to the type of objects you choose in decorating your home, the texture of your furniture and the awareness that the placement of several pieces should allow for space and light in your home in order to reap the many health benefits.
For your home, a good place to start is to curate a spacious and uncluttered living space using minimalist but stylish furniture. Focus on natural or soft tones for your home like the bamboo doors and tables on offer during John Lewis Black Friday sales. Furnitures available at John Lewis in their Baboo Range cost about £59 on average, but if purchased during their Black Friday Sale you are sure to save a huge fraction of the original price.
Needless to say, the recognition that minimalist design receives is not new, because the concept of minimalism itself dates as far back as the 50s, if not further. For example, it has been recorded as being an important part of the Arts movement in New York in the 1960s. More than being an interior design style, minimalist thinking and practices transcend various fields.
There are early records of minimalist principles being adopted in areas such as the arts and in architecture, before then spreading its influence into other fields like interior design. The versatility of minimalism is astonishing, and being able to adopt minimalist practices in multiple ways and areas has contributed tremendously to its rise and appeal.
Although, it might seem like the opposite, there is room to do so much in your space by following minimalist design principles. Yes, there are the staples that apply like a preference for Scandinavian style furniture, muted wall tones, symmetrical lines and coalesced patterns that unify rather than clash in a space. However, do not get discouraged by all the cautionary tales that you have to either keep it simple or unnecessarily throw out pieces in your home to achieve a minimalist style.
Minimalism is versatile and it depends entirely on what you are looking to achieve – be it a subtle monochromatic style or chic luxurious minimalism featuring statement pieces, the opportunities are endless. You shouldn't need any more convincing to go the minimalist way at this point but if you still do, there are a plethora of resources available to you because minimalist design is so loved and in trend right now.
Check out popular interior design bloggers who open up their home to allow people share in the joy they have found in minimalist home décor. For more luxurious minimalist design inspirations look to celebrities like Gwyneth Paltrow and Orlando Bloom who have distinctively different minimalist style preferences. The one celebrity prefers a pale, pull-backed singular white colour palette with little to no special star elements like rustic chairs or paintings on the wall, on the other hand, the other keeps it minimalist with a style that plays up several elements in addition to furniture symmetry and pale tones like a punch of colours and layers of texture.
Comments on this guide to The rise of minimalist design article are welcome.
Why not consider sourcing a mobile app development company?
Property
Contemporary Property Articles – architectural selection below:
Building Articles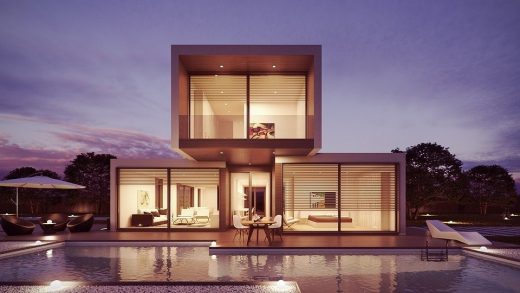 image courtesy of article provider
Comments / photos for the The rise of minimalist design advice page welcome