The most interesting architecture in the world, Gambling architecture across the globe
The Most interesting Architecture in the World
27 July 2023
From the towering heights of skyscrapers to the intricate details of Gothic cathedrals, architecture is a silent testament to human creativity, ingenuity, and persistence over the centuries. The world is adorned with numerous awe-inspiring architectural edifices, each with its unique story, architectural style, and cultural significance. These structures stand out not merely for their size or grandeur but for their remarkable design, innovative use of materials, and often, the challenges overcome during their construction. This article embarks on a global tour of some of the world's most interesting architectural masterpieces, their fascinating tales, and where to find them.
Ferdinand Cheval Palace a.k.a Ideal Palace
Ferdinand Cheval, a humble French postman, spent 33 years of his life constructing the Ideal Palace, an extraordinary testament to human will and creativity. Without any formal architectural training, Cheval built this architectural marvel single-handedly, using stones he collected during his daily mail route. Visually, the building is filled with surprises and curiosities at every turn. Its intricate facades are adorned with a myriad of detailed carvings, from mythical creatures and exotic animals to ancient deities and diverse architectural styles, creating an eclectic visual narrative that captivates the imagination. The Ideal Palace, with its beautiful chaos of form and theme, stands as a fascinating example of naive art architecture, captivating audiences with its raw, untamed beauty and the sheer audacity of its creation.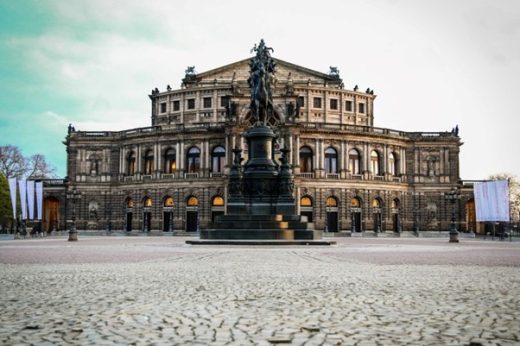 Semperoper Dresden, Germany
The Semperoper in Dresden, Germany,  is the opera house of Saxon State Opera Dresden and represents a breathtaking blend of architectural styles, including Baroque, Renaissance, and Greek. Commissioned by King John of Saxony and designed by the illustrious architect Gottfried Semper, it is a beacon of German architectural prowess. Despite being devastated twice, once during the Seven Weeks' War in 1869, and later during the infamous bombing of Dresden in WWII, the Semperoper has persevered. Each time, it was meticulously rebuilt, maintaining its original design and paying homage to Semper's vision. The grandeur of the Semperoper's interior is equally as striking as its exterior, with lavish ornamentation, luxurious materials, and a stunning auditorium that truly makes it a feast for the eyes. Standing majestically on the banks of the Elbe River, this opera house is not only a monument of impressive architectural mastery but also a symbol of the city's resilience and dedication to the arts.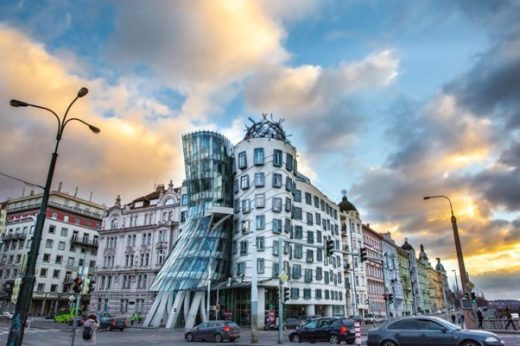 Dancing House — Prague, Czech Republic
The Dancing House, located in Prague, Czech Republic, is a stunning piece of contemporary architecture that stands out amidst the city's historic skyline. Designed by the Croatian-Czech architect Vlado Milunić in collaboration with Canadian-American architect Frank Gehry, the building boasts a unique and dynamic structure that seems to dance, hence earning its name. The design was inspired by the dance duo Fred Astaire and Ginger Rogers, with one part of the building appearing rigid and straight, akin to a top hat-wearing Astaire, while the other, made of undulating glass, embodies the flow of Rogers' dress as she dances. Opened in 1996, the Dancing House is not merely an office building; it also hosts a gallery, a restaurant, and a bar with panoramic city views. Today, it stands as an icon of modern architecture, embodying Prague's innovative spirit and its seamless blend of the old and the new.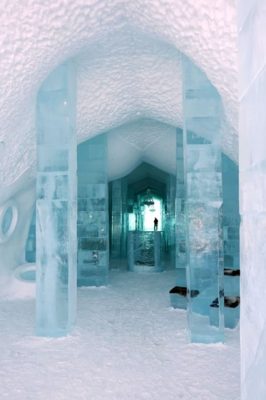 Icehotel – Jukkasjärvi, Sweden
Located in the small village of Jukkasjärvi in Sweden, the Icehotel is a marvel of icy architecture, constructed each winter with snow and ice from the nearby Torne River. But apart from being a unique and thrilling lodging experience, the Icehotel is also home to Sweden's first-ever ice casino. The casino, like the rest of the hotel, is sculpted entirely from ice and showcases intricate ice sculptures and spectacular ice art, adding to the chilling yet enticing atmosphere. Traditional casino games like blackjack and roulette are offered, with gaming tables and chips also carved out of ice. Visitors can try their luck at these frosty tables, wrapped in warm clothes in the sub-zero temperatures. However, with packages from UK holiday companies starting at £1000, those looking for some warmer casino-themed fun, can do so from the comfort of their own home, with the best UK casino bonus deals available online.
The novel concept of the Ice Casino, coupled with the ethereal beauty of its icy interiors, provides an unforgettable gaming experience under the shimmering northern lights, adding another enticing feature to the Icehotel's already impressive repertoire. It truly is a testament to Sweden's innovative spirit and commitment to creating unique experiences in harmony with nature.
Casa Terracota, Colombia
Casa Terracota, located in the vibrant town of Villa de Leyva, Colombia, is a striking architectural masterpiece sculpted entirely out of clay. This unusual, whimsical dwelling, often referred to as "The Flintstone House", is the brainchild of architect Octavio Mendoza. The structure has been baked in the sun like a giant piece of pottery, presenting an awe-inspiring blend of earthy tones and textures. Spanning over 5,400 square feet, Casa Terracota boasts two floors and includes multiple rooms, spaces for cooking, sleeping, and living, all moulded from clay. The house is not just an architectural marvel but also an environmental statement, illustrating the potential of earth-friendly construction methods. Its undulating walls, irregular shapes, and natural, raw aesthetic offer visitors an intriguing exploration of space, challenging conventional architectural norms. Whether viewed as a large piece of pottery, an ecological house, or an art piece, Casa Terracota stands as a testament to human creativity and the limitless potential of natural resources.
In conclusion, these architectural marvels are a testament to the boundless creativity of human beings and our ability to shape our environment in innovative and awe-inspiring ways. From the frozen splendour of the Icehotel in Sweden to the earthy charm of Casa Terracota in Colombia, we witness the diverse and extraordinary ways in which architecture can challenge norms, tell stories, and create places of amusement and wonder. So next time you plan a trip, consider exploring these architectural wonders that stand as captivating reminders of our ever-evolving relationship with the world we inhabit.
Comments on this Most interesting Architecture in the World article are welcome
Casino Buildings
Casino Building Designs
5 most beautiful casino buildings in world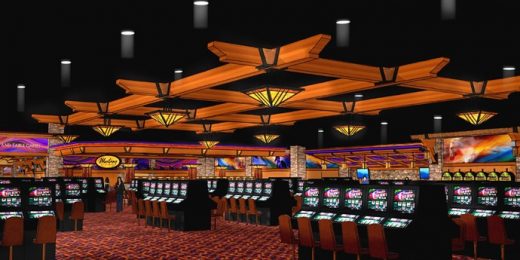 Casino Architecture Design Guide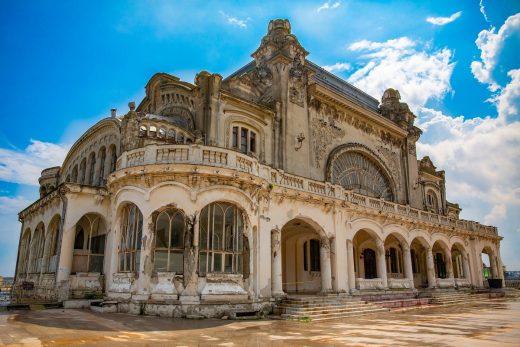 Cash in on cyber casinos tips: online gambling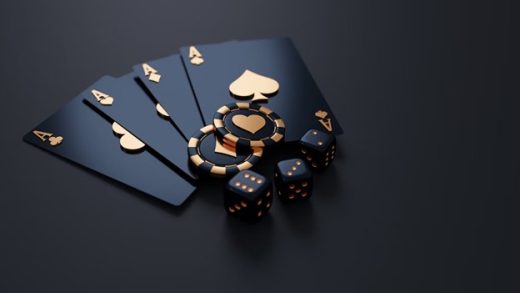 Buildings
Contemporary Property Articles – recent architectural selection from e-architect below:
London Architecture Designs – chronological list
Comments / photos for The Most interesting Architecture in the World page welcome