Trusted Mini Golf Course Advice, Real Estate Backyyard Tips, Home garden help guide
The Cost of Building a Mini Golf Course in Your Backyard
7 Oct 2019
The Cost of Building a Mini Golf Course in Your Backyard guide
Watching golf games and browsing real estate or home improvement magazines made you think of remodeling your backyard into a golf enthusiast's paradise? Good news – you don't have to be a millionaire to build your own mini-golf course!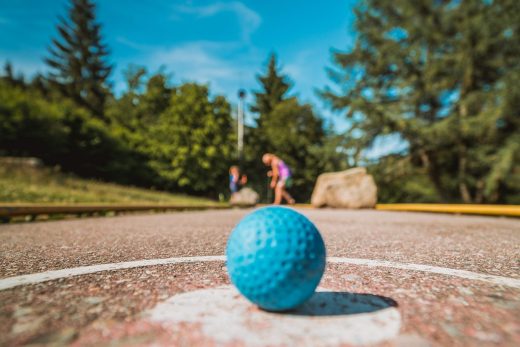 Common sense and creativity will help you make this golfer's dream come true and save a penny! Before paying a visit to a local store with building supplies or checking accessories at a golf shop online, take a look at the following tips on how to get started.
The Cost of Building a Backyard Mini Golf Course
Choose the right golf course turf
Obviously, natural grass and plants are irreplaceable. There are circumstances, though, where choosing good quality artificial grass is more sensible. When designing a golf course backyard, prepare yourself for the worst. The lawn is going to get massacred to the very limit. That's why you need an indestructible golf course turf.
If you have children and pets, you want to be extra careful with materials the grass is made from. Fake grass, just as any other artificial material product, may contain hazardous substances. Happily, there's a wide choice of synthetic lawns on the market, so you can easily find natural-like, non-toxic artificial turf, as well – e.g., Easigrass.
Turn your golf course designer mode on!
When you're designing a golf course on your very own backyard, the only limit you have is the budget and the size of your backyard. Engage your friends and family to make plans, hear out children's ideas. Both designing and later putting the plans into effect together is a very precious bonding time.
Don't be afraid of crazy ideas. Don't reject an impossible project right away! Think of what to do to adjust the ideas to your financial and spatial capabilities.
Smart solutions
Since you're designing the course just for your private use, you have an excellent opportunity to test and combine different methods and materials. Construct your dream backyard golf course with the environment in mind. Try to use recycled materials and things you don't need anymore, instead of buying new parts in, e.g., renovation stores. Here are a couple of ideas we came up with:
Movable platform with obstacles on the sides, so the ball has to roll precisely through the board to the hole – for building holes you can use empty yoghurt cups! To make the base for your construction, you can use light wooden pallets or cases, and install a couple of wheels with lock brakes.
Bridges and ponds of various sizes will be a perfect diversion not only as additional mini-golf obstacles but also of your 'backyard's landscape. Old plastic bags will be great as a bottom liner of the ponds. Just press them with heavy stones around the edge of the pond so they won't slide down under the weight of water.
Slaloms and spiral towers will add a pinch of suspense to your mini-golf game! You can lay the trails of small stones or gravel. Towers may sound complicated, but with a bunch of plastic cups or cut pipes and pipe bends, constructing them will be nothing but fun!
Underground tunnels don't require the work of a professional constructor. Grab a spade and a few pieces of pipes and get your hands dirty!
Is it worth it?
A well-planned solidly built mini-golf course in your backyard – even if simple and small – increases the financial value of your property. Although, remember to keep your construction in proper maintenance and shield it against direct sunlight and rainfall, e.g., with weather-resistant tarpaulin. A movable platform golf course can be hidden in a garage or basement.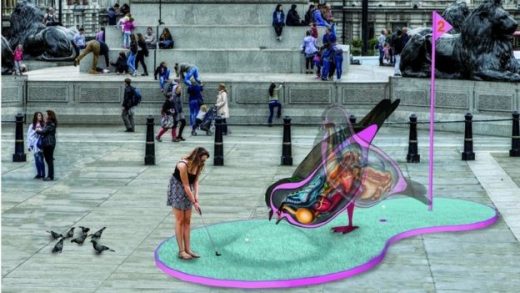 image © London Design Festival
It doesn't matter if you go all the way and remodel your whole garden, or decide to build a simple golf board. It's a fantastic opportunity to take the initiative and make changes in your closest surrounding. Custom designed home interiors, and gardens make it easier to attract possible buyers. Not to mention how much joy it brings to your daily life!
Get your mini-golf gear and organize the game anytime you want!
Golf Clubs
Golf Club Articles
Meet The World-Class Golf Course Architects
The Best Golf Clubs in the UK
<43>Building Articles
Contemporary Architecture Designs
Comments / photos for the The Cost of Building a Mini Golf Course in Your Backyard page welcome