Swimming Pool Design, Outdoor Landscape, Real Estate Tips, Home Design Style
Swimming pool design for a brilliant outdoor landscape
Property outdoor setting aesthetics Tips: Garden Architecture Design Article
7 June 2019
Swimming pool design for a brilliant outdoor landscape
One of the projects that can boost the value of a real estate property by quite much is installing a swimming pool. This back yard addition will most of all, make your outdoor space a more enjoyable one, providing you with a private space for relaxation and summer fun.
When you are considering building a pool, you should also think about the effects this will have on the aesthetics of your outdoor space as well. You can upgrade your outdoor landscape as long as you choose a swimming pool style that complements the premises and adds appeal to the entire setting. A brilliant landscape can be easily achieved, as long as you incorporate the right pool design into the garden.
But what exactly are the most important considerations here? What should you be focusing on as soon as you decide to install a swimming pool?
Determine the ideal size for your yard
Start with the most basic aspect and that is figuring out the ideal pool size. It's important to take a careful look around the outdoor area and decide how big your pool should be. Occupying the entire space with the pool will not be practical, nor will it look good, so even if you might want a spacious pool, if your back yard doesn't allow it, it's best if you stick to smaller dimensions.
Ask yourself these few important questions when you are trying to assess the ideal pool size:
How much space do you actually have available?
How many people will be using the pool?
How do you plan on using the pool?
Pool dimensions should be appropriate to accommodate your family's needs, but should also be optimal for the size of your backyard.
Understand the three types of inground pools available
Before moving on and thinking about shape and other features, you should first understand all of your options. Because you are building an inground pool, you'll be able to choose from three different materials, each one coming with its own set of pros and drawbacks.
Fiberglass – many homeowners choose this particular option because fiberglass pools are aesthetically pleasing, durable, easy to install and come with low maintenance requirements. However, these aren't customizable, so if you have a specific design in mind, you won't be able to personalize the style. They come in one piece and are designed from an existing mould.
Concrete and vinyl – both of these options benefit from customizable characteristics, so if you choose one of them, you'll get more flexibility in the design department. It all comes down to your particular wants and needs.
Choose pool shape
If you have gone for concrete or vinyl, options are virtually endless in the design department. However, there is a predominant style variety that you will notice on the market nowadays. Swimming pools as examples of garden architecture should be installed based on what design suits you exact outdoor landscape preferences.
Rectangular – the classic approach is a rectangular design. This usually fits well in any backyard aesthetical style, but it's also rather dull from a visual point of view. The great thing here is that its size can easily be customized to suit your available space.
Vanishing edge – a more modern style, the vanishing edge design has one of the pool sides lowered, allowing the water to spill over. While extremely beautiful, a dramatic effect will be obtained only if you have a spectacular view you can work around.
Roman end – a classic design that can easily be incorporated in various settings, the roman end pool has a cantered arch and squared ends.
Freedom pool – this is a non-linear design and can take basically any shape you visualize. If you want an unconventional geometrical pattern for your backyard, this might be the ideal option.
Lagoon – having an enhanced serpentine style, lagoon pools are an extension of the freedom design.
Think about special features
The pool shape and size aren't the only characteristics that will influence the way your outdoor area will look like after installation. You can opt for a wide range of additional features that will beautify the premises further, bringing the entire garden aesthetic together.
A tanning ledge near the pool side, a waterfall feature, or an attached pool bench are a few examples of popular options here. Running water can be an impressive focal point, so you may want to think about a water feature that spills into the pool. Look for inspiration online and see what other homeowners have opted for. Incorporate features that are practical and can also boost the visuals of the setting.
Saving energy
While it's normal to direct most of your attention towards pool design, if you are keen on obtaining appealing landscape aesthetics, functionality is also a critical consideration. You want a pool that accommodates the needs of your family, but also comes with energy-efficient characteristics.
To manage keeping energy costs to minimum, getting a variable speed pump is advised. This will conserve energy, and it revs up to your wanted RPM. Pool lighting should be linked to energy saving as well. Today's options are very different from what they used to be back in the day. Colour wheel, energy-saving LED lights have become the preferred option for pool owners. The colour variety ensured can give a visually pleasant touch to the area, while the low voltage LEDs will allow you to keep energy consumption under control.
A swimming pool can be a great addition to your back yard. It provides you not only with a great place for fun and relaxation, but can boost the general aesthetics of your outdoor setting, as long as the right design is chosen. If you have been considering investing in this type of project, but aren't quite sure if how to handle the pol construction to complement the rest of your garden architecture, the information above might provide you with the needed guidance. A pool will certainly transform the way your outdoor landscape looks like, and it's the type of investment you won't regret making.
Swimming Pools
Swimming Pool Design Articles
Swimming Pool Building Designs
Swimming Pool in Belgium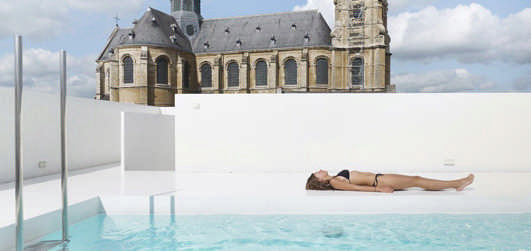 photo : Frederik Vercruysse
Thermal Baths in Bad Ems Building , Germany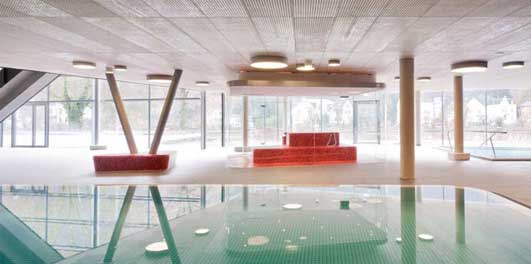 photo © David Matthiessen
How to ensure your family swimming pool is child-friendly
Comments / photos for the Swimming pool design for a brilliant outdoor landscape page welcome
Website: Swimming Pool