Welcome to the rustic home tips, Creating a cozy and welcoming space guide
Welcome to the Rustic Home – Creating a Cozy and Welcoming Space
23 February 2023
The appeal of a rustic house is undeniable. It's a style that oozes charm and warmth, inviting you in and making you feel right at home.
Not only does it evoke a sense of nostalgia and simplicity in its natural materials and traditional craftsmanship, but it also stands out as a unique take on modern home decor. With its neutral colors, warm woods, and intricate details, the rustic style can transform any room with its air of relaxation and comfort.
From exposed beams to antique furnishings, there are endless opportunities to incorporate this classic aesthetic into your kitchen. Plants bring life through their vibrant colors, while textiles such as rugs, curtains, and tablecloths add an extra layer of warmth and texture. Furthermore, adding vintage pieces like prints or plates can be an easy way to mix old with new for an effortless, stylish, and timeless look!
So how do you transform your home into a rustic masterpiece? Let's take a look at what your options are!
Pick The Right Appliances and Furniture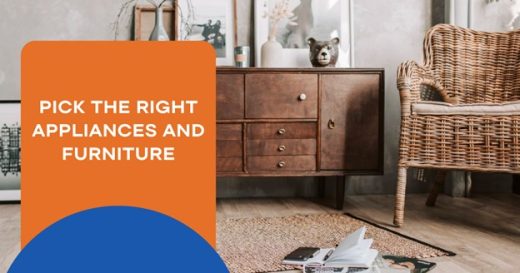 When establishing a rustic home, picking the right appliances and furniture is essential. Not only do they need to match the overall aesthetic of your space, but they should also be functional and stylish. From kitchen appliances that enhance cooking efficiency to bedroom pieces that create an inviting atmosphere, selecting the right items for each room can help create a cohesive design. Bifold doors are also a good addition as they look natural, function correctly to ensure they add to the overall aesthetic of your home and require low maintenance.
For instance, choosing kitchen appliances that enhance your cooking efficiency can save time and energy when meal-prepping or entertaining guests. This allows more time to be spent with family and friends or working on hobbies without being stuck in the kitchen!
Also, by selecting bedroom pieces that create an inviting atmosphere, you can enjoy a good night's rest while ensuring your guests feel comfortable during their stay.
On the other hand, not paying attention to what kind of appliances and furniture you purchase could lead to quite the opposite effect. Without proper research into what type of items best suits your needs, you may end up with appliances or furniture pieces that don't match each other or provide any benefit in terms of comfort or convenience.
This could mean having inefficient kitchen appliances that take longer to cook meals, uncomfortable bedroom pieces that prevent a good night's sleep, or mismatched furniture items that make it challenging to keep your space neat and tidy.
It is clear why picking the right appliance and furniture is so important when establishing a rustic home; they need to match one another and provide maximum benefit for comfort and convenience.
With careful thought into researching what best suits your needs and budgeting for quality products instead of cheap ones, you'll guarantee a fantastic rustic living experience!
How to Pick The Right Appliances for The Kitchen
Determine your needs: What appliances or furniture do you need to purchase for your kitchen? Will a kitchen bar help you to maximize space? Consider the size of the room, the type of cooking and entertaining you do, and any existing items that still need to be replaced. Make a list of all the things that you need to buy.
Calculate your budget: Decide how much money you can allocate toward purchasing new appliances and furniture. This will help narrow your search by only looking at products within your budget.
Research popular appliance brands: Look into popular brands that offer reliable products with a good reputation, such as LG, Whirlpool, Samsung, GE Appliances, and more. Take note of their features and prices so that you have an idea of what's available in the market before shopping around further.
Visit online stores: Go to online stores to get a sense of the look and feel of each appliance or furniture piece. Standard appliance sizes may vary depending on the brand, so it's important to make sure you're getting the right size for your kitchen before buying it.
Read reviews: Reviews are beneficial when making an informed decision about which product is best for you — read detailed customer reviews about each appliance or furniture item to learn about user experiences first-hand. This should give you a better idea about which option will work best for your kitchen needs and lifestyle habits.
How to Pick The Right Furniture for The Bedroom
Start with the basics: If you're starting from scratch, think about what bed frame, mattress, and sheets will work best for your bedroom. A comfortable mattress and quality sheets are essential for a good night's sleep, so consider both style and comfort when choosing these items.
Measure your space: Before shopping for furniture pieces or decorations, take measurements of your bedroom to ensure that whatever you buy will fit into the room. Draw up a rough sketch if necessary to remember vital measurements such as widths and lengths.
Find affordable but quality pieces: When looking for bedroom decor items or furniture pieces such as side tables, ottomans, cabinets, and more — it is often better to invest in quality products rather than buying something cheap that will fall apart after a few months. Research different brands to find the best price-quality ratio for your needs.
Choose colors carefully: When decorating any room, color is key! Consider what type of atmosphere you want to create in your bedroom — if you're going for a rustic feel, then choose warm and natural tones such as browns, cream, beige, etc. If you prefer something more modern and funky, opt for bolder colors like blues or purples.
Visit local stores: Once you have narrowed down some potential options online based on price and quality comparisons — visit local stores in person to get a better feel of each item before making a final decision on what's suitable for your bedroom! Don't be afraid to ask questions while there if needed – staff members can answer any queries or concerns during this process!
How to Pick The Right Furniture for The Living room
Choose a sofa: The sofa is typically the focal point of any living room, so choose one that's both comfortable and stylish. Think about the size and shape of the room when selecting a sofa, as well as how many people will be sitting on it at once.
Pick out an accent chair or two: Accent chairs are a great way to add character to your living room. Choose colors and shapes that complement the existing decor while providing extra seating space for guests.
Find some attractive storage solutions: Storage pieces such as ottomans, bookcases, or side tables can help keep clutter at bay while also adding style to your living area. Look for pieces with built-in drawers or shelves to maximize storage capabilities!
Don't forget the coffee table: Coffee tables are a must-have for any living room and can be used to display decor items or store remotes, books, and magazines. Choose one that fits your space but adds some visual interest to its design.
Pick out some decorations: Lastly, find some decorations to complete the look of your living room. These can include wall art, throw pillows, rugs, lamps — anything you want to add a personal touch to your home. Again, consider colors that will complement the overall style you're going for with your furniture pieces!
How to Pick The Right Furniture for The Bathroom
Choose a vanity: Vanity cabinets are essential in any bathroom, as they provide storage space and often serve as the room's focal point. Take measurements of your bathroom to ensure that whatever you buy will actually fit into the area — it's best to pick something on the smaller side, as larger vanities can make bathrooms feel cramped.
Sink Considerations: When choosing a sink for your bathroom, it is essential to consider both style and functionality. Many modern sinks come with built-in shelving or other features to help maximize storage capabilities in small spaces.
Pick out some Bathroom Decor: Once you have all the significant pieces of furniture picked out, add some decorations to give your bathroom an extra personal touch! Consider hanging wall art, adding a bath mat with an interesting design, or investing in luxurious towels. The possibilities are endless!
Choose lighting fixtures: Lighting is essential for any bathroom and helps set the space's tone. Find light fixtures that you like and ensure they coordinate with the other furniture in your bathroom — this will give it a more cohesive look.
Decorate Like A Pro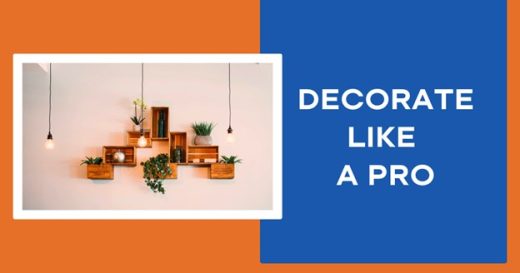 Decorating like a pro ensures that all the elements of your home décor come together to create a cohesive and inviting atmosphere. It also allows you to express yourself through your design choices, which can be extremely rewarding.
For example, imagine you've just moved into a new home and want to set it up with a rustic theme. You take the time to find furniture pieces that fit the style, choose accent colors and textures, and pick out unique decorations. Once everything is put together, it creates an inviting environment that gives off the aura of comfort and relaxation, which makes you feel right at home.
On the other hand, neglecting to decorate like the pros could lead to an uncomfortable atmosphere that feels uninviting and impersonal. Without considering things like color coordination and texture choice, your space may look disorganized or even cluttered. This could make it difficult for anyone who visits your house to feel comfortable in the area – making it an unenjoyable experience overall.
Incorporate Natural Materials & Textures
Incorporating natural materials and textures can help bring the outdoors inside. Consider adding wood accents such as beams or furniture pieces made from reclaimed wood – this will give your space an organic feel while providing extra warmth. You could also try adding stone features like a fireplace surround or decorative tiles around your kitchen backsplash.
Add in Antiques & Vintage Pieces
Adding antiques and vintage pieces to your home can add a touch of character and charm. Head over to local markets or antique fairs, where you can often find some real gems that will fit perfectly in your rustic home. You could also look online for second-hand furniture that has been refurbished — this is a great way to get affordably priced unique pieces.
Finally, don't be afraid to experiment! Mixing old and new styles together can create an eclectic atmosphere that looks effortless and comfortable. Don't be afraid to combine different types of wood, metals, fabrics, and colors — this can help bring the whole look together.
Utilize Neutral Colors & Accent Pieces
When selecting colors for your rustic home, stick with neutral hues like tans and whites. This will create a calming atmosphere and provide a blank canvas for you to add accent pieces. Additionally, it's important to remember that the key to achieving a rustic look is finding a balance between the different elements of your design.
For example, if you have a lot of light-colored furniture and walls in your home, adding some dark accent pieces can help bring out the details of each piece while providing contrast. Consider adding an antique rug or dark wood accents throughout the room — this will tie together all the different elements in your space and give it more depth. Lastly, don't forget about lighting! Adding some rustic-style light fixtures can help tie a room together and make it feel complete.
Bring Nature into Your Home
Adding natural elements to your home is an easy way to create a rustic atmosphere. You could start by adding indoor plants throughout the space, as this will provide some much-needed greenery while also helping to purify the air. Additionally, you could hang up vintage window frames with mirrors or chalkboard paint in them — these can be used for displaying photos and notes or just for decoration.
You could also display other items like driftwood pieces, dried flowers, stones, and branches – anything that reminds you of nature can work as a great accent piece in your home. Finally, don't forget about the outdoors! Adding a porch or patio to your home can be used for entertaining guests or just relaxing after a long day.
Conclusion
Whether you choose subtle accents or go all-out with an old-world vibe in every space, rustic interior design is sure to provide endless inspiration for your home decor projects. With the eight tips outlined above, you're well on your way toward achieving the perfect rustic style for your living space. So don't wait – start planning today!
Comments on this guide to rustic home style – cozy and welcoming property space article are welcome.
New Houses
Contemporary Residences – recent selection from e-architect:
MI-1 Residence, Laval, southwestern Quebec – north of Montreal
Architects: Dupont Blouin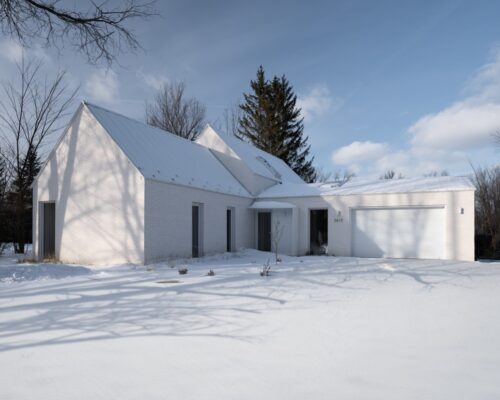 photograph : Olivier Blouin
MI-1 Residence, Laval, Quebec
Shelter on a Rock, Racine, Québec
Design: ESPACE VITAL architecture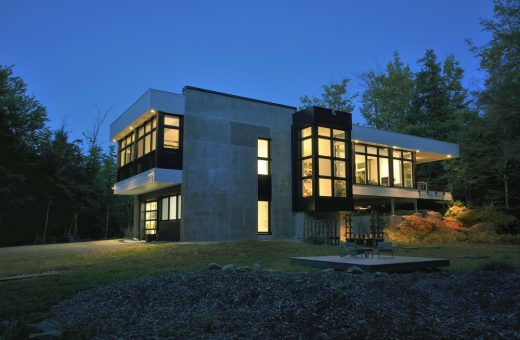 photo : Stéphane Lemire
Shelter on a Rock in Racine, Québec
Building Posts
Contemporary Property Articles – recent architectural selection on e-architect below:
Comments / photos for the Rustic home style: cozy and welcoming space advice page welcome