Bathroom Remodeling Tips, Property Enhancement Guide, Real Estate Improvement
Remodeling Your Bathroom Advice
16 May 2020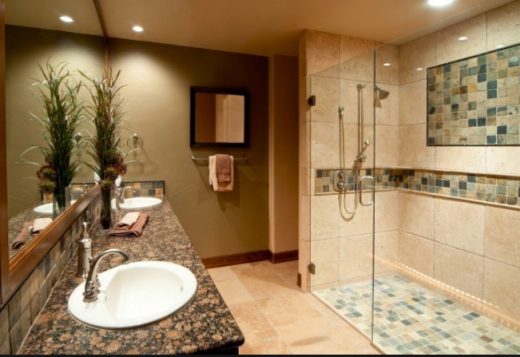 Top Things to Keep in Mind before Remodeling Your Bathroom
Renovation or remodeling tasks can get pretty arduous. However, when it comes to remodeling your bathroom, things get escalated a little further. A lot of small decisions have to be taken during the course of the entire process and it doesn't come out to be a surprise if the estimated cost goes out of hand. In this post, we are going to share with you some of the major things that you must keep in mind before jumping on the venture to remodel your bathroom.
Fundamental Things to Consider before Remodeling a Bathroom
Be prepared to go over budget
If you are thinking that a couple of thousand bucks will be enough to remodel your bathroom, think again. A lot of things go in remodeling a bathroom ranging from plumbing and fixtures, counters, surfaces to the cabinets. Hence, be prepared beforehand only and keep extra bucks handy as the total cost is definitely going to exceed the budget that you planned. A lot of times when flipping a house you have to remodel the bathrooms. You can find information on flipping houses here.
Avoid going too flashy
If you tend to take showers but are thinking of installing a bathtub to make a statement, then it is not practical. Therefore, it is ideal to consider what exactly you need to have a serene and comfortable bathroom. There are a lot of accessories and fixtures to choose from like faucets, showers, wall mounted toilets, bathroom curtains, and more. Make sure you go for the things that you need rather than going flashy and exceeding your budget far more than you expected.
Be careful with the lighting
Make sure you have thought of lighting before embarking upon the venture to get your bathroom remodeled. Lighting can get tricky in a bathroom. You don't want your bathroom to be dark or overly bright. Make sure you have a good lighting set up near the mirrors so that light can be maximized when you are looking into one. Visit the expert renovation team at Bathroom Brothers will be happy to assist you.
Don't forget about the outlets
If you generally use a hairdryer in the bathroom, own an electric toothbrush, or other after-shower accessories; you must consider installing an accessible outlet in the bathroom. Make sure you strategically place the outlet so as to avoid water splashes on it.
Take storage into account
Of course, you will be storing a plenitude of things in the bathroom like soaps, shampoos, after showers, and more. Make sure you invest in integrated storage in your bathroom. Hence, it is ideal to plan well in advance. Integrated storage always works better and adds to the looks of your bathroom rather than going for add-on storage after the remodeling process is over.
Final Words
So, these are the few major things that you must consider when you are planning to get your bathroom remodeled. Remodeling a bathroom is a task more intricate than any other area of your house so planning for the same in advance is always ideal.
Comments on this guide to Top Things to Keep in Mind before Remodeling Your Bathroom article are welcome.
Bathrooms Articles
Bathrooms Posts
The best flooring options for wet spaces
Bathroom end of tenancy cleaning
Top ways to upgrade and update your bathroom
Residential Property Articles
Contemporary Property Articles – architectural selection below:
Comments / photos for the Top Things to Keep in Mind before Remodeling Your Bathroom Guide page welcome