Quilt, comforter, duvet, or bedspread – what's the difference advice, House bed duvet guide, Property bedding tips
Quilt, comforter, duvet, or bedspread – what's the difference
13 July 2023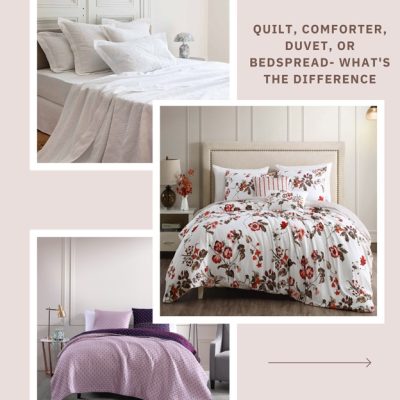 Quilts, comforters, duvets, and bedspreads are all different types of bedding, each with its distinct qualities and purposes. Quilts, comforters, duvets, and bedspreads are all common bedding options that provide warmth and enhance the overall aesthetic appeal of a bed. While they may seem similar at first glance, each has its own unique characteristics that set it apart. In this article, we will like to explain the four types of bedding stated above, their characters, their uses, and their differences.
Quilt
Three layers of fabric are stitched together to create a quilt, a sort of bedding. The top layer is usually decorative and constructed from bits and pieces of fabric that have been pieced together in a patchwork design. The batting or filling, which is the middle layer, offers insulation and warmth. There is only one piece of fabric in the bottom layer.
The decorative stitching that is typically used in quilts ties the layers together. Known for their comforting and traditional appearance, quilts are frequently used as decorative bed covers or for extra warmth. Making your own quilts is a common craft and hobby that many people enjoy. Additionally, there are communities and organizations devoted to the preservation and promotion of the quilting craft. Quilts can be made in a variety of designs, hues, and patterns, allowing for individuality and creativity. In general, quilts retain a special position in many households and cultures all around the world because of their warmth, skill, and beauty.
Comforters
A comforter is a form of bedding made to offer insulation and warmth. Typically, it is a large, fluffy blanket stuffed with artificial materials, down feathers, or a mix of the two. To keep the filling from moving or bunching up, it is sewn or quilted into place. Comforters are frequently used as a bed's top layer of bedding. They are available in different sizes, including twin, queen, and king, to match different bed sizes. You may choose a comforter that goes with your style and the furnishings in your bedroom to suit your taste, thanks to the broad variety of colors, patterns, and designs available. They are frequently lightweight and manageable, it is easy to spread them out on a bed or fold them for storage. Depending on personal inclination and the weather, comforters can be used with or without additional layers, such as sheets or blankets.
Due to its warmth and coziness, comforters are a popular choice as they offer a layer of insulation that aids in keeping you warm in colder areas or during the colder seasons. Numerous comforters are hypoallergenic, making them appropriate for people who have allergies. Overall, comforters are a useful and fashionable bedding solution that provides warmth, comfort, and flexibility in bedroom decoration.
Duvet
A soft, flat sack filled with down feathers, synthetic fibers, or a combination of both is what makes up a duvet, a type of bedding. A duvet is not sewn or quilted like a comforter is. Instead, it is made to fit inside a duvet cover, which is a removable cover. It is more convenient to clean and maintain the duvet because the duvet cover acts as a protective layer and is simple to remove and wash.
You can quickly change the appearance and style of your bedding thanks to the broad variety of duvet covers available in various colors, designs, and materials. The adaptability of a duvet is one of its benefits. During the warmer months, the duvet insert can be separated from the cover and used as a thin blanket. The duvet can be put back inside the cover as the temperature drops for further insulation and warmth. They offer a warm and comforting sleeping environment. Usually larger than the bed they are used on, duvets provide adequate coverage and a draped appearance.
Duvet covers frequently have buttons, zippers, or ties to keep the duvet in place inside the cover. As a result, the filler won't move or bunch up while being used. The standard procedure for cleaning a duvet is to remove the insert from the cover and according to the cleaning recommendations provided for the filling material. While some duvet inserts may be machine washed, some might need to be cleaned by a professional. Duvet is a plush bag filled with artificial fibers or down feathers that are intended to be used with a detachable duvet cover. It provides adaptability, simple upkeep, and a comfortable sleeping environment.
Bedspread
A bedspread is an ornamental bed covering that reaches the floor on all sides. It is often constructed from a single piece of fabric and is utilized to improve the bedroom's overall design. To accommodate various interior design aesthetics and personal preferences, bedspreads come in a variety of colors, patterns, and designs. Bedspreads are typically used for their ornamental qualities rather than for warmth or insulation, in contrast to quilts, comforters, and duvets.
They are frequently constructed from thin fabrics like cotton, polyester, or a combination of materials. To enhance visual appeal, some bedspreads may also have extra decorations like embroidery, lace, or tassels. A complete bed, including the mattress, box spring, and pillows, is covered with a bedspread. They provide the bed with a finished, polished appearance and can be complemented with other bedroom design items like curtains or carpets.
The simplicity of utilizing a bedspread is one of its benefits. It provides an immediate change to the room's appearance when placed over the bed swiftly and easily. In addition, bedspreads can be taken off and machine washed or dry-cleaned, depending on the fabric and cleaning instructions.
Although bedspreads are typically used on top of the bed, they can also be utilized as throws for sofas or chairs to lend a sense of flair and comfort to other parts of the room. The bedspread is an ornamental bed covering that reaches the floor on both sides. It can be fashioned from a variety of fabrics and styles and is largely utilized for its visual appeal. Bedspreads provide the bed with a polished appearance and can be paired with other bedroom decor items.
Comments on this Quilt comforter duvet or bedspread difference guide article are welcome.
Beds and Bedrooms
Bedrooms Posts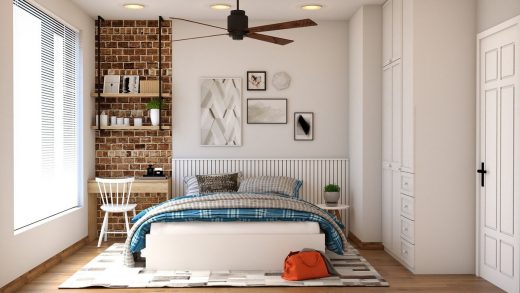 Make Your Bedroom More Comfortable
Essentials things for a perfect master bedroom
Building Articles
Residential Architecture
The Bellhop Hotel, Rotterdam, The Netherlands
Architecture: local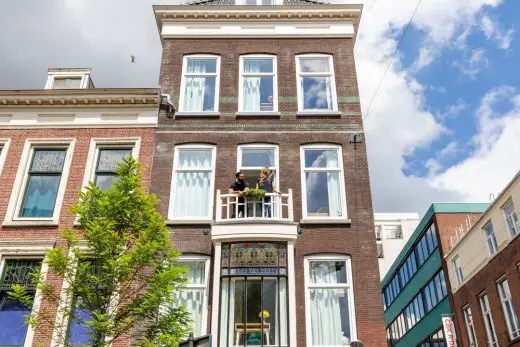 photo : Joey Van Dongen
The Bellhop Hotel
Comments / photos for the Quilt comforter duvet or bedspread difference guide page welcome