Photon Space by Cantifix, Sleeping Architecture, BBC The Truth about Sleep Programme, Tool
Photon Space by Cantifix
Dr Michael Mosley Sleeps in BBC Programme – Natural Light Architectural Article
9 May 2017
Cantifix's Photon Space
Photon Space by Cantifix on 'The Truth about Sleep' by BBC
Cantifix Feature in the BBC Documentary 'The Truth about Sleep'
Cantifix's Photon Space is to feature in the upcoming documentary 'The Truth about Sleep' on Thursday 11th May at 9pm on BBC1.
Assessing the impact a Photon Space can have on the ability to sleep better and influence general wellbeing, Dr Michael Mosley spends a night in Cantifix's modern glass house to experience the effects of natural light on sleep patterns.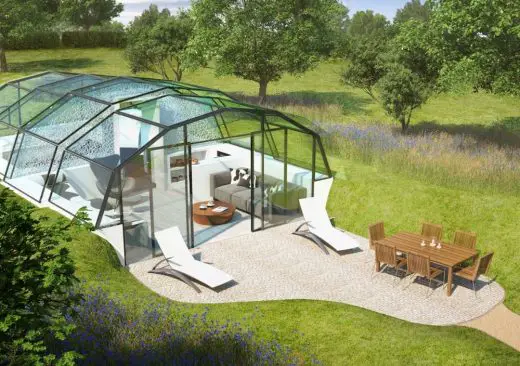 Designed specifically to benefit the biological, psychological and physiological needs of individuals, Photon Space is the first ever all-glass living experience. Dr Mosley gets an insight into the effects of daylight on human biology and reports on how this can particularly control the sleep/wake cycle.
Having discovered that some individuals can get by perfectly well on less than seven hours sleep, Dr Mosley also found that most can't. This documentary sees Dr Mosley team up with world-renowned experts to pick apart research on sleep, and conduct some pioneering tests on willing volunteers, examining the impact on the body and brain with too little sleep and techniques, or indeed natural space that can improve this.
Charlie Sharman, Co-Founder of Cantifix and The Photon Space stated, "A few days inside a Photon Space can be enough to re-energise and revitalize the body.
"It's no secret that natural light can have a positive effect on us and improve our general wellbeing, mood and behaviour. More so, the Photon Space was created to provide a unique living environment that responds to the extensive scientific evidence linking the lack of daylight exposure to both mild and serious medical conditions."
No stranger to innovation through glass, Cantifix have established themselves as the UK's leading architectural glass specialists, having created impressive glass structures in homes, commercial developments and more recently retail environments throughout the UK.
As you would expect from Cantifix, the Photon Space cleverly utilises glass to allow for complete privacy, with the glass reacting to the users preference, turning from clear to opaque when required, and achieving an all-embracing natural living experience.
"Wellness embodies physical, mental and social well-being, the Photon Space is a compact living environment, a daylight suite which can be utilised for both short or long-term stays.
"Without getting too technical, the majority of the envelope is glass, which combines the latest technological advances in thin-films, coatings, interlayers and nano-treatments and subsequently creates the distinct feel, atmosphere and performance of the internal environment. This forms a rare living experience and embodies natural living.
"We continue to work in collaboration with Oxford University on the study and looking forward to watching Dr Mosely's experience of the Photon Space on Thursday!" commented Charlie.
View The Photon Space by Cantifix in The Truth about Sleep, which airs on BBC1 on Thursday 11th May.
About Cantifix
Cantifix was founded in 1986 by two of its current directors; Charlie and William Sharman. At inception, Cantifix was purely a conservatory business, but it wasn't long before they found their true calling: innovation. Cantifix subsequently took on groundbreaking experimental projects, attracting the attention of distinguished architects and earned their place amongst the leading names in specialist glazing. They refused to accept the impossible, leading to their steadfast commitment to new technologies, a passion for excellence, and persistence to find success through pushing the boundaries with what can be achieved with glass.
About The Photon Space
Described as a modern glass house with all the luxury benefits of a daylight suite, the Photon Space is brought to you by Cantifix. Experts who fully understand glass engineering, nano-technology, anthropology, psychology and neuroscience are behind the design of the Photon Space. Architects, designers, artists and aesthetes who have all contributed towards creating an inspirational living environment for the 21st century have also designed it. Combining lifestyle, beauty, nature, wellbeing and experience, the Photon Space is a living environment of escapism, an experience and opportunity to rediscover the health giving benefits of daylight.
Architectural Articles
Orthogonal Architecture by Richard Weston



photograph © Gonzalo Navarro
Heroic Architecture by Douglas Klahr



photograph : Nelson Garrido
Modernist Architecture by François Lévy



picture from TM
Globalisation Architecture by Trevor Tucker



photo © Nick Weall
Barclays Center Brooklyn by Dimple Soni



image © SHoP Architects
Comments / photos for the Photon Space by Cantifix – Better Sleep Tools Advice article page welcome