Nine innovative ideas to renovate your home guide, House refurb tips, Online property renewal advice
Nine Innovative Ideas to Renovate Your Home
18 Oct 2021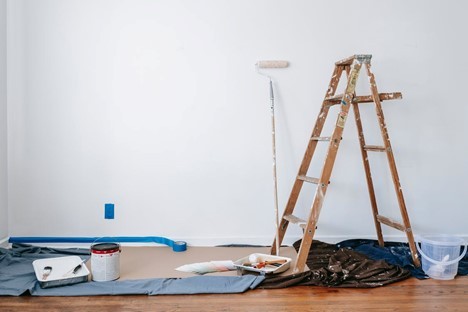 image source : pexels.com
Home renovation can dramatically upscale your property's value and give it an oomph factor. People decide to go for extensive yet expensive remodeling labor to enhance the house's beauty and make it more functional and cozier. Therefore, they let go of their worries and indulge in a home improvement project, hoping to turn their place into their dream homes.
Renovation revolves around creativity, and when it comes to it, possibilities are endless. Since there is no right and wrong in innovation, people can think creatively and bring unique changes to their homes. Modern homes are generally compact, but that does not mean they are less practical. While renovating, people can make the most of the space and make it more aesthetically pleasing.
Let's dive into some innovative ideas to renovate your home:
Nine Innovative Ideas to Renovate Your Home Guide
Rent a Storage
During the renovation, it's a good idea to rent a storage unit and store your belongings there to keep them safe. These storage units provide a secure, temporary storage solution for everyone. You can also use them for storing unwanted or unused household items and other personal belongings. You can easily find them near your area or by searching online. These self storage units serve as an excellent solution for everyone, as they're both convenient and flexible and available in various sizes to meet your needs.
Have a Personalized Wall
Hanging pictures to preserve memories is an old tradition. Still, you can be innovative to bring your character into the house. Dedicate a wall in the living room or on the entrance and personalize it with your favorite stuff. You can hang your famous quotes, poetries, children's artwork, or paintings. Suppose you do not mind displaying notes and cards that others have gifted; you can embellish the wall with affectionate messages. Many people have special memories attached to a place and want to keep a souvenir. A unique way is to hang a city map to recall the cherished times you spent there.
Incorporate Vintage and Modern Touch
We all have distinct personalities and tastes. Some of us prefer modern, and several find vintage fascinating. While keeping the layout stylish during the renovation, blend some vintage elements and give your home a different kind of fusion. With an electronic lock system, you can install a vintage bell. Another idea is to have one or two bare bricks walls and have a realistic outlook. The key is to ensure that both elements blend well and do not make things appear haphazard.
Install a fire Pit/ Water Feature
Water features like a fountain or pool may seem extravagant, but utilize them to make the house more functional if you have an outdoor area. Firepit in an open space will give you an excuse to spend time under the open sky, even in cold weather. Instead of going for the fancy ones, you can stick to the basics and have a bare bricks fire pit. It will bring a vintage vibe to the house and will not break the bank. Similarly, water fountains do not require a science behind them. You can easily install them with the help of some professionals.
Amp up the Lighting
Lighting must be the first aspect to consider during the upgrading of the house. Install the chandelier on the entrance and make it a focal point. Have adjustable build in bulbs in cabinets, landscape, or wardrobe to accentuate some aspects of the house. Change the shades or incorporate other ones to lift the aura of your home. Markets have plenty of options available; you can easily choose fancy bulbs for your homes. Another idea is to incorporate strings of fairy lights in the décor and highlight some specific areas. You can play with shades and bulbs to create a unique ambiance.
Create an Illusion of Larger Spaces in Unique Ways
During house remodeling, you can maximize the space by setting the furniture artistically and give an illusion of a larger area. You can place the mirrors strategically in such ways to make a room appear more extended. Moreover, mirrors blend well in decoration and lift the room's spirit. Paint walls in pastel shades, create contrast, use bright lights, and have monochrome colors to make the room appear larger. Unifying the flooring also gives an idea of more area.
Construct Built-in Cabinets/ wardrobe
Kitchens are not the only places where we need cabinets. During the renovation, you can get some cabinets constructed in the walls to save space. The wardrobes appear neat, have defined lines, and do not look all over the place. Some cabinets doors have magnets, and they come without a handle. Such cupboards give an illusion of the wall and blend well in the décor. Furthermore, the house set with a minimalistic approach appears trendy yet unique. Build-in cabinets make the interior moderate and functional.
Create Open Space
Another unique idea to change the look of the house is to create an open space. Have one vast area open where you can throw cushions and have floor seating. Formal dining rooms or powder rooms are no longer in trend. Instead, create an open space with minimal and multi-functional furniture to have more room. While renovating, move out extra furniture and get rid of bulkier pieces. Moreover, renovation is an ideal time to declutter. Open spaces will not feel suffocated and provide a sense of calm.
Integrate Ceiling Glazing
Ceiling glazing is another name for glass roofs that pave the way for natural light. Many people do not like to keep the windows open, and their abodes are devoid of sunlight. Although sunlight reaching home through a glass roof cannot replace direct sun rays, it is better than depriving the home of natural light. Integrate ceiling glazing will make the space more lively and provide it with a new vibe.
Conclusion
Remodeling home is strenuous, but the results make all the hard work worth it. People can play with different ideas and incorporate new things to change the appearance of their homes and enhance their outlook. Besides, the house starts wearing over time and requires a retouch. Today, ample resources are available in markets, and people must research before indulging in home improvement projects. You can be creative and apply imaginative ways to upgrade without breaking the bank and tearing the walls down. Apply the ideas as mentioned earlier and make your home more practical and comfortable.
Comments on this Tips for Nine innovative ideas to renovate your home article are welcome.
Building Articles
Residential Architecture
Comments / photos for the Nine innovative ideas to renovate your home advice page welcome