Most versatile uses for sealant and adhesive guide, Property Construction Advice, Building Tips
The Most Versatile Uses for Sealant and Adhesive
20 Jan 2021
Since the 1960's polymer-based sealants have been widely available for use in construction and have shown to be a vast improvement compared to earlier acrylic products. The variety of properties now found in modern adhesives and sealants include resistances to corrosion as well as improved flexibility and strength. Not only this but there are wider options including appearance and flexibility.
Interestingly, some sealants are renowned for their adhesive qualities, but they tend to differ from traditional adhesives as they often feature lower levels of strength and higher elongation.
Of course, sealants are also utilised widely in construction to prevent fluids and other substances from passing through material surfaces, along with joints and openings. Below, we've appraised some of the most versatile uses for these products in construction and industry, including the following: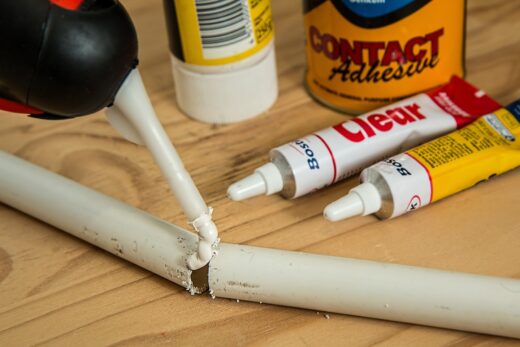 The Most Versatile Uses for Sealant & Adhesive Guide
Provide Sealing and Bonding on Sustainable Projects
Like most industries, construction has moved increasingly towards sustainability, particularly from the perspective of domestic housing.
For example, an estimated 45% of the UK's total carbon emissions are caused by the built environment, with domestic structures accounting for 27% and commercial structures contributing 18%.
As an antidote to this, products such as the EB25 sealant from Everbuild have been designed to carry the coveted EC1 Plus badge, which guarantees very low emissions and can be used to compliment sustainable construction projects.
Successfully Bonding Carpet Grippers to Flooring
In any commercial office or workspace, health and safety must remain a key focus for building managers.
Make no mistake; this covers a broad range of tasks and considerations, even to the point where it must be ensure that carpets are secured to the floor and the risk of tripping or slippage is minimised at all times.
To counter this issue, sealant and adhesive can be used to bond carpet grippers to flooring solutions, guaranteeing employee safety while replacing the utilisation of nails and reducing the time taken to complete such a task.
Sealing Metal Roof Panels
While metal roofing is rarely used on construction projects, aluminium and steel panels may be used in certain geographical areas where extreme weather is prevalent.
They also offer value for large-scale structures that are likely to experience high volumes of traffic, as metal panels have the capacity to reduce cooling costs by as much as 25% by reflecting solar radiant heat.
Thanks to their excellent weatherproof properties and primerless adhesion to metals, certain sealants and adhesives serve as useful tools for this type of outdoor purpose.
The Bonding of Lead Sheets
On a similar note, some construction projects may also use lead sheets, which are renowned in the industry for reacting with various types of adhesive.
However, products such as the aforementioned EB25 don't have this issue, as they have the ability to bond and seal virtually any substrate or material.
This represents a significant advantage in the sector, as it allows for the swift and effective completion of projects regardless of the challenges posed by chemical reactions or similar problems.
Comments on this guide to Most versatile uses for sealant and adhesive article are welcome.
Home Articles
Residential Architecture
Comments / photos for the Most versatile uses for sealant and adhesive advice page welcome