Greatest casino buildings in Europe, Famous European architecture, Gambling property design
The Most Impressive Casino Buildings in Europe
Luxury Resorts & Theme Parks: Betting Experience Article
2 Sep 2019
Gambling has been a popular past-time throughout the ages and the history of the casino goes back several thousand years. The modern-day casino complexes in locations such as Las Vegas and South Africa typically conjure images of glitz, glamour and flashing lights. 
Although Europe doesn't have many of these loud and huge casino complexes, it boasts a spectacular array of spectacular casino buildings which are steeped in history. So, without further ado, we've had a quick look at some of the most impressive casino buildings throughout the continent and have assessed what makes them so awe-inspiring.
Casino de Spa – Belgium
In the present day, many land-based casinos utilise beautiful historic architecture Europe has been gifted with in order to build and maintain a casino brand and attractive aesthetic. The Casino de Spa is a champion of Roman-inspired design and architecture, designed by Baroque architect, Jean-Barthelemy Liege Digneffe in the 18th century. 
The casino itself is thought to be the oldest of its kind in the world and was reconstructed after a fire devastated the main structure of the building back in 1789. However, it remains one of the most jaw droppingly gorgeous casinos in Europe and oozes class and culture at every turn.
The Kurhaus of Baden-Baden – Germany
The Kurhaus of Baden-Baden may sound like a bit of a mouthful but the roulette balls have been rolling around the casino's gleaming wheels for the best part of 250 years. Architect, Friedrich Weinbrenner, built the classically inspired Corinthian- columned palace in the small spa town of Baden during the infamous belle epoque period of modern architecture. From a distance and lit up, you could be mistaken for thinking that the whitewashed walls of the building belong next to The White House in Washington DC. In any case, the casino remains one of the most impressive land based casino establishments in Europe, so much so, that the Russian writer Fyodor Dostoyevsky drew on it for inspiration for his novel, The Gambler.
Chamonix Casino – France
The Chamonix is as much about the backdrop as the actual casino itself. Set to the stunning backdrop of the French Alps, the Chamonix is housed in a former Royal Hotel and even hosted Napoleon III for a short time. The building now has a fine cafe which you can visit to take a break from your casino based shenanigans. The casino itself isn't the largest on the list by any means but nevertheless, it exudes culture and has that regal feel about it thanks to its illustrious history.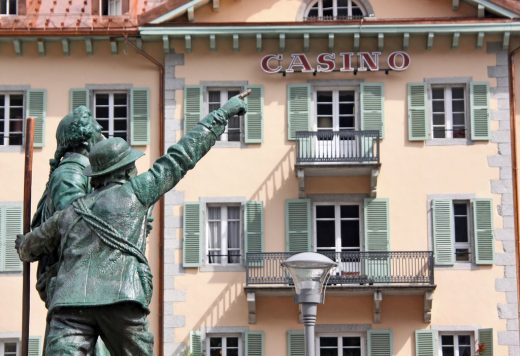 2009-08-10" (CC BY 2.0) by Giåm
Celebrating historic architecture
Modern-day casino complexes act as a one-stop-shop for customers and have utilised many traditional and historical buildings as a template for their 'all in one design'. Although the mention of these traditional gambling houses dates back thousands of years, few of the more beautiful builds have survived to flourish today. These beautiful and respected styles and architectural aesthetics have proven to be popular across all casino platforms – land-based and online.
Many an online casino boasts beautifully-designed traditional slots and games inspired by similar historically-inspired architecture and ornamentals. Popular games on sites such as Redbet, including Perfect Gems, Book of Dead and Victorious, utilise Roman and Greek architectural motifs that act as the framework for the games themselves. Thus proving the lure of ancient designs from bygone eras continue to attract players and tourists alike, across all platforms.
With this in mind, it's vital that we continue to protect and use these buildings of historic significance to preserve the history and culture contained within their walls. Nevertheless, when it comes to impressive casino architecture, Europe still reigns supreme in our eyes.
Monaco Architecture
Monte Carlo Buildings
Hôtel de Paris Monte Carlo Reopening
The Pavilions Monte Carlo, Monaco Luxury Stores
Las Vegas Architectural Designs
Las Vegas Buildings
Vdara Hotel Las Vegas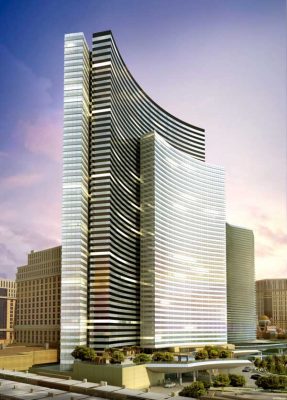 image : CityCenter Land, LLC
Comments / photos for the The Most Impressive Casino Buildings in Europe page welcome