Modernist architectural marvels on the West Coast, USA Modern building design, United States West Coast architecture
11 Modernist Architectural Marvels on US' West Coast
16 Mar 2021
United States' West Coast modern buildings
We have succeeded in picking out the must see samples from the numerous modernist buildings, communes and complexes in the Pacific Coast of the United States. Some of the best examples of modernist architecture in the United States and the world at large are found in the American western states of California, Oregon and Washington.
One state that is known for a huge number of grand houses created by architects that were at the center of the mid-century style is the state of California. However, this set of architects are also known to have erected skyscrapers, educational edifices and churches, and entire communities with the same principles. That was why we decided to make a list of the mid-century modern architecture found in the West Coast. They are the houses you must see if you set out to see the best.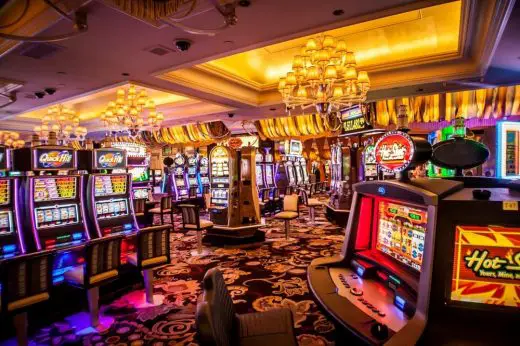 Skyline Tower, Bellevue, 1983
A rustic looking building that oozes appeal from the early-mid 1980's, The building is home to some of the most prestigious finance institutions and software companies throughout the Bellevue, Seattle locale. Most notably, the building is the headquarters of PC gaming goliath, Valve. Valve are responsible for the cult classic Counter-Strike: Global Offensive FPS shooter. The game is globally received and has tournaments in all corners of the world. CSGO is also responsible for a number of gambling games like those you can find at CSGOBook.com where players can gamble skins or real money in exchange for ingame items.
Salk Institute, San Diego, 1963
This was inaugurated by the developer of the polio vaccine, Jonas Salk. It stands as the Taj Mahal without any reservations. Looking at the building, a very brilliant mind will see ethereal lightness, massive weightiness and pure symmetry properly and masterfully fused together.  Here, there is an ocean that lies beyond tall cliffs, and the house stands as a double mirror image stricture, clothed in unfinished teak and raw concrete, properly located in an open travertine courtyard, with a linear, thin water channel that flows into the ocean. It was Luis Barragan that brought in the idea of leaving no tree around the plaza, making it a facade to the sky.
Geisel Library, San Diego, 1970
This edifice was designed by the underrated modernist architect, William Pereira. In this floating ziggurat, the boldness of the structural gymnastics that characterized the late modernism is fully showcased. In this 8 storey structure, a unique branching system was applied, making it look like a tree, as all the four sides of the building were reinforced with bent concrete columns.
The library was designed to look like a spaceship, but the major idea is for it to come out like an image of a hand holding a globe. However, the dramatic thing about this is that it was approached through UCSD's Literary Walk.
Stahl House, Los Angeles, 1959
Designed by Pierre Koenig, this mid-century building may well be the most famous among its mates. Attracting the Los Angeles basin under its living room, the house is designed like a floating glass and stands above the Hollywood Hills. Referred by some people as Case Study House #22, the structure, which has an L shape, lies on top of a small but impossible looking steep lot, which was also complimented with discarded concrete by the owners, Carlotta and Buck Stahl.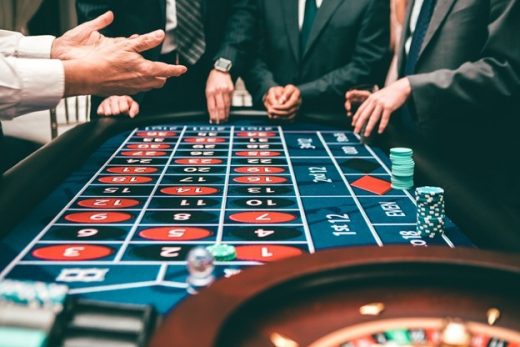 Almost covered with large sheets of glasses from the floor to the ceiling, and shaded and protected with very strong corrugated steel planks, you can enjoy the best views of the city, from the Pacific Ocean to the Griffith Observatory from here.
Wayfarers Chapel, Los Angeles, 1951
This work was designed by Lloyd Wright, who is always neglected because of his father Frank Lloyd Wright. Built for the Swedenborgian Church, which is a non-denominational church that focuses on the natural world to draw their spirituality, the hugely forested surroundings swallow this 'tree chapel' that is designed with glass walls and dark redwood columns.
Outside, the chapel overlooks the landscaped rose garden of the church, with a very serene and introspective pool and bluffs that overlook the Pacific.
Sunnylands, Palm Springs, 1966
This is where you'll see an obscure mix of mid-century beauty and extravagant brightness that will fascinate you. This iconic compound that was designed by A Quincy Jones has played host to lots of world dignitaries, ranging from luminaries to presidents and much more.
Its modernist attributes include the simple trellises, waffle slab ceilings, large glass walls, deep eaves, and exposed beams and columns. But there are ones that are unique and therefore strange, and they include the regency furniture, marble floors, yellow and pink walls, replica Mayan columns, lava stone walls, and the pink pyramidal roof.
Weston Havens House, Berkeley, 1940
Designed by Harwell Hamilton Harris, this edifice was popularized by photographer Man Ray. It is a marvelous seaside home that lies on top of the university of California campus, and inside it, you will be floating on top of San Francisco bay. The detailing of the interior is very warm and intricate.
The home was designed for John Weston Havens Junior. In fact, the idea was for Harris to design the philanthropist a dwelling that will combine maximum privacy and an opening for views of the area perfectly. The house involves huge decks, with inverted triangular trusses covered with timber for reinforcement, large glass walls and framing views.
Saint Mary's Cathedral, San Francisco, 1971
A look at this masterpiece by Pietro Belluschi and Pier Luigi Nervi, and you'll get the feeling that hundreds of tons of smooth concrete are floating above your head. The house assimilates geometric and colorful lights that will awe you.
The concrete saddle roof of the house, which is covered with travertine tiles, stands as four different interlinked parabolic hyperboloids, coming together to form a cross above. When you get in, you will see a triangular concrete cupola standing above you, with four corner pylons as support, while the general sense of wonder experienced, is further escalated by the shining metallic altarpiece.
Sea Ranch, Sea Ranch, 1965
The design of this ranch came as a result of collaboration between many people. It stands as one of the first ever stops for people on pilgrimage, and involves a collection of rustic-inspired modern houses brought together to deliver one of the most alluring seaside plots in the world. Standing on rugged cliffs of up to 10 miles, the estate that was designed by Lawrence Halprin, Joseph Esherick, Turnbull & Whitaker (MLTW) Moore and Lyndon, etc., lies just three hours north of San Francisco. The area stretches either side of the highway of the pacific coast, delivering a linear cluster of homes, covered by grassy meadows, pine hedgerows, and cypress.
Among them, the Charles Moore's Condominium One is the most famous. It is wood clad and shed styled, with saddlebag additions that gives peculiar views and introspective area.
Mount Angel Library, Portland, 1970
This very mild specialty, lying on the ground of the Benedictine Abbey, was designed by Alvar Aalto. The library comes out in a very unique superlative and surprising sequence, delivered by its light and volume. The building is semicircular in shape, and it's covered in strips of glasses, altering as you move through it, with a center that steps down to show a fan shaped catalogue of books under an angled set of skylights that illuminate the top in a mild manner.
Rainier Tower, Seattle, 1977
This very cool modernist tower sits comfortably on a curved narrow11 storey concrete base. Designed by Minoru Yamasaki, you won't ever believe it until you've seen it, and will still not believe the possibility after you've seen it. Like the twin towers designed by the Yamasaki, the building's top corner is covered with vertical stripes of aluminum and glazing. The sturdy bottom, according to reports, makes the house one of the safest hiding places when an earthquake happens.
Comments on this 11 Modernist Architectural Marvels on United States of America West Coast article are welcome.
American Architecture Designs
America Architecture News – latest building updates
American Architectural Designs – selection:
Nancy and Rich Kinder Building, Museum of Fine Arts Houston, Texas
Design: Steven Holl Architects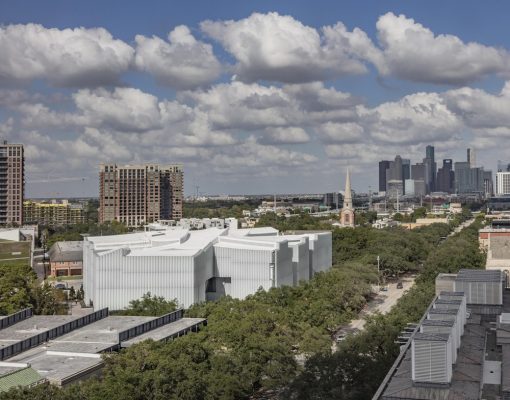 photo © Richard Barnes, courtesy of the Museum of Fine Arts, Houston
Nancy and Rich Kinder Building Houston
Commonwealth Pier, Seaport World Trade Center, Boston, Massachusetts
Design Architect: Schmidt Hammer Lassen Architects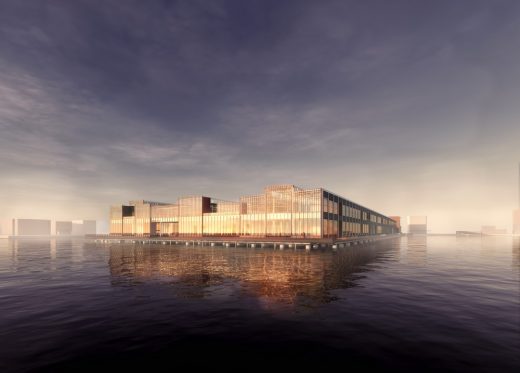 image © Schmidt Hammer Lassen Architects
Commonwealth Pier Boston
Modern Building Designs
Modernist Architecture
Comments / photos for the 11 Modernist Architectural Marvels on United States' West Coast page welcome