Modern versus Traditional Kitchen Designs Tips, Home Style Advice, Building Interior Guide
Modern Vs. Traditional Kitchen Designs
23 Sep 2020
Life in any home often revolves around the kitchen. More than just a space for food storage and cooking, kitchens are often the social centre of a home and are used for entertaining guests and for family get-togethers.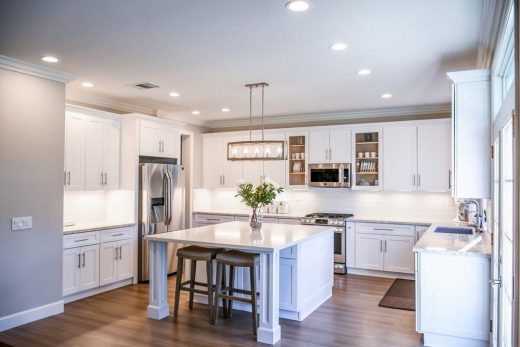 image : pexels.com
Modern Vs. Traditional Kitchen Designs Help Guide
If you are thinking about renovating your kitchen, one of the first dilemmas you must approach is what style of kitchen design suits your family and your home best. The debate between traditional and modern kitchen styles is endless and often comes down to personal taste and what suits the style of the rest of your property best.
Here we are going to try and do the hard work for you, and give you the information you need to make the right choice for you. Here is our guide on how to choose between a modern or traditional style of kitchen.
Take a Look at the Rest of Your Home
Your kitchen will often reflect the other design choices you have made in your home. If you have renovated or redecorated your other rooms in a traditional style, then a sleek and modern kitchen may look out of place in your home.
The age of your property will also be a contributing factor to your decision. Modern kitchens in a period property can often look inappropriate and unsympathetic to their surroundings. You may be looking for this type of styling contrast, and when it is well executed, it can give the heart of your home a stunning look. In general, however, you should try and find a kitchen design that fits in with the other design choices you have made in your home and suits the property's age and architecture.
Consider Fixtures, Fittings, and Appliances
If you already own appliances like an oven, cooking hob, and fridge, then these appliances will help you make design choices. These key features will have their own look that needs to fit in with the rest of your kitchen's style.
Using a professional kitchen design company can often help you find the right design for your space and existing appliances, saving you time and money. At Hunter Hall Design you can find a huge range of kitchen styles, and their design team can show you both traditional and modern options to suit your property. Bespoke kitchens give any property a stunning and unique look.
The Best of Both
It is possible to mix styles a little and get a well-designed and bespoke kitchen that utilizes the best aspects of traditional and modern styles.
Modern lighting and countertops can look great paired with traditional and country-house style cabinets and fittings. Don't forget about flooring either. You can make modern style choices for your kitchen floor and even tiling, and still have traditional style kitchen cupboards and counters. If you are looking for a way to merge modern and traditional stylings in your home, the kitchen provides an opportunity to do this. It can be a hard look to achieve, so be careful and don't go too far in either direction to find a balance.
Making the right style choices for your kitchen is incredibly important. Make sure you don't rush into things and look at all your options and you should be able to find the perfect kitchen style for you and your home.
Comments on this Modern versus Traditional Kitchen Designs advice article are welcome.
Kitchen Design Articles
14 Common Kitchen Design Mistakes to Avoid
How to design a kitchen: 10 essential design steps
Kitchen Countertops: Tiling & Backsplash Design
What style of kitchen is perfect for your home
Building Articles
Comments / photos for the Modern versus Traditional Kitchen Designs Guide page welcome