How you can market your property with 3d rendering, Building Design Tips, Online Advice
How You Can Market Property With 3D Rendering
2 Jun 2021
Developers and agents who use 3D rendering to sell finished and unfinished properties benefit more than those who do not. Earlier, agents and property developers found it extremely challenging to sell an unfinished or under-construction property. Not everyone was able to get the sales they needed.
They would need to rely on images, drawings, and paintings of what the site or property would look like in the future or upon project completion. However, without correct representation and accuracy, the drawings would not scale, and pictures of unfinished properties would not look impressive enough to buy. This entire process would hamper the marketing process and create a lag in property sales.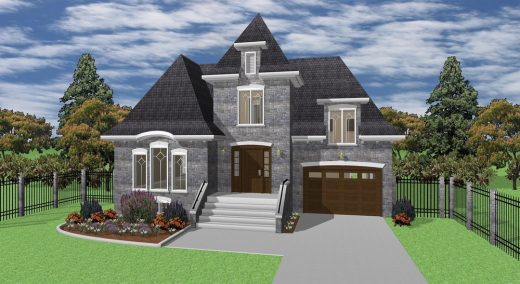 How You Can Market Property With 3D Rendering Advice
Pre-selling properties before they were ready was still a challenge for developers and real estate agents. This is how the scenario changed after the onset of 3D modelling. 3D rendering helped agents, property consultants, and developers sell unfinished properties at an unprecedented rate. 3D rendering is an accurate mathematical representation of a design converted with lifelike features with 3D visualisation.
What Is 3D Rendering?
Like we mentioned above, a 3D rendering is a mathematical representation. Rendering is a part of visualisation as it comes the closest to an actual product image. 3D rendering has increased in scope because it includes width and breadth and the depth of an object. This is extremely useful for adding texture, colour, motion blur, generating shadows, depth perception and real-life lighting.
3D rendering is the process of using software to convert 3D models into 2D images. The software helps create pictures in a few simple steps. These renders use photorealistic imagery, effects, and styles to make the product lifelike. The process is quite simple – a 3D artist is needed to model the product, scene, or property, different materials are set up (concrete, brick, glass, and so on), natural lighting is added, and the images are computed.
How Does It Help Market The Property?
3D rendering can benefit several different aspects of marketing the details about property infrastructure. 3D rendering can highlight all the functional stylistic elements of a property interior design. You can show a highly detailed commercial and residential properties rendering with depth perception, lighting, and interior detailing.
This technology benefits the developers and agents and interested potential buyers who wish to see everything done to scale. Most people wanting to invest in real estate like to understand the nuances, external and internal dimensions, and the scope of work. All this and more can be achieved with the help of 3D rendering.
Getting New Clients:
Most investors and buyers check how eye-catching the property is and how much future sale it can generate. 3D renders help make the property appealing and attractive. It helps agents and developers attract new clients, buyers, and investors quickly. For advertising campaigns and marketing material, it is best to use 3D rendering to impress everyone.
Always remember, 3D rendering is more impressive than plain, flat 2D designs and drawings. Since most people do not know how to correctly read a floor plan, the render helps make things interesting. For most developers, making a lucrative sale is the primary reason for the development of projects. Potential buyers can see the dimensions and depth of the property simply by looking at the 3D rendering.
From a marketing perspective, 3D rendering helps architecture greatly since it becomes easy to make eye-catching campaigns around images that are also impressive-looking. For potential buyers, looking at an image and picturing the real thing in their minds is more important than seeing a floor plan and imagining it.
Efficient and Precise Presentations:
In marketing, presentations, pitch decks, investor reports, stakeholder booklets, and client pitches are crucial. 3D rendering helps in all these areas. Earlier, people would rely on drawing boards, cardboard cutouts, images, and pictures to help all stakeholders, shareholders, and investors see the larger picture. Now, however, 3D rendering has made the entire process seamless yet highly precise and efficient.
3D rendering helps make the property look more impressive while maintaining all the dimensions precisely. Potential buyers can accurately visualise flooring, paint, lighting, furniture placement, and design features of the property.
You can also have accurate colours, textures, and other unique, customisable features. Your sales figures will go higher once they can see everything clearly and can visualise exactly what they want. This will also help make all presentations impressive and will increase your conversion rate.
Make Quick Edits:
Images and pictures cannot be edited quickly. In earlier times, architects would have to return to the drawing board in case of any edits. Static blueprints and sketch designs would take a lot of time to redo. Thankfully this is not the case anymore. Now, 3D rendering can be edited on the spot. It is straightforward to make edits on 3D rendering software. This live editing feature reduces idle times, increases efficiency, and helps clients get their specifications faster.
3D rendering has made updating and saving new versions of the files effortless. Instead of old fashioned acetic acid and plastic sheets, it is now more efficient to quickly update the software and save the new edits.
3D rendering also helps by reducing the time taken to approach the client with the new edit. When speaking with clients, you can assure them that any changes needed in the property will be implemented and shown to them instantly with the help of a 3D render. They can also have the latest versions of the property edits before they leave the site. Doing this will help reduce the downtime taken by clients wishing to make a property purchase. Your clients will prefer working with you since they can see a clear progression and make a quick decision.
Spot Problems Quickly:
Clients usually want everything only according to their specifications. 3D rendering helps them see everything quickly. 3D rendering also helps clients spot any differences, edits, or variations that they would like to make. Not only does 3D rendering allow you to spot any problems quickly, but it also helps in troubleshooting and quickly implementing solutions. Since most clients do not have a background in architecture, you can quickly point out any faults or issues that may arise in the future.
Spotting problems not only come with viewing a project on a 3D rendering; you can also help clients by showing them accurate visual representations of theoretical concerns. Many clients have concerns regarding the foundation and stockpiling, any potential leaks, and fire hazards. With the help of a 3D rendering, you can help put clients at ease.
When marketing a property, you must spot any potential problems and fix them before showing the property to clients and future customers. Always remember, people wishing to purchase a property from you would always want to know that the construction is sound and excellent quality materials are being used. You can add all these details in the 3D rendering. You can also market the property by telling potential clients that the troubleshooting and safety check is being performed from the get-go.
Cost-Effective:
Blueprints and hand-drawn sketches always take a lot longer to make than software using mathematical equations to solve a 3D rendering. Making fresh designs and redesigning to add changes is time-consuming and expensive. 3D rendering helps save time and cost. There is a one-time investment required in obtaining the software and hiring an expert designer. Experienced designers can make excellent 3D rendering in less than half the time to redo 2D mock-ups.
You can efficiently allocate more time and funds to marketing instead of wasting the budget on manual blueprints, sketches, and edits. Renders can be wholly designed without the need for photoshoots or freehand drawings. You can allow the client to immerse themselves in the experience of owning a new property.
Enhances The Marketing Campaign:
There is no doubt that 3D rendering is one of the best marketing tools in the market today. Realistic 3D rendering designs of a property help boost emotional responses, impress clients and draw potential clients. Since most marketing campaigns require excellent quality images and photographs, 3D rendering images off the property helps improve the overall aesthetic.
Professional imagery can invoke highly emotional responses from potential buyers. 3D rendering can also show people, animals, plants, weather, and nature in the image and help clients accurately visualise the property. If clients can see how the property will look upon completion, they would be more interested in purchasing. Since buying property is not cheap, it is best to convince potential buyers with accurate images.
Mixing technology with an age-old aspect of design has helped cover the gap between buyers and sellers of properties. This technology has helped real estate funnels across the globe gain excellent ground for further expansions and growth. 3D rendering helped merge the traditional process of property development with modernity to successfully connect agents and developers with the ever-changing needs of the people.
Comments on this You Can Market Your Property With 3D Rendering article are welcome.
3D Rendering
3D Posts
Building Articles
Residential Architecture
Comments / photos for the How You Can Market Your Property With 3D Rendering page welcome