Major Wine-Making buildings, Winery architecture, Wineries designs, Architect, Architectural photos
Major Wine-Making Buildings – Design Projects from around the World
16 May 2022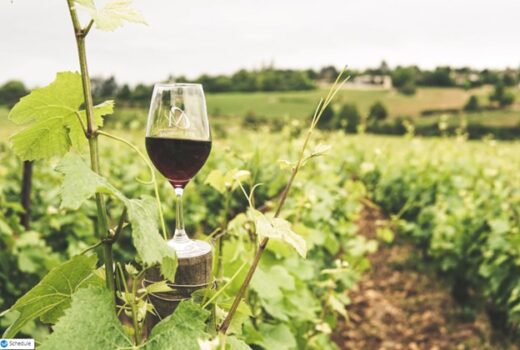 Best Time to Visit a Winery
A wine tasting tour is a unique experience for everyone, especially for wine enthusiasts and people who enjoy the magical taste and flavours of grape juice. Before planning your next wine tour, you are certainly wondering about the best region, history, taste, and quality of the wines offered.
But, what is the best time to visit a winery?
There is no bad time for visiting a winery, it`s just a question of personal expectations and preferences.  Below you can read about each season and find suitable wine tour suggestions.
Winter
A Winter winery tour might sound a little unattractive but it does have a lot to offer, depending on your desires and expectations. There are several advantages to visiting wine tasting tours during winter. For example, you will see a unique and amazing landscape of snowy grape fields that you will remember forever. Furthermore, winter is the less busy season so the winemakers and winery owners have more time to show you the history, the winemaking procedures, and methods, but also you will have the opportunity to ask anything and get thorough answers.
Note: Weather seasons are not the same everywhere around the world, so you may first do a little research about the specific winery and wine tasting tours.
Best Wine Tours in Winter
Sicily- One of the best wine-making regions in the world. It has so much to offer during wintertime, from stunning snow-covered Etna vineyards to magnificent architecture, wonderful nature, and landscapes, and the best of all the opportunity to taste the best high-quality wines ( Pietradolce Etna Rosso 2019, Pietradolce Etna Bianco, Tenuta di Castellaro Nero Ossidiana 2017).
Spring
For many people spring is the favourite season of the year due to its wakening vegetation, nature is waking up from the winter dream and everything is green, beautiful, and alive. Colourful flowers also begin to blossom, making the natural landscapes breathtaking. Also, it is the perfect time to fully experience a wine-tasting tour without a crowd, and the accommodation costs are still low. The temperature is also ideal, not too cold or warm.
Best Wine Tours in Spring
Bordeaux- This is one of the most popular wine-tasting tours in the French countryside. Bordeaux vineyards are the largest vineyards in the world growing in many wine-growing areas. Bordeaux winery tours offer a unique experience of wine-tasting along with cultural and historic adventures, as well as gourmet discoveries. Best Bordeaux wines to taste: Celene Opale Cremant de Bordeaux Blanc de Blancs, Celene Cuvee Royale Cremant de Bordeaux Brut, Celene Saphir Cremant de Bordeaux Brut Rose, Chateau Pedesclaux Fleur de Pedesclaux 2018.
Summer
Summer is one of the most popular and busiest wine-tasting seasons. However, summer times in some wine regions can be very hot, so if you are into hot summer days then this is the perfect time of the year for your wine getaway. In summer, most the wineries organize different wine-tasting events, festivals, and tours. Moreover, you can see the juicy grapes in the vineyards and have the privilege to taste them along with the wines and enjoy the amazing landscapes.
Note: Make sure to make reservations on time due to the busy schedule of the wineries. Wear light and comfortable clothes and shoes.
Best Wine Tours in Summer
Alentejo – Popular for the mouthful red wines and extraordinary food, this region in Portugal is a famous touristic place not only among wine enthusiasts but also among people who love the special combination of historic and natural monumental views. Take a look at the best Alentejo wines: Mouchao Tinto 2012, Herdade do Peso Alentejo Reserva 2017, Mouchao Ponte das Canas 2014.
Autumn
If you want to experience the winery and wine tastes on full blast, then you should opt for an autumn wine tour. During this period of the year, you will be lucky to witness the grape harvest and wine-making process, and also you can have the unforgettable experience of grape-treading with your bare feet, along with living traditional music and various wine and food festivals. However, during this period the wine-makers are strongly focused on the winemaking process, so you will have a little chance to talk directly to the winemakers.
Best Wine Tours in Autumn
Purcari– "Hello Autumn" is a special event created by Chateau Purcari, Moldova, which celebrates the arrival of autumn and the wine-producing season. Chateau Purcari is the oldest Moldovan winery which is popular for its premium wines and the awards received from international competitions, including International Wine and Spirit Competition, Decanter, and many others.
Hello Autumn begins on 16 September and gives you the opportunity to enjoy the mouthwatering aromas of juicy grapes and fruits, wine tastings, the contest of wrecking grapes, live music, activities for children, and many more. For best impressions try following wines: Chateau Purcari Rara Neagra de Purcari 2020, Chateau Purcari Freedom Bland 2019, Chateau Purcari Negru de Purcari Limited Edition 2018, Chateau Purcari Viorica de Purcari 2020.
In addition, you can see the most famous winemaking regions in the world:
Ribera del Duero, Castilla u Leon (Spain)
Yarra Valley wineries are some of the most popular in Victoria. Because it's only an hour east of Melbourne City and Yarra Valley winery with view; breathtaking scenery, romantic escapes, luxury accommodation, theme parks, art galleries, live music and the list goes on.
For those who are not able to go on a wine tasting tour, you can visit 8wines.com and order some of the best wines in the world. A sip of your favorite wine can take you on an unforgettable journey in these lovely grape yards.
Major Wine-Making Buildings / images received 160522
Winery Building Designs
Winery Architecture
Charles Smith Wines Jet City Seattle Building, 1136 S Albro Pl, Seattle, WA 98108, USA
Design: Olson Kundig Architects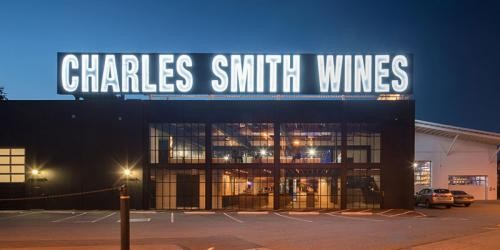 photograph : Kevin Scott and Nic Lehoux
Charles Smith Wines Jet City Building
Martin's Lane Winery Building, Okanagan Valley, southern British Columbia, Canada
Design: Olson Kundig, Architects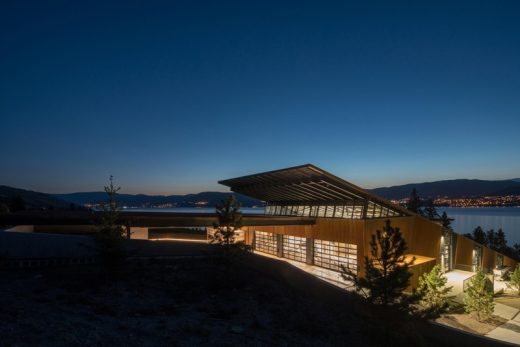 photo courtesy of Vik Retreats
Martin's Lane Winery Building
Winery in Chianti, Italy
Architects: IB Studio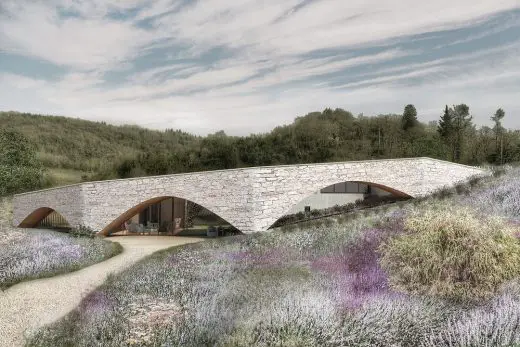 image courtesy of architects
Winery Building in Chianti
Alton Wines, Walla Walla, Washington, United States of America
Design: goCstudio Architects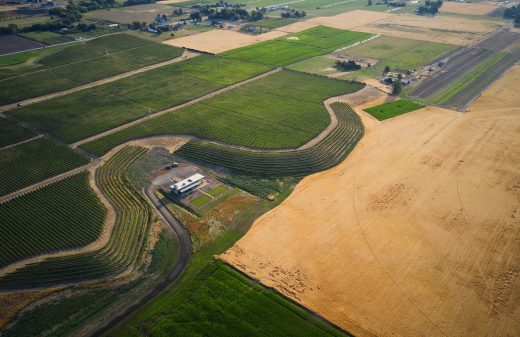 photo : Kevin Scott
Alton Wines, Walla Walla, Washington
The Winery at VIK, Vitacura, Santiago, Chile
Design: Smiljan Radic architect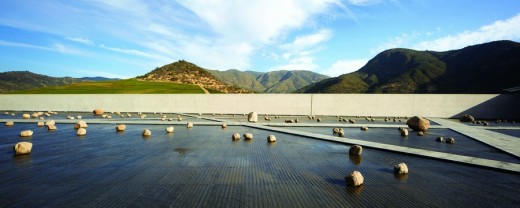 photo courtesy of Vik Retreats
The Winery at VIK Building
Vinícola Cuna de Tierra, Guanajuato, México
Design: CCA Centro de Colaboración Arquitectónica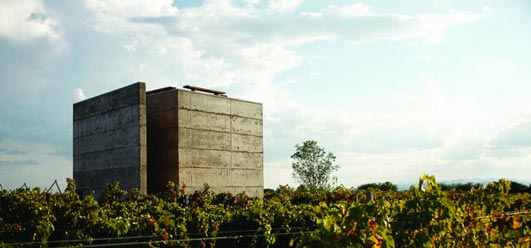 photo : Estudio Urquiza
Vinícola Cuna de Tierra
Avincis Winery, Dragasani, Romania
Design: BBM Grup S.R.L.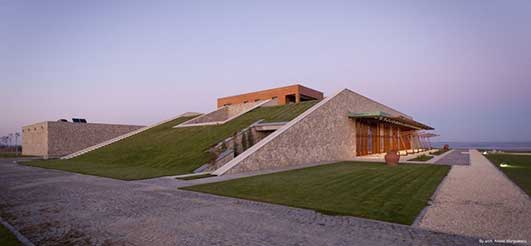 photo : Andrei Margulescu
Avincis Winery Building
L´and Vineyards, Alentejo, Portugal
Interiors: studio mk27 – marcio kogan + diana radomysler + suzana glogowski ; Architecture: Promontorio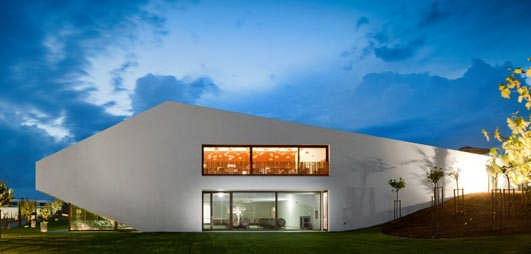 photo : Fernando Guerra
L´and Vineyards
Wine Museum in Lavaux, Lake Geneva, western Switzerland
Architect: Mauro Turin Architectes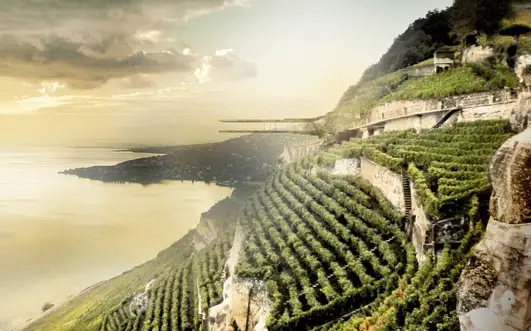 image from architects
Swiss Wine Museum
Marques de Riscal, Spain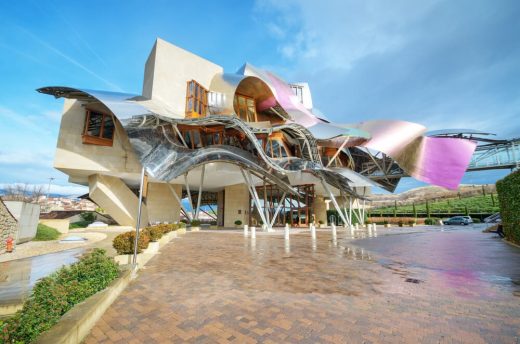 Winery Architecture
Comments / photos for the Major Wine-Making Buildings – Design Projects from around the World page welcome