Major benefits of modular offices, Workplace building design, Commercial property
Major Benefits of Modular Offices Guide
8 May 2021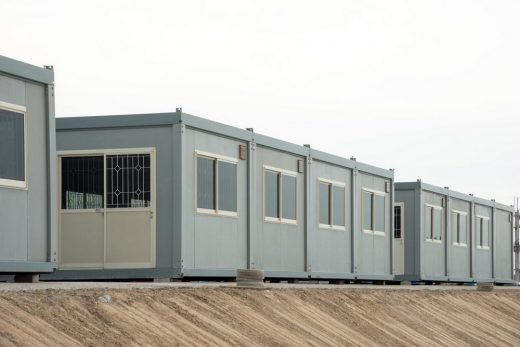 Are you thinking about using modular offices for your business? It's a great idea, one that can save you a lot of time, effort, and money.
As a business owner, you know finding the perfect office for your company can be a complicated task. You have to find the right location, the right office size, and depending on your needs, the right amenities. If you are environmentally conscious you need to find a space that is eco-friendly while fully supporting the needs of your business.
You also have to determine if you are purchasing or leasing. If you are leasing, you have to work with a commercial landlord and potentially agree to terms that are not the best for your business or your employees.
In a nutshell, finding a suitable office can be a headache for every entrepreneur.
Fortunately, by investing in a modular office, you can avoid the common pitfalls of choosing an office space for your company. Modular offices offer many benefits for a business owner and are an attractive solution for your business office needs.
If you are wondering if using modular offices is a good decision, here are several reasons why it is.
13 Major Benefits of Modular Offices
Modular Offices Are Affordable
One reason to invest in a mobile office is the financial benefits you will receive. These offices are affordable in a variety of ways. They are pre-fabricated, which eliminates the need for expensive engineers or architects. They also require little maintenance, which will help you save long-term.
Modular Offices Are Energy-Efficient
The best modular offices are an eco-friendly solution for your office needs. Many modular buildings are made from sustainable materials and result in less construction waste. By buying a modular building, you are decreasing your carbon footprint.
Modular Offices Are Easy to Upgrade 
One of the best benefits of a modular office is how easy they are to upgrade. You can easily add office space as your company grows. Adding space is as simple as ordering another modular building and choosing where to attach it.
Modular Offices Are Pre-Constructed 
A great benefit of a modular office is they are pre-constructed. Instead of constructing the building, it is assembled, which saves you money on construction workers, electricians, plumbers, etc. As a bonus, pre-constructed offices are quick to install.
Modular Offices Are Movable
A good reason to buy a modular office is they are movable. If you move your business offices to a new location, you can easily pack up your modular building and move it with you. This means you can save time and money if you need to relocate.
Modular Offices Give a Professional Appearance 
Another major benefit of a modular office is the professional appearance. Although they are low maintenance and affordable, they still can elevate your brand with their appearance. This is ideal, especially if you have a customer-facing business.
Modular Offices Are Easy to Install 
If you are wondering about the benefits of modular offices, one benefit is they are easy to install. Because they are pre-fabricated, all you have to do is assemble the pieces to create your office. This can save time and increase productivity overall.
Modular Offices Are Customizable 
When you think of a modular office, you might not think of a highly customizable product. However, these offices can be customized to look like almost anything you can imagine. This gives you a great appearance at a reasonable price.
Modular Offices Require Low Maintenance 
Because of the materials used for constructing a modular office, they are easy to maintain. The panels of a modular office have a mar-resistant vinyl coating that helps your office maintain a brand new look for years. As a bonus, you don't have to paint or worry about the normal wear and tear that comes with using drywall.
Modular Offices Are Durable 
Along with the overall attractiveness of a low-maintenance modular office, they are also durable. Not only are they built from long-lasting materials, but they are also insulated, fire-proof, and resistant to water damage. Your modular office is built to last, which is another cost savings in the long term.
Modular Offices Are Flexible 
Along with being moveable, modular offices are also flexible. You can change your floor plan easily as well as change the look and presentation of the building. This is a great benefit as traditional offices require new construction to make any major changes to the office.
Modular Offices Do Not Require Construction Clean-Up 
A great benefit of modular offices is you don't have to clean up construction waste. Not only does this save money on contractors, but it also saves time.
You can order your office, assemble the parts, and be up and running in no time. The office-site construction has little impact on your business, which will help you get started working on your business goals that much faster.
Tax Breaks
Did you know you can save money on your taxes when you invest in a modular building? It's true, conventional construction takes 39 years to depreciate while your modular building will only take seven. This allows you to save on your taxes, just by using a modular building.
These Are the Major Benefits of Modular Offices
There are many benefits you can experience by investing in modular offices for your business.
You can take advantage of an eco-friendly, customizable office space solution that is affordable and easy to install. Modular offices are also durable and flexible, which makes them a great investment. Best of all, modular offices are easy to move and add on to, which means they can grow with your business.
If you need a business office, using a modular office is one of the best decisions you can make.
Don't forget to browse our site for advice on business, industrial, marketing, and more.
Comments on this 13 Major Benefits of Modular Offices article are welcome.
Offices Articles
Offices Posts
Eco-friendly Office Buildings the Future Workspaces
How to calculate monthly rent for office space
Is a mobile office right for your business
Building Articles
Residential Architecture
Comments / photos for the 13 Major Benefits of Modular Offices page welcome