Thames Estuary Airport, London Britannia Building, LBA Terminal Proposal, Location
London Thames Estuary Airport
Architecture Article by Dimple Soni, India
11 Sep 2012
Thames Estuary Airport
London, England, UK
A run for runways
Some day, while flying to London, if you are asked to tighten your seat belts to land on water then remember not to panic. Relax, it will not be an emergency landing. It will be a routine landing on one of the runways of proposed London Britannia Airport, floating on jumbo platforms in the Thames Estuary.
The UK government is faced with a major aviation infrastructural crisis. It's economic growth, it's trade and business opportunities are at stake. A solid scheme for expansion of its airport capacity is still awaited amidst various contested alternatives, swayed by political and fiscal thrusts.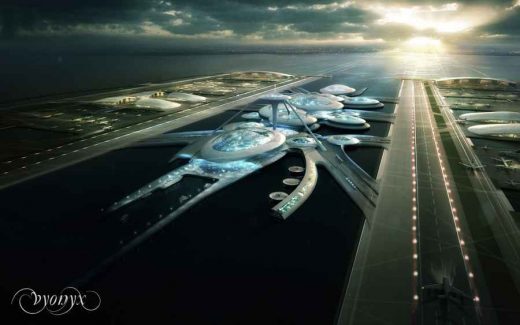 image : Vyonyx
Heathrow – the world's busiest international airport and civil aviation hub of the world – has been planned and built in parts over many years. Its newest and biggest Terminal 5 – used exclusive by British Airways and Iberia – has been operational since 2008. Heathrow, a modern aerotropolis, has evolved and transformed gradually, enduring enormous controversies and challenges, to suit the aviation needs of current times.
Today, irking delays and congestions at Heathrow are no surprise as it already operates at its full capacity with only two parallel runways, running east-west. The airport's operator BAA has floated a storming proposal for expansion of Heathrow by introducing an additional third runway and a sixth Terminal. The scheme is highly scrutinized, extensively debated and is under fierce political radar.
A substantial aviation strategy and immediate action is vital to enable UK to retain its global aviation hub status and meet the rising air traffic challenges. One of the options for airport capacity expansion is to build a new airport on Thames Estuary.
After the much disputed plan of floating London River Park along the north bank of the River Thames, stretching a kilometer between Blackfriars Bridge and Tower Bridge, Gensler's fancy for River Thames and floating structures is once again released as a new concept for London aviation hub that floats in the middle of River Thames – the London Britannia Airport (LBA).
The bilaterally symmetrical scheme of LBA has four floating runways, two on either sides of central concourse. The design also provides for future expansion to accommodate additional runways.
The five-kilometer long runways are anchored to the riverbed and could be drifted away for maintenance when required. The departure concourse would provide access to underwater rail tunnels, which would connect passengers directly to central London and European High Speed Rail Networks.
LBA is gigantic tendentious project, a part of a larger developmental scheme, which includes whimsical transformation of current Heathrow airport into Heathrow Gardens – a new eco-city that would harness the prevailing infrastructure, creating more homes and jobs. Some believe that the project is devastating while Mayor Boris Johnson is backing it up with all his might.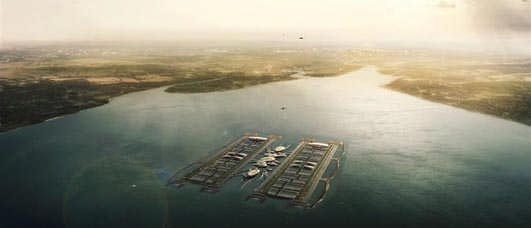 image : Vyonyx
Last year in autumn, an airport proposal with a transport hub on Thames Estuary was also launched by Foster + Partners, Halcrow and Volterra – the Thames Hub. The plan offered to partly build the airport on reclaimed land on Isle of Grain in Kent. Providing more than double the capacity of Heathrow, it included four runways, each 4 kilometers long with an integrated rail station beneath the passenger terminal.
Foster's Thames Hub did not move the government. Touched, perhaps.
What's the future of London Britannia Airport proposal? What's in store for Thames Estuary? What's the long-term strategy and immediate course of action for UK government?
Some day, when up in the air flying over London, you may come across a weird Titanic structure floating in the middle of River Thames, resembling a floating alien spaceship. You might see planes instead of seagulls, wildfowl and wading birds, landing and taking off from water, only if the Gensler proposal for London Britannia Airport gets a go-ahead. Stakes are high. Chances are slim. The run for runways is too greasy and bumpy.
Dimple Soni – regular Guest Editor at e-architect



image from Dimple Soni
Comments for the London Thames Estuary Airport page welcome: info(at)e-architect.com
Thames Estuary Airport, England
Design: Gensler



picture © Gensler
Thames Airport London design – Gensler architects
Location: Grain, England, UK
London Architecture
London Architecture Walking Tours
Thames Hub, England
Thames Estuary Airport in London – 7 Nov 2011
Includes new airport, Thames flood barrier and orbital rail route
Thames Hub design : Foster + Partners
Thames Valley University Buildings
The Gherkin – Swiss Re London Address: 30 St Mary's Axe, City of London, England, UK
Swiss Re Building
Comments / photos for the London Thames Airport Development – London Britannia Airport page welcome