Landscaping Architecture, Sustainable Garden Guide, Planting Design Tips, Green Advice
Landscaping Architecture
Green Landscape Design – Planitng & Plants Advice Article
17 Aug 2020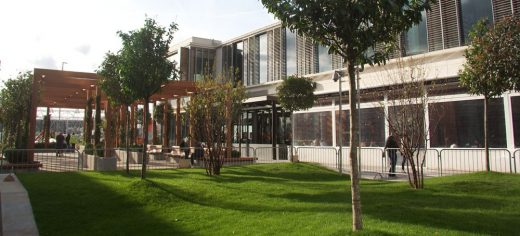 Structuring The Structure
There is more to architecture than simply erecting a building that is safe, sturdy, and useful for those that will be using it. After the building has been erected and it's time to design the place so that people can enjoy working in that building.
Once the basics are covered, with everything that is needed in it's place, the next priority is to make sure that the entire place is appealing, breathable, and helps people stay focused rather than feeling intimidated by mostly bare and vacant walls.
Adding some plant life and landscaping to the inner and outer grounds is the perfect way to care for the appearance of the building as well as the wellbeing of those that frequent the structure, this typically goes further than your normal commercial grounds maintenance service. The EPA outlines numerous pollutants in Report on the Environment: Indoor Air Quality such as:
Mold, lead, and air cleanser ozone
Pet dander and carbon monoxide
Indoor cleaning supplies and chemicals, radon, and some pressed wood products that emit gasses.
The EPA report states, "Americans, on average, spend approximately 90 percent of their time indoors, where the concentrations of some pollutants are often 2 to 5 times higher than typical outdoor concentrations."1
These studies suggest that 'going green' would be highly beneficial to those that work and live within the walls.
Naturally Beautifying Commercial Architecture
The art of adding plant life to the walls of large or small architecture is an innovative and trending style of interior and exterior design. Plants can easily be installed into irrigating frames that keep the plants watered for four to six weeks, placed into floor or desk planters to decorate any desired location in the building.
The range of plants that can be nurtured in the planters vary from floral displays, leafy plants, moss displays, herbs, vegetables, as well as several other types of plants that bring any area to life. The wide variety of foliage, herbs, moss, and plants bring the basic need of nature to the daily lives of those who have to spend their time within the city and the buildings.
When deciding what should be used to add some plant life to the inside and outside of the office building, it is important to consider the structure, design, and the layout of the building. Understanding the architecture of the building is a great factor to be considered.
Blank space can cause people to feel slightly depressed, tired, irritable, or even bored. Selecting small plants to create a calm scene indoors would eliminate these anti-productive feelings. People are more likely to work better when the area has a natural personality of it's own.
Studies suggest that displaying smaller plants can make an area pleasant, refreshing, and full of health benefits which leads to people being more productive at work and home.
Indoor offices, hallways and desk areas are not the only place that would benefit from adding a generous splash of nature. When entering a commercial building, some people feel a sense of doom, foreboding, intimidation, and even anxiousness. Outdoor plant displays are a wonderful way to make a building look more inviting, caring, and professional.
When all is said and done, the point in adding plant life or greenery to architecture during or after building is to make sure the people working there will not feel out of touch with themselves, their work, or the most basic needs in life.
Suggestions for this Landscaping Architecture post are welcome
Landscape Architecture Design
Sustainable Architecture Archive
Sustainable Development Report News
Sustainable Design : article by Trevor Tucker
Sustainable Architecture News Scotland : News
Sustainable Building Design : article by Trevor Tucker
Sustainable Buildings : Brief informal discussion re some of the issues
Comments / photos for the Landscaping Architecture page welcome