Land O'Lakes, FL relocation tips, Florida professional moving storage, Pasco County city home, United States of America move advice
Local's Guide to Land O'Lakes, FL
October 25, 2023
Florida, with its endless sunshine and picturesque locales, houses the charming town of Land O'Lakes, a gem nestled in the heart of Pasco County. As a humble abode that's just a stone's throw away from the bustling city of Tampa, Land O'Lakes embodies a perfect blend of serene suburban life with a touch of urban accessibility. With its lush natural backdrops and a closely-knit community, it is the epitome of Central Florida's inviting aura.
Introduction to Land O'Lakes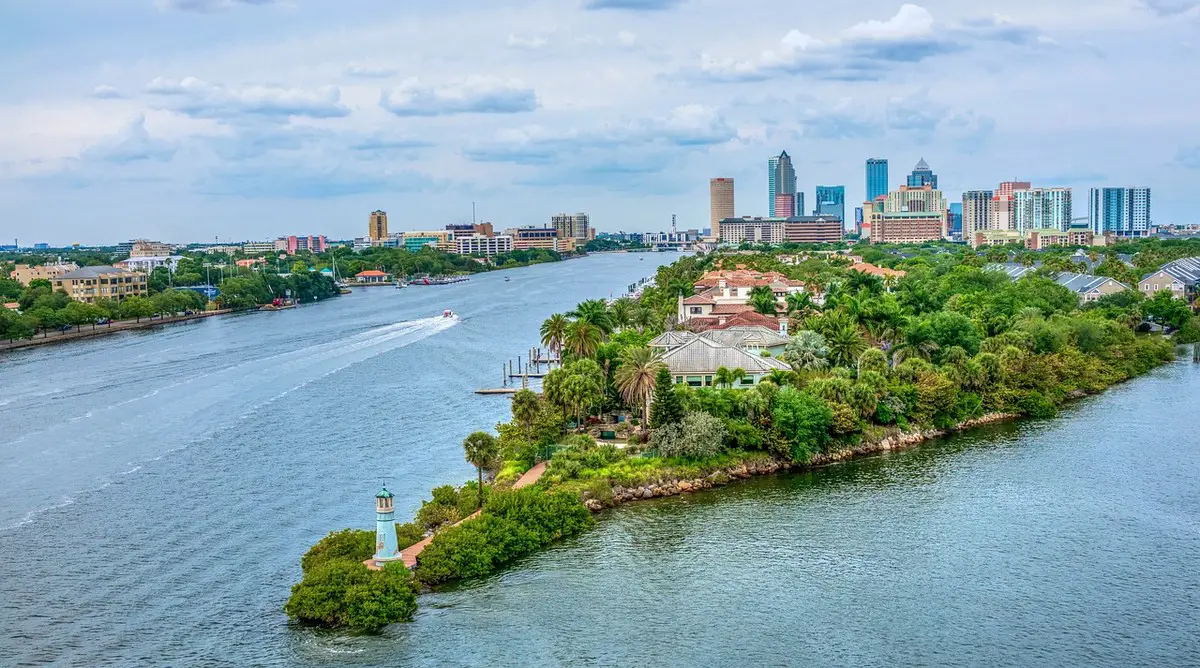 image source : pixabay.com
Geographical Orientation
Land O'Lakes is beautifully cradled amidst a myriad of calm lakes, located just to the north of Tampa. This unique geographical placement endows it with a serene yet engaging ambiance. The town's landscape is a refreshing blend of suburban calmness and natural allure, making it a charming getaway from the hustle and bustle of city life. Its proximity to Tampa also makes it a favorable location for those seeking a peaceful residence near urban amenities.
Historical Significance
Land O'Lakes, once part of the larger Ehren community, has over the decades molded its own distinctive identity. The town's history is a modest yet compelling narrative that reflects the evolution of a humble community into a desirable residential locale. The tapestry of Land O'Lakes' past is woven with threads of community, natural beauty, and a continual stride towards modernity.
Living in Land O'Lakes
Neighborhoods and Housing
Living in Land O'Lakes, FL, is an experience embroidered with community warmth and a variety of housing options. The town hosts a range of neighborhoods, each with its unique character yet united by a common thread of community spirit. The housing spectrum ranges from quaint cottages to modern family homes, catering to diverse preferences and budgets.
The charm of living in Land O'Lakes, FL lies in its blend of modern living amenities with a touch of rustic simplicity. The neighborhoods are adorned with lush greenery, providing a refreshing ambiance for residents. The variety in housing also accommodates a broad demographic, making Land O'Lakes a welcoming abode for individuals and families alike.
Education and Community Values*
Living in Land O'Lakes, FL, presents an opportunity to be part of a community that values education and inclusivity. The town boasts of well-regarded schools and educational institutions that provide a nurturing environment for young minds. The emphasis on education reflects the community's commitment to fostering a bright future for its younger generation.
The fabric of community values in Land O'Lakes is strong, woven with threads of mutual respect, inclusivity, and a collective strive for growth. These values form the backbone of the educational institutions, ensuring not just academic excellence but also the holistic development of students. Living in Land O'Lakes, FL, is synonymous with being part of a community that cherishes education and moral values.
Delving into The Natural Abode
Enchanting Waters: Lakes and Outdoor Adventures
Living in Land O'Lakes, FL offers an enticing invitation to explore the great outdoors. The town is named for its plethora of lakes which provide not only scenic beauty but a host of recreational activities. The calm and inviting waters are perfect for kayaking, boating, or simply a tranquil day of fishing. These lakes are the heartbeat of Land O'Lakes, offering residents a chance to interact with nature right at their doorstep.
The adventures don't end with the lakes. The surrounding areas are a haven for outdoor enthusiasts with numerous trails and parks waiting to be explored. Whether it's a tranquil boat ride observing the local wildlife or a thrilling jet ski adventure, living in Land O'Lakes, FL encapsulates a range of outdoor experiences that cater to every age and adventure level.
Nature Parks and Trails in Land O'Lakes, FL
Land O'Lakes houses nature parks and trails that offer a respite from the daily hustle and transport you into a world where nature reigns supreme. Places like the Conner Preserve and Cypress Creek Preserve are sanctuaries of lush greenery, diverse wildlife, and trails that invite exploration. These preserves are a testament to the town's commitment to preserving nature and providing spaces for outdoor recreation.
Trekking through the trails, one can witness the rich tapestry of flora and fauna that calls Land O'Lakes home. It's a place where nature and humans coexist in a harmonious setting. The fresh, unspoiled air, the rustle of leaves, and the chirping of birds provide a therapeutic escape from the rigors of daily life.
A Culinary Journey in Land O'Lakes
Locally Acclaimed Eateries
Living in Land O'Lakes, FL provides a passport to a culinary journey that's as diverse as it is delectable. The town's eateries reflect a blend of traditional flavors and contemporary cuisine. From cozy diners serving hearty meals to sophisticated restaurants offering a fine dining experience, there's a gastronomic adventure awaiting around every corner.
Each eatery has its own unique charm and flavor profile, embodying the rich culinary diversity of Central Florida. The culinary scene is not just about the food but about the community it fosters. The local eateries are places of gathering, where residents come together to enjoy good food and great conversations.
A Dive into the Breweries and Coffee Shops
The local breweries and coffee shops in Land O'Lakes add another layer to the town's social and culinary fabric. These establishments are much more than places to grab a drink; they are community hubs where residents gather to socialize, unwind, and enjoy local brews and blends.
The cozy, inviting ambiance of the town's coffee shops provides the perfect backdrop for relaxing mornings or productive afternoons. Similarly, the local breweries are a testament to the town's burgeoning craft beer scene, offering a place for residents to unwind and socialize.
"Is Land O Lakes a part of Tampa? Is Land O Lakes a city?" While it's a quaint town with a character of its own, its proximity to Tampa provides access to a larger culinary and social scene, thus enriching the experience of living in Land O'Lakes, FL. The breweries and coffee shops are part of the social glue, fostering community engagement and providing venues for socialization and relaxation in Land O'Lakes.
Community Gatherings and Festivities in Land O'Lakes, Florida
The spirit of togetherness in Land O'Lakes shines brightly through its local events and festivities. Living in Land O'Lakes, FL, avails you to a calendar brimming with community gatherings, local markets, and seasonal festivities. These events provide a platform for neighbors to connect, celebrate, and partake in the rich cultural tapestry that makes this town unique.
Every event, be it the local farmers' market or the joyous holiday parades, carries a blend of traditional charm and contemporary appeal. They reflect the harmonious convergence of different cultures and ages, all united under the umbrella of community. The shared laughter, exchanges, and heartwarming camaraderie at these gatherings are the threads that knit the fabric of the community tighter.
Art and Music Scene
The art and music scene in Land O'Lakes is a reflection of its rich cultural diversity and creative spirit. From local galleries showcasing the talents of regional artists to live music venues echoing with melodies, there's an artistic and musical exploration awaiting every resident and visitor.
Moving To Land O'Lakes, FL
Making the decision of moving to Land O'Lakes, FL can be a step towards embracing a peaceful yet engaging lifestyle. This quaint town is a haven for those who cherish the beauty of nature and a close-knit community vibe. With an abundance of lakes, outdoor recreational spots, and community events, moving to Land O'Lakes, FL is about joining a locale that values both natural surroundings and a strong communal bond.
The educational institutions here are reputable, and the safety of the town further accentuates its appeal for families. Moreover, its proximity to Tampa provides the perfect blend of serene suburban and vibrant urban living, making moving to Land O'Lakes, FL a choice that brings you the best of both worlds.
The process of relocation, although exciting, comes with its share of challenges. However, these hurdles can be minimized by meticulous planning and understanding the locale's housing market, amenities, and lifestyle. Researching and connecting with local communities can provide invaluable insights and make the transition smoother. Moving to Land O'Lakes, FL, is not merely about changing addresses, but it's about becoming a part of a community that embodies a harmonious blend of nature, culture, and modern living.
Transitioning to a new home necessitates a smooth moving process, and this is where hiring a reputable moving company becomes imperative. A professional moving company can significantly alleviate the stress associated with moving. They ensure that your belongings are safely packed, transported, and delivered to your new abode.
One such reliable company is Hello Movers Land O'Lakes, FL, whose experienced team can handle all aspects of the moving process with expertise and care. They provide a range of services including packing, loading, transportation, and unloading, thus ensuring a hassle-free move. With a proficient moving company like Hello Movers Land O'Lakes, FL, you can focus on settling and embracing the new chapter in Land O'Lakes while they manage the nitty-gritty of your move efficiently.
Comments on this guide to moving to Land O'Lakes, Florida, USA article are welcome.
Florida Buildings
Miami Architecture Designs – chronological list
FL Architecture Designs – selection:
The L Gale Lemerand Student Center, Daytona State College, FL
Design: ikon.5 architects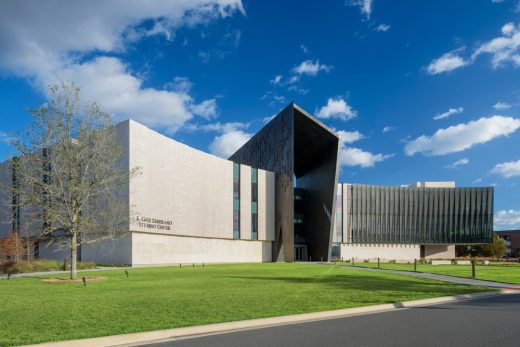 photography : Brad Feinknopf
L Gale Lemerand Student Center
Epoch Sarasota, Bay Park, Sarasota, FL
Design: Nichols Architects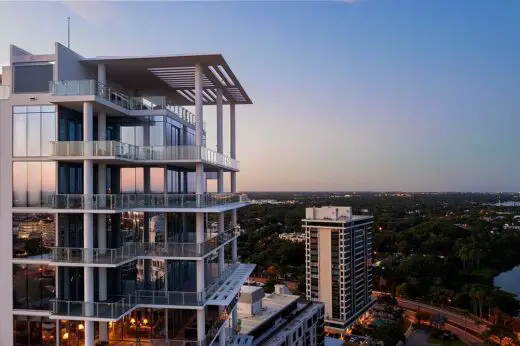 photo : Mike Butler
Epoch Sarasota, Florida
American Architecture Designs
American Architectural Designs
America Architecture News – latest building updates
Building Articles
Comments / photos for the Land O'Lakes, FL, USA – moving to Pasco County, Florida, page welcome