Know about different varieties of folding doors tips, Building design guide, Online advice
Know About Different Varieties of Folding Doors Available Today
21 Jun 2021
These days, bi-folding doors are a popular choice for UK homeowners. They are available in many different configurations and styles including single leaf or multiple panels.
The following are different varieties of bifold doors that you can get on the market and also available from Bifold Door Factory.
Bifolding doors having access doors
Typically, an access door is found in any larger configurations so that movement between the rooms becomes more convenient. The access door is fitted on either side of the opening and can always be configured for opening as per your preferred direction.
Single bifold/concertina doors
The concertina door generally is made from 2 panels joined by hinges in the middle. Instead of swinging out in a complete arc fashion, the concertina door will fold in the middle against the wall.
Room dividers
Often you can find bi-fold doors that are glass fitted are called French bi-fold doors. They are suitable for many different applications.
Closet doors
These are the most commonly used bi-fold doors. Here, the bi-fold doors will normally be made out of either a louvred door or solid wood panels. Closet doors generally have 2 sets of 2 doors.
2-panel bi-folding doors
This is a simple solution for a bi-folding door for smaller openings and consists of 2 panels that will open in a sliding fashion action in a single direction. All 2-panel doors will have a floating mullion.
3-panel bi-folding doors
You will get the 3-panel bi-folding doors in two configurations. Either door can slide in a single direction or you may have one door that is hinged as your access leaf. If you use bi-folding doors as a regular access door for the garden, your access leaf can open with one swinging leaf.
4-panel bi-folding doors
One popular configuration with 4-panel bi-folding doors is either the centre 2-doors will open swing or open like any hinged doors. Such a door combination is useful if you can use your doors like any traditional French Doors.
5-panel bi-folding doors
These 5-panel bi-folding doors are manufactured with access leaf on one side while all remaining leaves will slide back on the opposite side. Another configuration available is 3 leaves sliding in some direction and 2 leaves sliding in the opposite direction.
6-panel bi-folding doors
Here also, either all its leaves will slide in some direction or another combination of 3 sliding in some direction and 3 in the opposite direction.
7-panel bi-folding doors
Here 4 panels may slide to some side with 3 panels sliding on its other side. If needed, all leaves may slide in some direction. In another configuration, the access leaf will be on one side, with entire leaves sliding together on the opposite side. In another configuration, 5 leaves will slide in one direction and 2 will fold in the other direction.
Bifold doors are also available in many different materials such as Aluminium, wood, or UPVC. Also, reclaimed wood products like MDF or plywood are used.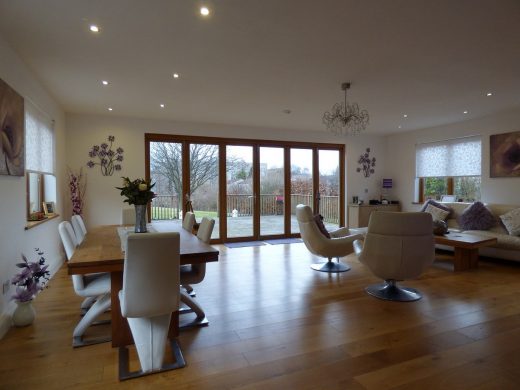 Comments on this guide to Know About Different Varieties of Folding Doors Available Today article are welcome.
Building Articles
Residential Architecture
Comments / photos for the Know about different varieties of folding doors advice page welcome