Kitchen renovation guidelines by Marich Inc Professionals guide, Home interior decor advice
Kitchen Renovation Guidelines by Marich Inc Professionals – House Remodeling
8 July 2022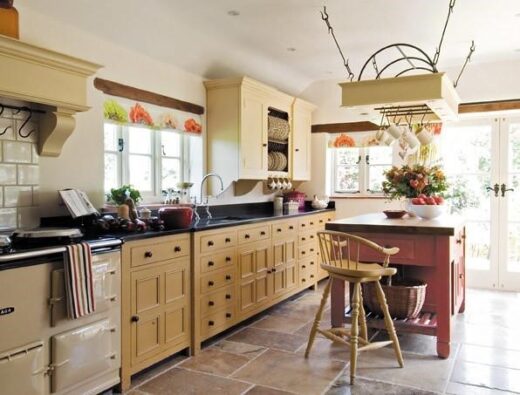 Remodeling a house is the process of repairing an old, broken, or out-of-date building to make it more beautiful, more useful, or both. Remodeling your home once in a while is very important, whether you want to increase its value or make it feel more like home. The kitchen is the most visited room in the house, where the ladies spend most of their time. Whenever you decide to renovate your home, don't forget to remodel your kitchen. Working in the newly renovated kitchen will make your partner happy.
Kitchen Renovation Guidelines by Marich
Before starting a kitchen renovation, you should consider the following:
❖   Set a budget and stick to it
Renovation projects often take more time and money than you expect, so it's a good idea to aim for a conservative budget below your maximum budget to make sure there are extra funds if your project goes over. Add another 10–20% to cover unexpected costs. You don't want to have to scramble for another loan in the middle of the project or, worse, have a half-done kitchen because you ran out of money.
These steps will help you estimate your renovation costs:
❖   Do Some Research
Find out the prices of things by visiting kitchen showrooms and home supply stores, and then decide what you need and what you can afford. Take a look at the kitchens of your neighbours to get an idea of what you need to buy.
There are thousands of online websites that provide detailed tips and techniques on how to upgrade your kitchen. Marich Inc offers free home remodeling consultations.
❖   Keep Hidden Costs in mind
Don't forget to include the cost of labor, materials, taxes, and any shipping or delivery costs that may come up. When making a budget, also think about whether there are any steps you'd like to do yourself. You may save a lot of money even if you only do a few things yourself.
❖   Strive for quality
Always buy materials that are good. You want high-quality, useful kitchen items that you can use yourself and sell later. If you buy high-quality cabinets, countertops, and appliances, they will last longer, and you might never have to redo your home again.
Most of the time, buying used materials is cheaper than buying new ones. Use old cabinets from a company that sells used building materials in a new way or paint them.
Make a list of needs and wants
Don't buy things that you don't need. It can be tempting to buy all sorts of gadgets and fancy appliances, but it's better to stick with the basics you know you'll use. Remember that every new appliance will cause your utility bill to go up a little bit. They also add to your maintenance tasks and cost money and time to keep up.
Designing a Kitchen
The kitchen must be functional more than any other area. Think about how you use your current kitchen to decide what to focus on when you remodel. Place the sink, fridge, and stove in a triangle. Consider how many people are normally in the kitchen. If there's more than one, add more workstations. If there is enough room, you could install an island or buy a wheeled cart.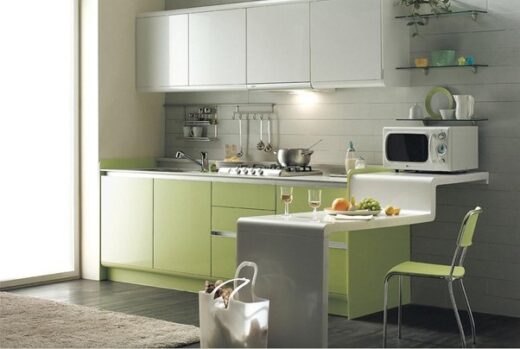 ●      Kitchen Space Planning
A professional remodeling contractor can help you make sure things are set up for safety, but it's up to you to plan for convenience. Here are a few tips from Richard, a professional kitchen remodeling contractor, to remember when mapping out your space:
1.    Counters
For food prep, you need at least 36 inches of counter space, with at least 24 inches on one side of the sink and 18 inches on the other. Add more space as needed
2.     Appliances
In order to open the doors of appliances and walk past them, make sure there is enough space in front of them. 30–48 inches are required. Keep an eye out for how and where the fridge's doors swing. When mounting a fridge against a wall, the door should open away from the wall.
3.     Walkways
There should be at least 42 inches between the kitchen counters and the appliances to allow for easy passing without disturbing those working on the kitchen counters.
Final Considerations Before Renovation
Invite your kitchen remodeling contractor or designer to your home to talk about what you want and need from your kitchen remodel. This will help make sure your space is set up in a way that makes it easy for you and your family to move around.
Remember to stick to your plan and not get caught up in the excitement or talk yourself into buying things you don't want or need.
Comments on this guide to Kitchen renovation guidelines by Marich Inc Professionals article are welcome.
Kitchens
Kitchen Design Style Posts
9 expert tips to nail your UK kitchen extension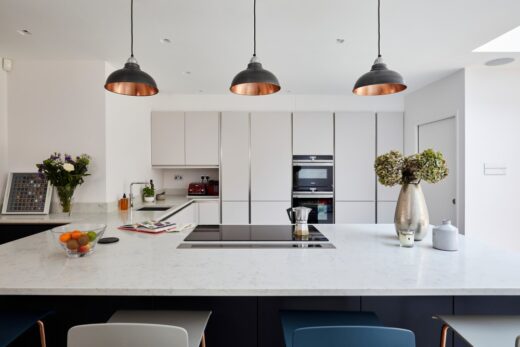 Design A Sleek Contemporary Kitchen
Kitchen design ideas that are eco-friendly
Top ways to bring color into an all-white kitchen
Buildings
Residential Architecture Articles
Comments / photos for the Kitchen renovation guidelines by Marich Inc Professionals advice – page welcome