Guide to Items you can reuse or recycle in your bedroom, Building Advice, Home Online Help
Items You Can Reuse or Recycle in Your Bedroom Guide
21 Dec 2020
The Green Revolution is taking the world by storm! With more and more people now aware of the importance of protecting the environment, they're now taking active steps to lessen their carbon footprint, even at their own homes. Governments, companies, and other organizations have placed environmental protection at the forefront of their responsibilities.
But it's not just the bigwigs that are actively trying to save the planet. Responsible homeowners are now trying to reduce their waste and recycling old stuff to lighten the environment's burden.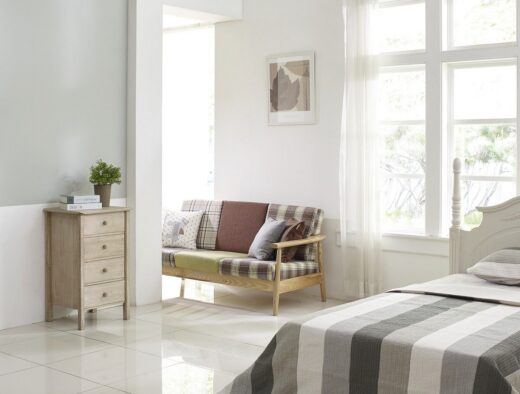 According to updated information on recycling, the world population is estimated to reach 8.5 billion in 2030. At that rate, the planet's resources will be exhausted. The grim statistics underlie the need to level up the activities of recycling. The family, as a core unit of society, is a vital part of the paradigm shift, a change of mindset from consumerism to sustainability.
Items You Can Reuse or Recycle in the Bedroom
In every home, the bedroom is a treasure trove when it comes to recycling. In fact, almost everything in the bedroom, from mattresses to toys, can be recycled.
Mattress
Your mattress is the centerpiece of your bedroom. It's where you spend 8 hours of your day relaxing and rejuvenating your body for the next day. Unfortunately, it wears out with regular use. The material may become moldy, the foam may have left an imprint, or the innerspring may have rusted. Eventually, you have to replace your mattress.
Rather than disposing of your old mattress, you can donate it to charities, non-profit organizations, homeless shelters, and the like. They'll be more than happy to accept your mattress, and you'll be doing society a favor.
Mattress recycling has also become popular in recent years. Organizations such as the Mattress Recycling Council have programs that allow you to donate your old mattress so it can be recycled properly. You can also check the Earth911 recycling directory to identify and locate local recycling centers in your area.
Finally, when purchasing a new mattress, consider natural latex mattresses. They are resilient, durable, and 100 percent recyclable. Because they last longer than many other types of mattresses, you don't have to replace them quite often. A representative from your preferred brand can help you with the right selection of mattresses.
Pillows
Most high-quality mattresses are long-lasting, but pillows aren't. You may have to replace the pillows you love in around 2 to 3 years.
The good thing is that you can recycle and repurpose them for other uses. For example, you can use an old pillow for a doggie bed. Do you have a lot of used pillows? Donate them to an animal shelter or give them to friends who have pets.
If your pillows aren't dirty, you can put them in nice pillowcases and use them as throw pillows in your living room or car. Of course, you can donate them to charities and non-profit organizations.
Blankets and textiles
Blankets, curtains, and other large pieces of textiles are easy items to recycle. An old blanket or curtain can be used as a picnic mat, for instance. If the material is plain white, use it as a portable projector screen so you can watch your favorite movies under the stars. If the textile has a nice print, you can cut it into small pieces and use those scraps of cloth as a gift wrapper. These are just some of the ways to repurpose old textiles.
You can also donate blankets to charitable institutions. Before doing so, however, make sure to have them laundered first. Needy people will surely appreciate and enjoy sleeping under freshly washed, clean, and fragrant sheets after days of sleeping in the cold streets.
Furniture
Rather than buy new bedroom furniture, ask your parents or grandparents if they have some furniture to spare. Old bookshelves, coffee tables, chairs, bed frames, and other furniture can be cleaned and reused as your own bedroom furniture. That said, there are great bed frames for sale online these days.
If you deem the old furniture doesn't match your bedroom, you can repaint them. You can also add some accessories to make them look interesting. As an innovative master's degree in product and interior design nicely puts it, it's all-important to learn how to adapt and master the art of change, and giving your old furniture a new life is a perfect opportunity for starting a positive change right in your very own home.
The patina and the antique look provide these pieces with great character not found in contemporary furniture. In addition, antique furniture pieces are incredibly durable and can outlast any modern furniture.
Also, don't throw away old chests and trunks. These look really great when placed at the foot of your bed. You can use the interior of the trunk as storage space for your pillows and linens.
Stuffed toys
Teddy bears are stapling decors—and bedmates—in your bedroom. Don't throw them away just because they're dirty and smelly. A trip to the dry cleaner will make them look, feel, and smell brand new. Minor damages such as a missing eye, a small hole, or a ripped stitch can easily be repaired.
If your kids have outgrown their stuffed toys or if you decide not to put them in your new bedroom, you can use them as decors in your den or living room. Your guests will love cuddling your favorite stuffed toys while you share a conversation or have an afternoon coffee with them.
Of course, you can donate your old stuffed toys to charitable institutions, nurseries, daycare centers, and organizations that deal with children. Your beloved teddy bears are sure to find a great second home in the hands of these kids.
CFL bulbs
Your desk lamp and other bedroom lights may be using compact fluorescent lamps (CFLs). When they burn out, you need to dispose of them properly. Thus, breaking used bulbs and putting them along with the household trash is out of the question.
Put your burnt-out CFL bulbs in their original containers or small boxes lined with bubble wrap, foam peanuts, or crumpled newspaper. Send them to your local recycling center for proper recycling and disposal.
You may also want to consider using LED bulbs as alternatives to CFLs. LED bulbs may be more expensive, but they last longer and consume less energy. As such, LEDs are more eco-friendly options.
It's quite amazing to see that even in your own home, you can actually make a difference. Take a look at the list above the next time you feel the urge to throw away something from your bedroom. Think about recycling, repurposing, or donating it rather than letting it end in a landfill.
Bio – Brett
Brett is a writer at ID-Mag. An enthusiast and expert when it comes to sleep products, Brett dedicates a lot of his time reading, researching, and reviewing about both traditional and emerging sleep brands that manufacture varied types of sleep products – from eco-mattresses, smart pillows to cooling sleep systems, Brett has probably reviewed them all.
Brett also finds sleep especially important since he juggles a small business which he runs from home, makes sure he spends time with his daughter and he also writes during his spare time – you can definitely see that he needs a great forty winks all night, every night so he'll make sure that you get great sleep, too!
Comments on this guide to Items you can reuse or recycle in your bedroom article are welcome.
Beds and Bedrooms
Bedrooms Posts
4 Colour Combinations To Enhance Your Bedroom
Modern Versus Contemporary Bedroom Designs
Essentials things for a perfect master bedroom
Building
Contemporary Architecture
Comments / photos for the Items you can reuse or recycle in your bedroom advice page welcome