Staff management in an architectural office Tips, Architects company manager advice, Firm leadership guide
Problems faced by staff management in an architectural office
2 Nov 2020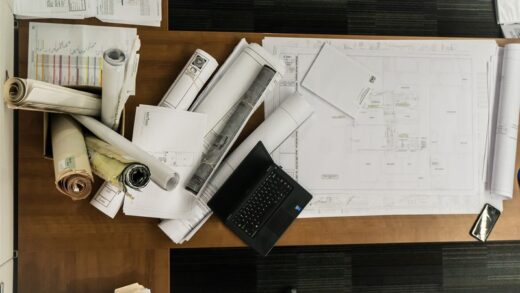 It is said that architecture began when people stopped living in caves and started to build their own homes, somewhere around 10,000 BC. Modern architecture is far more complex than these early Neolithic attempts and there are many challenges to face in managing an architectural office. Software and hardware are constantly evolving – there are even apps available for architects – managing productivity, budgets and more.
What areas should staff management and payroll management expect to look at to improve how the office and team are run? One big problem is scope creep. Because projects can change suddenly it is difficult to define the actual size of a project and to price the work correctly. It takes a great deal of management and organisation to make the whole project flow smoothly and to make a profit on completion. Here are some of the things that management in an architectural office must consider and carry out.
Understanding the costs involved in the firm
This should be the very first step an office manager does within the firm. Management needs to understand all the costs involved in the roles of the architects. All financial commitments whether they be fixed or variable need to be recorded.
Once the manager has discovered the costs involved in the office then they can set about defining the value of production of each member of staff directly involved in the planning of projects. It will be necessary to calculate how many man hours will be available for the project. Also they will have to calculate how many hours they also have to devote to work. This could be recorded using task management software and with a work hours calculator.
Calculating the costs of a project
Cost management of any project has to take into account; planning, budget and cost control. Management will have to understand where these costs come from. Problems arise when we get scope creep. More on this below. All expenses should be organised into categories and hours spent on the project recorded with project management software.
Keep the project within agreed scope
Between the client and the project manager the work that needs completing must be set in stone. This doesn't mean that changes should be avoided. They are almost inevitable. But everything should be made clear as to what the original project is and project management software should be used to mark each phase and the targets that need to be met. Problems arise when things become hazy and costs become confused.
If and when changes are made there should be a process in place for both sides so that everyone involved understands what the changes are and why they are being made. All alterations should be agreed upon and once again made crystal clear by both parties before being undertaken.
Getting paid
If you are an architect or run an architectural firm then you may love what you are doing but at the end of the day you still need to get paid. Disagreements in business are very often about money. This doesn't necessarily mean the client will be unhappy with the fees being charged but with unexpected costs. This is why project management is so important when planning the project and setting costs. Again it goes back to making sure everything is agreed between the client and the architects firm.
If you are managing a project then you will have to ask yourself how you want to be paid. When pricing the project will you charge for work by the hours that your firm has spent on it or will you set a flat fee? You could set phases of the project and once each landmark is met the client is expected to pay a percentage of the fee.
Once you have set how you wish to be paid and the client has agreed then it is time to sign the contracts. Before this happens make completely certain that the client has read and understood everything. Especially for fees for modifying the project and any unexpected costs that may arise. Try to read the contract through with the client if at all possible.
Keep updating the client as to which phases are completed or nearing completion and when you would expect the next payment to reach you. By thorough and clear communication you should be able to minimise any problems concerning fees.
Record productivity and track the project
The office manager should look for ways to measure productivity and record hours worked with suitable software. Controlling and analysing this can help generate savings in time and resources.
Management will need to track the time and expenses being used up by the project. Using good accounting or project management software will help. This will help them monitor work in progress, profitability and the value the project has earned in an instant allowing them to take any actions needed to steer the project back into line.
Workload management is important for the process of strategically apportioning vocation all over the workforce so as to strengthen employee or application skill and performance.
Project management software
All modern firms use software such as small business payroll to help make their daily or monthly tasks easier. Website designers use software for coding, graphic designers use Illustrator and Photoshop. An architect's office is no different. Along with accounting software, spreadsheets, and 3D software, there should also be good project management software.
Most of the problems as mentioned above come from lack of communication, planning and collaboration. Firm managers can use project management platforms to see who is working on what part of a project, to issue payments to staff or invoice clients. It can help monitor the client's budget and see how much has been used and where.
This software allows a much smoother workflow, better control of a project and allows the use to assign tasks to team members. This means management can see where a project is at any point and if it is on target to meet the deadlines.
As you can see management in an architect's office varies between managing the office, the costs and the project itself. With clear communication, solid project management and good software projects can be made to run smoothly and within budget.
Comments on this problems faced by staff management in an architectural office advice article are welcome.
Architectural Design
Building Articles
Comments / photos for the staff management in an architectural office Guide page welcome