International Women's Day Discussion, Construction Industry Gender Equality, Architectural Profession
International Women's Day Discussion
IWD Debate organised by Lady Margaret School, Parsons Green, Fulham, London, England, UK
23 Feb 2018
International Women's Day Event
International Women's Day Discussion at Lady Margaret School
Wednesday 7 March (6.30 – 9.00pm)
Chaired by Natasha Kaplinsky OBE
Location: Lady Margaret School, 9-15 Parsons Green, Fulham, London, SW6 4UN, England, UK
#PressforProgress
Lady Margaret School's Centenary programme continues with an International Women's Day (IWD) Discussion, held at Lady Margaret School, chaired by Natasha Kaplinksy OBE on Wednesday 7 March; the evening before IWD 2018.
With 100 years of girls being educated at Lady Margaret School and one hundred years since (some) women were given the vote there will be lots to discuss by our panellists. The panel will present their views on how women can move forward by embracing the International Women's Day 2018 campaign theme: #PressforProgress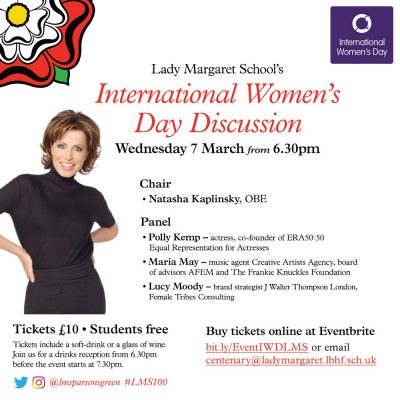 International Women's Day Discussion Panel
Polly Kemp actress and co-founder of ERA50:50 Equal Representation for Actresses created in 2016 to campaign for 50:50 gender balance across TV/film and stage by 2020. Polly's 25 year career includes seasons with the RSC, appearing in all 4 seasons of 'The Thick of It' and an early career highlight was a role in Oscar nominated film 'Four Weddings and a Funeral'.
Maria May has 23 years under her belt in the music industry representing DJs, producers and artists including David Guetta, The Chainsmokers, Sam Smith and Pussy Riot. She is a fierce advocate of Diversity and Inclusion in Electronic Music, a senior agent at Creative Artists Agency, who have pledged 50-50 gender parity by 2020, and sits on the board of advisors of the Association For Electronic Music and The Frankie Knuckles Foundation.
Lucy Moody is a brand strategist at ad agency J Walter Thompson London. Within the agency she belongs to Female Tribes Consulting, designed to support business design through a female lens. Lucy is the strategic lead on the Girlguiding account, as well as working on Bayer Consumer Care. In 2017 she became a Women's Advertising Club of London Future Leader.
The event is to support International Women's Day (IWD) #PressforProgress and Lady Margaret School's Centenary celebrations. This is a community event and everyone is welcome. The audience can put their questions to the panel, or simply listen to an informed discussion about important issues. Proceeds from the evening will go towards the Centenary Garden; a legacy project paid for by voluntary contributions.
Doors open at 6.30 pm for an informal drinks reception before the discussion at 7.30 pm.
Tickets: £10/ Free for students (11-21) are available via Eventbrite
https://bit.ly/EventIWDLMS
A full range of images of the school, logos and IWD Discussion panellists are available.
Private bookings for the Centenary Garden should be addressed to [email protected]
Address: 9-15 Parsons Green, Fulham, London SW6 4UN, UK
Phone: +44 20 7736 7138
Previously on e-architect:
28 Jun 2017
Women in Architecture Event
Women in Architecture – call for equality
RIBA President calls for step change in gender parity at conference organised by the University of Huddersfield's School of Art, Design and Architecture.
The conference, entitled Women in Architecture, highlighted the difficulties facing women succeeding in architecture and called for equality to be acknowledged and actively encouraged across all areas of the industry.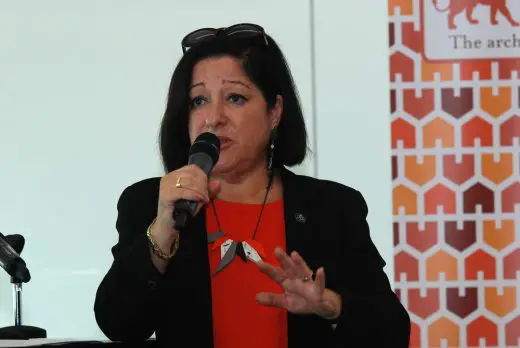 photo courtesy University of Huddersfield
Women in Architecture Conference
Architecture in London
London Architecture Links – chronological list
Comments / photos for the International Women's Day Discussion article page welcome