Innovative design trends in bathroom renovations guide, Home improvement tips, Online property repair advice
Innovative Design Trends in Bathroom Renovations
25 Aug 2021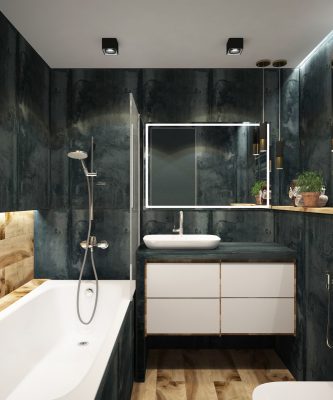 Home improvement and repair spending grew by nearly 3% in 2020, representing a $420 billion spend – as reported by Harvard University's Joint Center for Housing Studies. Low-interest rates, the new remote working boom, and a shrinking house inventory have all contributed to home dwellers investing in key renovations that boost comfort and highlight design. Bathrooms and kitchens are two of the most renovated spaces. Below are just a few ways in which bathrooms are being transformed into oases of calm and relaxation.
Smart Bathrooms
Around 47% of millennials in the U.S. have at least one smart home product. The latter range from smart fridges (which automatically reorder food, display surfaces that become transparent upon touch and the like) to smart thermostats, which automatically control temperatures in individual spaces or in an entire home.
Smart bathrooms are also trending, with features such as underfloor heating, rimless toilets (for easy cleaning), smart showers (which make it possible to program the ideal shower temperature and duration), and smart toilets for personal hygiene. Showers can even be set to start automatically so that the perfect temperature is achieved by the time a home dweller gets home. Voice-activated features are also striking a cord in modern bathrooms, for everything from lighting and temperature controls to smart mirrors that talk back at users.
Cutting Edge Plumbing
Plumbing renovations once covered problems like dirty drains and pipe leaks but today it's all about design and comfort. Today, homeowners expect a professional plumbing company to incorporate plumbing into design via hidden plumbing features or the opposite (ultra-urban designs in which plumbing plays a major role in an industrial-looking space). Also in vogue are water filters, automatic shutoff valves, and hands-free faucets. Although the latter have been in use for the past couple of decades, one new product to the game are digital faucets featuring digital displays that show the exact temperature water is set at so users can adjust it accordingly. The latest faucets feature a combination of digital and hands-free features.
Technology for Relaxation
Stress is a health concern in the U.S., where 77% state that stress affects their physical health and 77% feel that it impairs their mental health. Bathrooms, given their connection with water and its potential to de-stress, are fast taking on qualities of home spas, with tech like chromotherapy lighting in bathtubs, inbuilt shower speakers, and air baths (which deliver a stream of warm massage bubbles) being fitted in high-end homes.
Of course, one's bathroom experience needn't be just about winding down. It can also be about entertainment, in the form of waterproof televisions and LCD shower panels that enable users to choose from a wide range of audio and visual options.
Bathroom renovations, once focused firmly on features such as standing tubs and massage showers, have gone high-tech. With stress reaching worrisome levels and many people across the globe adapting to remote work, the bathroom is increasingly being seen as a potential spa. Smart features controlling temperature and water features are being married to those centered on boosting health – including chromotherapy lighting and music control.
Comments on this guide to innovative design trends in bathroom renovations article are welcome.
Bathrooms Articles
Bathrooms Posts
Single bathroom vanities designs for small bathrooms
Spoil your bathroom with stylish tiles
Building Articles
Residential Architecture
Comments / photos for the Innovative design trends in bathroom renovations page welcome