Guide To Ideas to Make Your Backyard Bird-Friendly, Home nature garden advice, Property birdhouse
Idea to Make Your Backyard Bird-Friendly
17 Dec 2020
The birds chirping are the first sign of awaited spring. They make your backyard a lively place, creating the impression of being close to nature. And some of them can even protect your plants from pests, which will definitely be appreciated if you're a gardener. To put it simply – it's great to have birds in your garden. But how to attract them?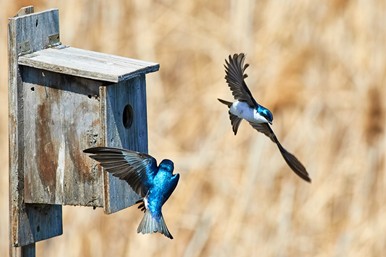 Building a birdhouse is the best encouragement for birds to make themselves comfortable at your place. You can construct a new home for them and take all the benefits of having them nearby. A birdhouse is your garden's decor – it functions both as an art installation that adds colour to your picturesque yard and as a nest box for those lovely creatures.
If you're interested in finding out more, below you can find some DIY birdhouse ideas that are very easy to make!
Functionality Comes First
Even though it is partially a garden decor, your birdhouse needs to be adjusted to birds' needs. A stable birdhouse meant to be a long-life home for various birds should be rain-proof, durable, and easy to clean when your tenants would move out, and you'll be awaiting the next ones.
Roofing
There are plenty of additional features that you can implement while building to make the roof of your birds' home functional. However, what you need to remember is to make the roof sloped. The slope should be sufficient to shed the water, which provides a safe space for the nesting area. It should also be removable so you can clean it easily.
Materials that you use can vary, but you need to remember that the house's interior should remain dry. If you've ever worked on your shed, you probably know that rubber shed roofing is a great way to prevent it from rain. Why don't you apply the same type of roofing to your birdhouse? Detailing the roof with rubber materials is a great way to make the interior dry and safe. Additionally, it gives a few extra years to your DIY project's life.
Entrance
While creating your DIY birdhouse plan, remember that it has to be bird-friendly. To abide by this rule, you need to pay attention to the hole size. It's crucial as your demanded residents might break their wing or get stuck if the hole is too little. On the other hand, if it's too big, the interior of the house can get too cold and draughty, or it can be entered by other dangerous animals.
Remember that you should adjust the hole's size to the type of birds you want to welcome. Firstly, research the types of birds that live in your area. Then, adjust the hole to its size.
Take the Materials From Your Garage
There are plenty of materials you can use. Of course, the most popular ones are the wooden birdhouses, but you can dig into your garage and check if you have some of the things enlisted below, so that you can give them a second life.
Wooden Logs
If your kids went to college long ago, but you still can find their old toys in your garage, you can use them in your wooden birdhouse design and prevent them from dusting. Paint the wooden logs to make the birdhouse one of a kind. What's more, this kind of design adds a rustic charm to your backyard.
Old Flower Pots
If you've already discovered that small birds live in your area, you can use your old flower pot to make a birdhouse. The only thing you need to do with it is to drill a hole and build a flooring. It's one of the least demanding design ideas. And if you're feeling slightly more creative, you can paint it – your future tenants would love it.
Whimsical Ideas
Make the decor of the birdhouse extraordinary so your neighbours would die out of envy, and your birds would never want to leave.
Green Roof
You can plant a living garden on your birdhouse's roof! Treat the rooftop as the pot, add a little soil, and the seeds. You can choose various kinds of plants, but the succulents would be the best option, as they make your DIY birdhouse look beautiful and make the temperatures inside lower during the summer. And it looks like a little jungle!
License Plate
Find your old license plate, bend it, and use it as a rooftop. It's a great way to use your old license plate that you no longer need and make the birdhouse's design unique. Introduce the birds to the modern interior!
The Bottom Line
A DIY birdhouse can serve as both an art installation and home for the little creatures that make your life more pleasant. Creating one is a fun activity that can be done during the long weekend and be a great bonding experience for you and your family or friends. What's more, it's also an opportunity to use materials you no longer use.
Remember that various kinds of birdhouses attract different birds, so be sure how you should build your birdhouse so that the birds would be attracted to it and willing to live in your yard. Make it as bird-friendly as possible, and become a bird feeder!
Comments on this Idea to make your backyard bird-friendly article are welcome.
Building Articles
Contemporary Architecture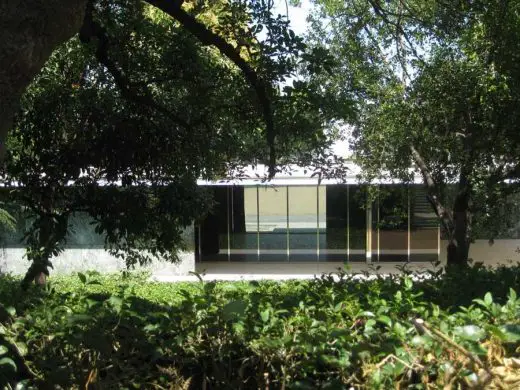 photo © Adrian Welch
Comments / photos for the Idea to Make Your Backyard Bird-Friendly Advice page welcome