How to transform your windows for modern look guide, Building design tips, Online property advice
How to Transform Your Windows for a Modern Look
12 Feb 2021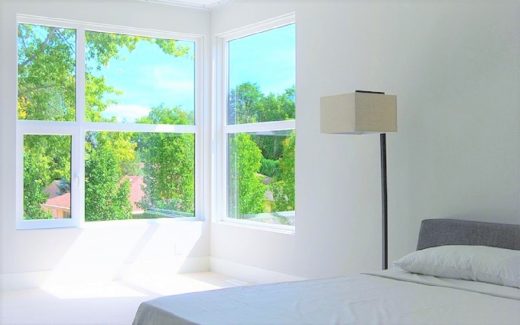 How can your older home get a modern upgrade with simply the windows? Perhaps your house is old or slightly dated. If so, chances are your windows may be showing signs of age, and are giving your house a digressive look. Windows are often the most visible part of a home. It lets the light in and allows the outside world to see the character and taste of the home's culture.
How can you give a modern transformation to your windows?  These hacks can either be do-it-yourself or done easily by a home pro quickly in less than a day. These will leave your home with an attractive curb appeal to the neighborhood, and impressive warm looks for your family and guests on the inside.
How to Transform Your Windows Guide
Here are 6 ideas to spruce up your windows, bringing a modern feel to an old house:
Create Window boxes as planters
Not all window boxes have to be planter boxes for high-maintenance flowers. You can also use them for displaying minimalistic outdoor art or simple clean-cut plants like ornamental grasses. Window boxes can have many styles associated with them, English Tudor, French country, Americana. But consider ways to make them modern:
Sharp, clean edges
The use of black and rusted steel
Mixture of corrugated metal, along with cedar wood
Avoid plastic and low-end items
Repurpose equipment like feeding troughs, and industrial bins. Clean them up, remove the frilly artwork, enhance with high-trade wood or steel, and it will add a modern industrial look to the front of your home
As for plants: Yuccas, horizontal Junipers, Ornamental grasses, Hostas, and Bonzai plants. Think slow growing or stunted plants, with little shedding and maintenance. (1)
SlimWindows
Slim windows tend to have thicker frames for added energy efficiency through insulation, yet with a sleek design. Reach out to your local best window companies, like this example in Toronto. While window replacement can be a DIY project, it is often better to use a local installation company, as they have the tools to do it right, especially if there are any problems encountered like dimension differences. There are many window styles that fit modern design now, such as slim, casement, picture, and European tilt-and-turn. Get your most visible windows replaced with these modern, and energy efficient designs.
Full size unobstructed windows
Views are in. The latest window styles focus on views. Views and natural light are essential for an upgraded modern look. Enlarging your window spaces, adding windows, or simply having more glass surface area is key. If your window has grids, or is too small, or is broken up by multiple hung or sliding panels, consider window replacement with new full-size vinyl or aluminum windows that are unobstructed. Start with your front window, which is most visible, and replace the other remaining windows as you are able. This will provide aimpressive statement to the curb appeal of your house.
Ensure protective layers
High-tech spray films on glass add many benefits to windows. Some involve materials such as microscopic silver. Others use alloy materials, all with the goal of creating comfort for your home. Whether it is blocking harmful UV light rays, or reflecting your interior's heat inside the home during the winter, these layers are now the standard for new high-quality windows. If you can't have them added on, then consider replacing the window.
Clean and enhancedwindowsills
Are your windowsills old, or use complicated designs? Are they loaded with clutter? Start with cleaning and removal of clutter. Things like knick-knacks, statues, and potted plants can detract from the simple, natural beauty of a window. They make your home look tiny, and disorganized, and block daylight. Second, look at your windowsill itself. Especially the base one. Having a simple refinished sill that matches the frame color of your windows can be a potential interior home upgrade. Modern home design now goes with simple, sleek, matching neutral colors, and clean lines. A carpenter can quickly assist with that in less than a day.
Replace your Window Coverings
Whether it is cheap blinds, or old mismatch curtains, your current window coverings could be "dating" your home. For blinds, using honeycomb shades or faux wood blinds that match the color of your house, will be a huge improvement over low-quality mini blinds. They are built to last and will give your home a modern boost.They convey quality. They give you the privacy you need when you want it, but able to open to showcase your home's life as you desire.
If you are going to use curtains, pick a modern design that is not to personal in color, that matches or contrasts with the rest of your home's interior, and hang them high. (2).
Windows are the gateway from your home to the outside world. They make a clear statement of your house's design and style. Practicing these helpful DIY suggestions can bring out a modern look from your ordinary home and make it a home to enjoy for years.
About the Author
Mike Cutler is a commentator on modern home design and DIY home improvement projects for energy efficiency. He is especially passionate about ways to turn a house into a home.LinkedIn Facebook
References
www.gardenista.com/posts/hardscaping-101-ground-covers-for-garden-paths-plants-between-pavers
www.hgtv.com/design/decorating/window-treatments/window-treatment-design-tips-pictures
Comments on this guide to How to transform your windows for modern look article are welcome.
Home Windows
Windows Posts
What does condensation on windows do to your home
Picking out windows to match your home style
Buying new window treatments for your home
Home Articles
Residential Architecture
Comments / photos for the How to transform your windows for modern look advice page welcome