How to grow your architecture business tips, Architectural marketing advice, Property guide
How to Grow Your Architecture Business
July 28, 2021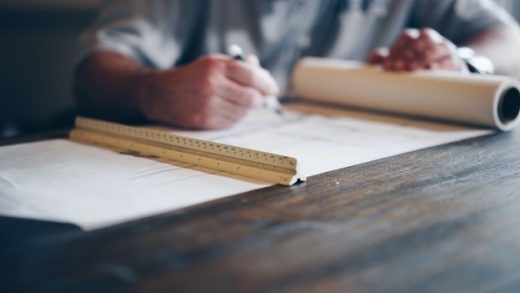 Photo by Daniel McCullough on Unsplash
Building any business is tough work and growing an architecture firm is no exception. Finding new clients while handling the daily workflow is a challenge. Many business owners stagnate without a strong vision, clear goals, and the ability to market themselves.
According to a recent study, architecture firms with the highest growth consistently focused on networking, digital marketing, and displayed a solid understanding of their skills, priorities, and target market.
Focus on Building Your Brand
In order to grow your architecture business, you first need to differentiate yourself from the competition by setting actionable goals and defining your brand.
Cultivate brand ambassadors like general contractors you've worked with, energetic employees, and satisfied clients to go out there and provide your business with priceless word-of-mouth marketing. With confident, knowledgeable people speaking on your behalf, you can reap the rewards in the form of lucrative referrals, getting new happy customers, and repeating the process all over again.
Word-of-Mouth Marketing and growth based on referrals show potential customers a culture of trust in your business. Trust is one of the hardest things to generate in a business. This is where brand ambassadors will bolster your growth in significant ways.
Digital Marketing
Getting found online is the hardest part, especially in a day and age when anyone interested in your business is just going to do a quick Google search. Therefore, your business needs to appear in all of the places potential clients might look, including local pages and architecture publications such as Architectural Digest and regional issues as well.
Social Media
Social media can also be an excellent tool for outreach and growth. Using strategies like targeted ads are a great way to find more clients and reach your key demographic.
Advertising costs can vary depending on your goals. Social media platforms have a lot of data on their users, allowing for extremely targeted ads. Placing a generic ad on the platform will get views, but conversions and clients will be minimal. With market research and targeted ads, however, conversions should far outpace the cost of ads.
Craft a Dazzling Portfolio
Next, you need something to show potential clients when you find them. An eye-catching portfolio is a must for any growing architecture firm. It's the first thing that potential clients will see and can make or break the relationship.
Creating virtual tours through past projects is one easy way to add a compelling twist to any traditional collection of past work. A digital portfolio using drone videos from your recent architecture projects is another easy way to leave a favorable impression on potential clients.
With a sleek, modern, and dynamic portfolio, you'll be able to market yourself more effectively, helping to swiftly grow your architecture business. l
Networking
Networking is vital in any industry, considering it's hard to grow a business if nobody has heard of it.
Networking doesn't need to be a full-time job, but it does need to be part of your growth strategy. If someone is in any way related to you or your industry, then they should know the name of your business and what you do.
Simply starting with colleagues, former employers in the industry, alumni, charities, and even your local city council is a great way to start. Getting your name out and talking with people in your community will help boost your business and bring clients through your door.
Don't be shy with talking to competitors or larger architecture firms as well. Larger corporate firms may pass on projects that would work well for you. If done correctly, networking opens up doors to getting more clients.
Another way you can build your network is by attending any and all architecture events in your area (and even farther afield). Since the Covid pandemic, many conferences and events have moved online making it easier and cheaper to attend, so there's no reason not to go to as many as possible.
How to grow your architecture business – Never Stop Growing
Remember, start with a firm idea of who you are and your business vision. Keep your goals organized and surround yourself with a strong network of brand ambassadors. Proactively building relationships, utilizing technology to create vibrant visuals, and reaching more viewers with a strong online presence will get your business to where you want it to be.
Comments on this guide to How to grow your architecture business article are welcome.
Architecture by Type
Building Articles
Comments / photos for the Guide to How to grow your architecture business page welcome