How to enrich your home design guide, House decor fashion tips, Property style advice
How to Enrich Your Home Design?
16 Apr 2021
Over time a home design can lose its glamour. Your decor might go out of fashion and become impractical as your needs change. You are left with a design that no longer serves its purpose, and it is time to do something about it. Creating an enriched ambience and vibe inside your home will add significant value to the comfort of living an aesthetic impression of your personal space. How can you enrich your home design? Here are five pieces of professional advice that will help you improve your home's interior.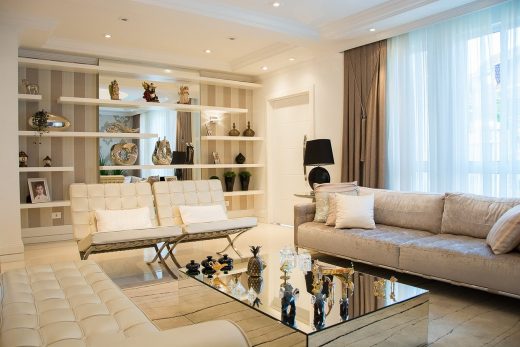 Decorating Rules Are Meant to Be Broken
When trying to improve your design, typically you might want to check the newest design magazines and see what is currently fashionable when it comes to decor. However, this attitude will only help you update your design only until the trends change again.
The best approach when designing your spaces is to try and break a couple of decorating rules. Take a chance on originality and expressing your personality through decor in a creative way. It is far more important for your interior design to reflect your living style than any conventional rule.
Add a Pop of Colour
Making sure that your spaces are colourful is a step that you shouldn't avoid. Lively and memorable designs are usually more diverse when it comes to the colour palette. Adding a pop of colour in a form of original mural wallpaper, like the ones you can find on https://www.bimago.co.uk/wall-murals.html, will draw attention and emphasize your personal style and set yourself apart from predictable, trendy interior designs. You can play with lighting features and smaller decorations to go with this mural, but having that show-stopping artwork on your wall is for sure, an interior design element you should be considering.
Don't Forget About The Ceilings
The fact that you can take advantage of a ceiling and make it a part of your interior design is often forgotten. Ceilings are a neglected space in the room that can be used to update and upgrade your decor. They reflect the natural light coming in from the windows, and that is a feature that you can use to your advantage when decorating your home. A graphic, interesting pattern or LED lighting can truly improve the appearance and feel of your house.
Proper Lighting Can Do Wonders
Modern design is all about layers and using the new LED technology to emphasize the best features of your property. Apart from general lighting, invest in accent lights that will make your interiors feel more inviting and add warmth to your living space.
Add Life to Your Interiors With Greenery
Plants, herbs, or any kind of greenery can really bring life to a house. They will improve the aesthetics of your interiors, but also improve the quality of air inside your house. Green is a colour traditionally associated with peace and relaxation, so buying a couple of plants for your home should enrich your design and help you unwind after a long day of work.
How to enrich your home design – Final Thoughts
Home design can be improved with a couple of changes that won't take much time or pressure. Your interior design has a direct effect on the atmosphere of your house. Making sure that it is rich and reflect your personality is most certainly worth it.
Comments on this guide to How to enrich your home design? article are welcome.
Home Improvement
Home Improvement Posts
Upgrading your property: home improvement projects
Home improvement ideas for budget transformation
DIY Home Improvement Projects Tools
Building Articles
Residential Architecture
Comments / photos for the How to enrich your home design advice page welcome