Trusted How to decorate the room advice, House furnishing tips, Property decor guide
How to decorate the room
13 Mar 2020
Every place can be beautiful and amusing. But to achieve this result the work on the interior should be held. It is an important and a bit of complicated activity that requires a lot of creativity. When you want to do it on your own, a lot of issues and mistakes are happening. But there are also simple methods and techniques that don't expect certain knowledge or skills. Usually, they are connected with different decorations or small objects that can be placed everywhere.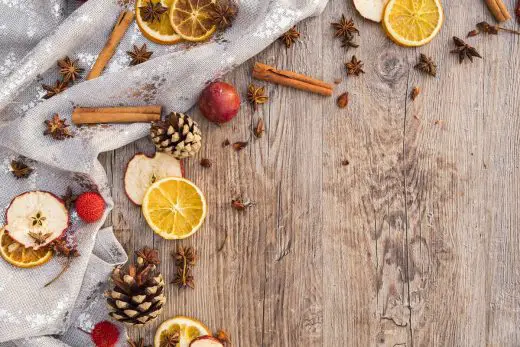 Decorating your home help guide
Here are some examples of how you can change a look of the room.
They give a bit of liveliness and enjoyment to the apartment. It can be both flowers with exotic colors or just a small cactus in a flower pot. If the size of the area is big, you can dedicate a spot for a plant composition with stones, sand and even small trees.
If you don't mind placing a picture on the wall, landscape or a portrait can easily attract guests' attention. Probably, it is the most common way to decorate the room because it is simple and suitable almost everywhere.
Similar to the previous point, you can put some photographs or a collage of them. A group photo of the family and small portraits of every member around it is one of the concepts for arrangement.
Instead of paintings and photos, there are wall stickers that create opportunities for various ideas. Simple in use and easily removable they are ideal for putting everywhere. Wall decals can complement a composition with other pieces without taking a lot of space.
Although chandeliers don't match in the majority of rooms, several single candles help to create a mysterious atmosphere in the evening. During the daytime, the main role is given to its candlestick.
If you're a kind of creative person or you used to taking notes than you would like a small decorative blackboard. On its surface, you can draw something, create of what-to-do list or just write an inspirational phrase.
Custom hooks. Putting a small wooden box with keys from the house is usual and not interesting while an original hook is much more attractive. Actually, it can be everything that matches the total design: leaves, deer's horns, droplets and so on.
Pillows! During the day they can be a part of decorations and at night a soft bedding material. With their help, you can think about a new way how to make a bed. An empty bed seems not as attractive as a set of pillows and a blanket.
Pay attention to the windows. Drapes, curtains are also important in the interior. Moreover, you can not only change the look of the window but regulate the light from outside. Is it important to create darkness in the corner? Curtains and drapes protect you from unwanted visions from the street. It is annoying and even creepy when somebody watches you at your home.
Dream catchers. These ancient and ritual things from India add some exotic to the room. They say dream catcher is helpful to defend your dreams at night and put away negative energy and emotions. Notice that it must be located near the bed, preferably above the headboard of the bed.
For fans of films, cartoons, music bands, etc. there are pieces of paper with the image if their character. A good tip: if you want to put several posters, don't organize them in a row.
Install different light sources so that you won't be experiencing the lack of light if the future. The single chandelier in the center of the room is not as effective as a group of lamps around the room. They will make the room look better and lighter.
Don't clutter up the shelves and a closet if it's open. Chaos on racks doesn't look great even if there are so cool and expensive things. Emphasis on a small number of objects is more impressive and neat. Actually, it can be everything: a book, a small statue, photos, and badges.
Various accessories that you can put on the wall, attach to ceilings. Figures of birds, vines, leaves and everything you want to see there. They can be used to highlight something. For example, if there is a single painting on the wall, you can set some statues around it.
Well, there are a lot of ways how to decorate the room. Actually, they are limited only by your imagination and free space inside. The best decision to choose something ideal for your design is to experiment with a range of details.
Comments on this guide to How to decorate the room article are welcome.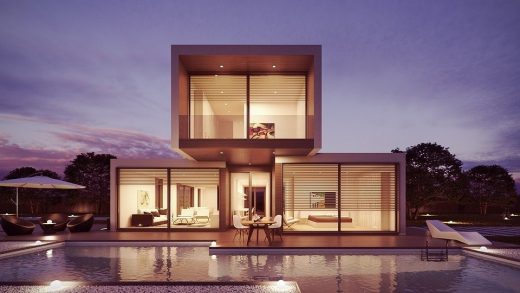 image courtesy of article provider
Building Designs
Architectural Designs
House in Rostov-on-Don
Design: Architectural studio Chado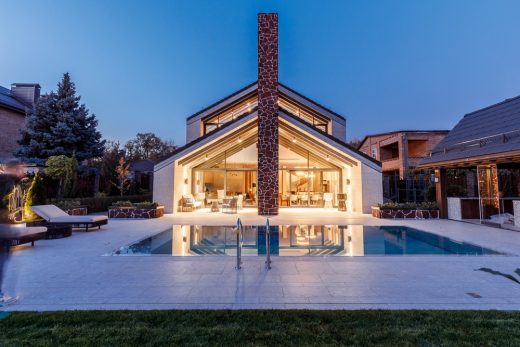 image courtesy of architects
House in Rostov-on-Don
Comments / photos for the How to decorate the room Advice page welcome