Guide to Creating Outstanding Zoom-friendly Home Office, House Renewal Advice, Property Design Help
How to Create an Outstanding Zoom-friendly Home Office
5 Jan 2021
In this era, people are doing things differently, and you might be one of them.For example, most people are working from home after the Covid 19 pandemic. And it seems like this may be a trend even in future.
Your switch to home scenery rather than office may involve some changes that make everything a success.
Wondering why your Zoom calls might appear to be destructive to someone else? Maybe there are silent noises that aren't just pleasant to participants. It's time to think about changing the outlook of your background and the general arrangement of your home office.
Disarranged background and low lighting are termed as silent noises that not even you will put up with during a video call.
If you have had trouble with video meetings, we can talk about this subject to give you some nuggets. At the end of this, your zoom calls will be much better.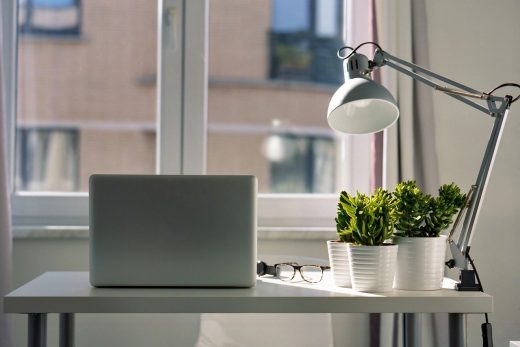 1.Set a tranquil tone
It is so exciting to sit in a soothing environment. You can achieve this by using a color combination of airy and light on the wall.
Another option is the wallpaper, but it should be an accent wall with no details or patterns.
You can do a more meditative one like the ombre paper.
Generally, make your walls more interesting to look at.
2.Lighting
Natural light is always preferable for an excellent zoom call. If it's possible, you can set up your office to allow natural light. Ultimately you can choose a classic desk lamp if you have enough space on your desk.
There several options for illuminating your room, including stylish floor lamps or generally installing gorgeous pendants or track lights above.
3.Office chair
Is it necessary to have a chair, yet it's just a zoom video? Your question is well addressed here.
There are so many effects of comfort to your productivity. Preferably, a seat that allows your knees to bend 90 degrees will work best. If not so, you can opt for an adjustable chair to suit your height.
The arrangement of your chair should bring out some harmony. This organization brings out some warmth to your zoom call.
4.Desk
Does your back and neck hurt, or do you usually feel uncomfortable on long zoom videos?
Here is the solution. A sit-stand desk UK, can be of great help. Apart from its aesthetic beauty, this desk comes along with numerous health benefits that make you feel rejuvenated throughout your call.
Nevertheless, you might be wondering what this is all about. In simple terms, this is a desk that can allow you to work while sitting or standing.
If you have long hours of zoom meeting, you will need to adjust your position without leaving the meeting. Buy yourself a height-adjustable desk, and you will have your comfort and energy for your zoom meetings.
5.Camera and lense
You need a lens and a camera to avoid shaky and low-quality video feedback from your end. Things to consider are constant power supply to the camera and clean HDMI output.
The in-depth license ensures that the video's quality is sparkling clean, and great details to look at.
Ensure you turn off the auto offsetting on your camera to avoid that nuisance during your zoom call.
The position of your camera is so important. Ensure that you are visible and at the center of the view. Capturing the aesthetic surrounding also adds some life to your video.
Additionally, you need to place your camera as if you are looking in the viewer's eyes and without zooming in. This will bring out perfect video quality.
6.Microphone
Many people dispute using a microphone, but this is a vital tool in a zoom call. To ensure that you haven't been talking to yourself all that long in a zoom meeting, you better get the right microphone.
If you have a camera with an inbuilt microphone, you don't need an extra microphone but ensure you are audible.
Talking on zoom calls without a microphone can make other participants not get you.
7. Incorporate green plants
Have you ever been happy, walking in a green environment? You must have felt some energy with happiness. Consider having a home office with some green plants.
If you get yourself some green plants, not only will you enjoy life but the beauty of color also. There is always some freshness and liveliness.
8.General organization
You might feel satisfied with your home office. But when you get organized, you can achieve more.
In most cases, your home office may not have a cabinet, and you can opt to use drawers instead.
Always arrange your desk in order. You need access to power, so make sure your arrangement is near a power socket. Organize your wires so that your space appears neat.
Avoid movements during your video call, and you can achieve this by putting all you need at your disposal before the call.
For a smooth zoom call, make sure you are connected to an uninterrupted power supply.
You can make your working space attractive and neat. This gives you more psych.
9.Add personal details
Your home office speaks more about you when some personal details are incorporated. You can choose some distinctive head-turning decors, family frame mounts, or rather the most beautiful piece in your home.
The way it feels good in your house might translate into an excellent zoom experience. Some people also do shelves with flower vases to make them unique and personal.
There is so much in terms of a zoom friendly office. However, as technology is, you are not limited to one thing. You can make your home office as attractive as you want by so much improvement.
Nevertheless, it would be best to be comfortable with everything in person before any other person. Consider all the factors ranging from your comfort to the general outlook to achieve a great home office.
Your appearance on a zoom call also plays a vital role. It doesn't cost you so much to be decent, so take up the challenge and appear decently on your zoom call.
Comments on this guide to How to create outstanding zoom-friendly home office article are welcome.
Building Articles
Contemporary Architecture
Comments / photos for the How to create outstanding zoom-friendly home office Advice page welcome