How RFIs Aid Successful Construction Project Delivery, Buildings, Architectural Design, Property
How RFIs Aid Successful Project Delivery in Construction
Building Construction: Architecture Article
21 July 2019
Requests for information are powerful collaboration tools if used well—but that's not true for a majority of contractors, architects, and sub-contractors operating in unforgiving site circumstances.
How RFIs Aid Successful Project Delivery in Construction Guide
Disagreements, arbitrary decisions, ambiguities, and errors precede would-be conflicts that can stall progress on a construction site.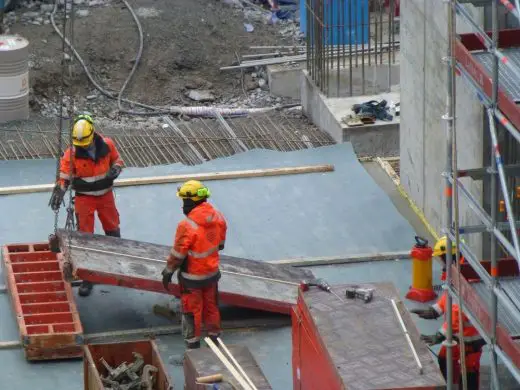 photo courtesy of article provider
To avoid and minimize conflicts arising between professionals, typically contractors and architects, the RFI process is resorted to. It sets a precedent for future projects if similar events surface with the objective to aid problem solving and improve contractor-architect relationships.
RFI Construction Project Delivery Advice
When either party use an RFI to consult on glaring discrepancies found on site, that usually means that either design drawings have to be modified or on-site processes need to be refined to meet desired ends.
An RFI isn't a standard contractual document but a supplementary tool to properly resolve issues. Meeting timelines and staying within budget can get unreasonable if knowledge transfer fails on critical parameters such as material selection, constructability, building code compliance, and design specifications.
Construction RFIs should bring clarity, not change orders. Let's review some key ideas that must drive their use.
Fostering Accountability and Teamwork
In several circumstances, contractors attempt to portray engineering architects as idiots by asking questions that don't lead to a conclusive resolution. This practice has unfortunately taken roots since contractors and subs don't want to reveal procedural lags on their part and transfer the prerogative onto architects to set the project record straight.
Issuing RFIs that are needlessly eating away productive time harm project schedules substantially more than actual hurdles do and which are likely getting overlooked. Certain RFIs also demand responses within unreasonable timeframes, say in 3 days, when the request needs thorough processing by reviewing potential discrepancies with multiple stakeholders. That said, it's not important to reply to every RFI that has been deemed "important" by the issuing authority.
It's accepted practice to respond with a concise statement clarifying why the RFI doesn't hold ground by citing specific references to contractual documents and drawings sheets. Every receiving party must assess the legitimacy of the RFI before considering responding as RFIs are notoriously time-consuming documents that can derail timelines, and may even make the client withdraw their contract if unnecessary delays are caught over trivial RFI processes.
RFIs should always be issues with a clean and clear purpose—to seek co-operation on verifiably problematic issues that can't be resolved otherwise. When contractors and architects work cordially, RFIs will no longer be seen with a negative disposition that it may take either party away from productive activities. It will be seen as a critical project success factor that'll push the team ahead of schedule.
Challenges abound when RFIs are issued, read this post to evaluate if you're using RFIs effectively.
RFIs Clearly Define Problems, One Conflict at a Time
Whoever is the sender must ensure that they're raising one query per RFI and are precisely detailing it for the receiving party to respond adequately. Each RFI has to be a standalone question lest contractors be doomed in information black holes.
Multiple RFIs will morph into a bundle of questions that will add costs and push timelines to dangerous extents. They also need to be readable, trackable, and timely for the receiver to do due diligence in claims handling if errors and omissions is alleged. While 7 days is the generally accepted response time for RFIs, it isn't the letter of the law as it depends on the complexity and type of project.
What is essential is that the RFI sender provide enough context about the discrepancy, attach supporting visuals, and put in guiding comments for the receiver to gauge the intent, content, and outcomes of the request. They must help decision making on the receiver's end without raising suspicions of misuse or abuse of the document.
RFIs Settle Disputes Before They Snowball into Financial Nightmares
The number one priority is to get to the heart of the dispute in an RFI. Whether it's inaccurate material cost estimation or a design flaw, an RFI must be written in a manner that doesn't superimpose blame but objectively seeks to understand the most optimal approach in resolving disputes. For this, it's crucial that contractors and architects collaboratively—
Define processes and tracking metrics
Standardize processes through the lens of predefined performance expectations
Establish measurement frameworks and fully recognize the variability of processes across projects
Perform root cause analysis through complete assessment of contract documents
Adhere to respect contract terms without agreeing on deviations
Digital RFI Tools Standardize RFI Processes
RFI management tools synchronize different elements in an RFI, whereby stakeholders can assess project data to arrive at insights and compare project histories to trace similar patterns to find answers. These tools revolutionize communication across construction project phases.
Given that each RFI costs $1000 and construction projects are known to average no less than 15 to 20 RFIs overall, RFI tools are nifty solutions to determine actual costs involved and concerns to be addressed before field activities spiral out of control. A huge amount of administrative and productive effort drives every RFI process, and it is in the interest of contractors and architects to minimize schedule and cost overruns.
Reviewing your RFI process in light of these ideas will enable you to draw maximum advantage toward intended goals. Streamline your project RFI planning and documentation through comprehensive construction RFI tools since they will provide immense value to your project by identifying risks early on and synergizing teams across all projects.
Building Articles
Comments / photos for the How RFIs Aid Successful Project Delivery in Construction page welcome