7+ home interior design tips for compact 2 BHK homes in India guide, New real estate
7+ Home Interior Design Tips for Compact 2 BHK Homes in India
17 November 2021
"Home is where the heart is."
Whether a house is a large villa or a small hut, the love, joy, and happiness among its residents are what makes it a home.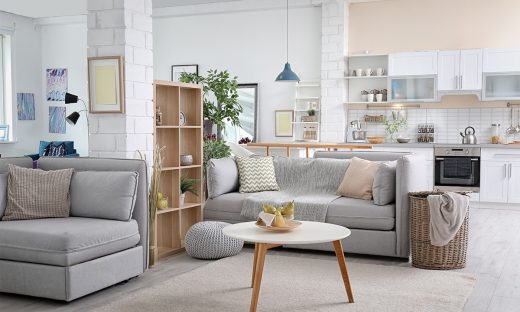 2 BHK homes have been the most popular choice for Indians as they are just the right size for an Indian family of four. Depending on the size of 2 BHK flats, they can be classified into spacious 2 BHK or compact ones.
The average area of a standard 2 BHK flat is generally 650-1000 sq ft. Large 2 BHKs usually have an average area expanse of about 900-1000 sq ft (sometimes, it can even go up to 1200 sq ft for a Luxury 2 BHK). Compact (or small) 2 BHK homes are generally built up over an average area of 600-700 sq ft, having a living room, kitchen, study/pooja room, a kids' room, a master bedroom, 1 or 2 bathrooms, and may come with or without a balcony.
When it comes to home interior design, there are unlimited options, and choosing the right design for your home will primarily depend on your taste, style preference, what you have planned, etc.
How to Furnish a Compact 2 BHK Flat in India?
No matter what style of interiors you decide to opt for If you are living in a compact 2 BHK, here are some basic tips & tricks to follow when planning your home interior design.
#1 Make the Walls Interesting to Look At
Irrespective of whether you're designing a compact 2 BHK or a large one, create a modern style statement by decorating any one wall in the room. Not only does this grab the attention of anyone walking into the room, but also gives a refreshing look for the residents. too
Add wallpapers made of paper, vinyl, fabric, or PVC, or get an upholstered wall (which isn't even too hard to clean).
Tip: use walls to their maximum potential to get some free space to move around in the room; read below to know what are the best options for
#2 Use Mirrors for an Expansive Look
One of the oldest design ideas in the book: Using a mirror to create a feeling of space as well as light in any small room.
Reflective surfaces give the feeling of spaciousness due to the added reflection of the space facing the mirror. If the mirror faces a window or door, there will be an abundance of natural light flowing into the living space, giving the illusion of a few more square feet.
Other high-shine or reflective surfaces
Note: when relocating homes, never move mirrors by yourself; without the right type of packing material or equipment, mirrors can easily break during the move. Hire experienced relocation service providers to move your mirrors 100% safely with the necessary skills & equipment. Visit AssureShift.in to get in touch with pre-verified and trusted moving companies in your city and experience safe & smooth moving at affordable costs.
#3 Express Yourself with Pastel Shades
Light, soothing colors give the impression of spaciousness in a small compact room as light reflects off every wall, creating the illusion of a much bigger space than it actually is (much like how it works with mirrors).
Pastel shades also have a calming effect on the mind; you can make your home an abode of tranquility with the right combination of pastel colors.
However, keep in mind that choosing pastel shades is easier said than done. Taking the right guidance from an interior design expert is essential to ensure a chic and warm home interior look.
#4 Be Resourceful & Use Double Duty Furniture
Ingenious furniture items that remain hidden until required for use, are helpful in saving money as well as space; some also come with the added advantage of serving a variety of purposes.
Furniture that can be easily put away after / when not in use gives you a lot more usable square footage. Another benefit of double-duty furniture is that it can be used for a variety of purposes as per your requirement.
Space-saving furniture like a bed with storage, skirted furniture, sofa cum bed, book seat, full wall bed with storage, and many others, are incredibly ingenious and allow you to live in style without compromising on space.
#5 Opt for Bigger (but fewer) Furniture & Rugs
Play with scale.
Making a big statement in a small living space need not be scary; it's all about tricking the eye into seeing more than what's actually there. Looking at small rugs in a small room gets the mind thinking – small. Large rugs, however, give the feeling of a larger room and a sense of grandeur.
The bottom line – Be it furniture, rugs, wall art, mirrors, or light fixtures, big is the new perfect fit when creating modern, stylish & cozy compact living spaces.
Note: relocating furniture by yourself must be avoided at all costs in order to prevent yourself from getting injured as well as to safeguard expensive furniture from damage. Hire genuine & reliable professional packers & movers near you via AssureShift, for safe and secure shifting.
#6 Let There Be Light! (Natural & Electric)
You can liven up any dull place & open up any small space by allowing enough natural light in!
Light not only creates the feeling of more space but also adds more clarity to the entire space and brings the feeling of warmth.
If not, enough natural light is possible, put up some additional light fixtures in the room like string lights, fairy lights, pendant lighting, or wall sconces.
#7 Keep the Floor Clear of Obstacles
The key rule to remember when decorating small living spaces is: Keep the Floor Clear of Obstacles.
The more items (or clutter) present around the middle of the room, the more congested the room will look and feel. Keeping the ground clear of things is essential to create space to walk around freely as well as if extra storage is required.
Push back large items like sofa, bed, shelves, tables, etc., against the walls. Also, consider adding a bookcase/shelf behind the furniture for additional storage & to add visual interest to the space.
#Bonus Tip: Maximize the Use of Vertical Spaces & Corners
Small living spaces have lesser easily-available square footage on the ground than at eye level (mainly because of the furniture & other things that hide the floor from sight). Also, there is usually some freely available square footage that's generally overlooked & unused.
Use ingenious space-saving hacks like mounting your TV, shelves, bookcases, or multi-purpose furniture on the walls to free up space on the ground & ensure more efficient use of space. Additionally, using vertical spaces creates an illusion of a higher ceiling, in turn, creating the feeling of a lot more space than actually present.
Similarly, the nooks & corners of every room are usually underused because of the lack of items that would fit there (and most of the time, just because it's forgotten).
The best solution is – fix small racks or bookshelves in the wall corners & use them for storage. Also consider installing wall-mounted desks or tables that can be folded into the corners when not in use, thereby utilizing the corner space well.
Basic Design Ideas for 2 BHK Homes in India
For a minimalistic design, you can play around with colors & use mirrors to make your living space look more open and livelier.
Traditional home interiors, a style that comes down to us from our history & previous generations, is also one of the most sought-after home interiors looks in the present day. With sufficient woodwork, the right accessories, and a touch of orange/red/brown colors, you will be able to really bring out the cozy, dreamy, traditional home to make a perfect Indian village-style home.
You can also opt for theme-based interiors, inspired by your favorite TV show, movie, place, etc. This gives you the opportunity to let your imaginations run wild and use your creative eye to decorate and set up your entire place as per your wish.
____________________________________________________________________________________
When it comes to imagination, the sky is the limit.
Planning your home interior design is best if it's a personal affair – sit down with your family and come up with some good design ideas for your home. Next, make sure to get in touch with an interior designing expert once you have an initial idea of how you want the interiors to look.
Whether it is about choosing the right pastel color, or where to set up mirrors, or what kind of art to put up, or any other such clarification – professional interior designers will be able to show you the virtual outcome of your ideas with the help of their advanced software; they will also be able to suggest & make necessary changes with your inputs, to arrive at a final and best design.
Comments on this guide to home interior design tips for compact 2 BHK homes in India article are welcome.
Indian Building Developments
Indian Architectural Designs
India Architecture Designs – chronological list
The Camellias Club, Gurugram, Haryana, northern India
Design: Rockwell Group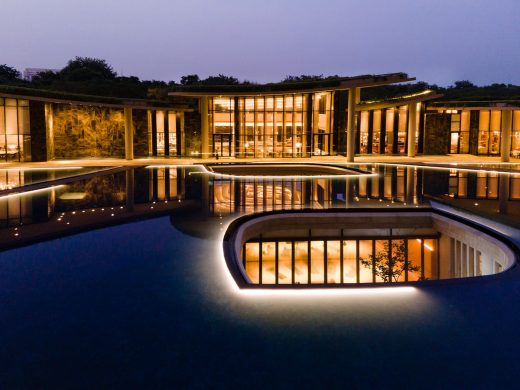 photo courtesy of DLF
The Camellias in Gurugram, Haryana
Prestige Liberty Towers, Mumbai
Architects: OMA / Iyad Alsaka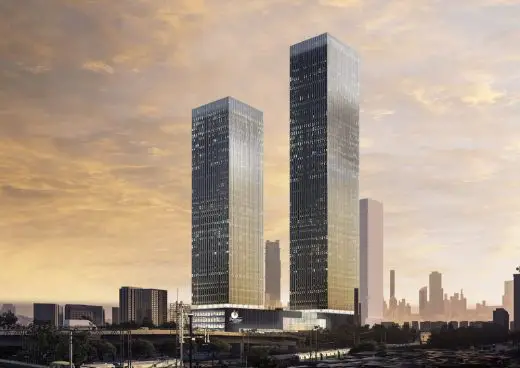 image courtesy of architecture office
Prestige Liberty Towers, Mumbai
Building Articles
New Architecture Designs
Comments / photos for the Home interior design tips for compact 2 BHK homes in India page welcome