How to furnish a room interior design in a dorm guide, Student dormitory decor advice, Space tips
How to furnish a room: interior design in a dorm
26 Oct 2021
Even in today's realities, the apartment issue remains relevant. Many of us know firsthand about the life and way of life in hostels. Moreover, to live in them can not only students but also entire families.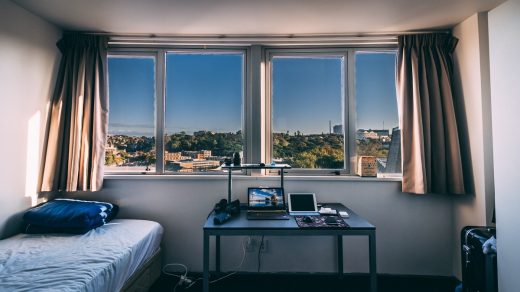 However, this does not mean that the issue of arrangement even of such housing should be treated carelessly. The main feature of the repair of such a room is the need to merge into one space all the functional areas. That with the right arrangement and selection of furniture becomes quite feasible.
How to furnish a room in a dorm
Student room: zoning 2- and 3-bed into sections
The subtleties of zoning a room in the dorm directly depend on how many people and how long they will live in it. The easiest way to arrange a room is in a student dormitory. Often 2 to 3 people are living in one room. This is called a 2-bed or 3-bed room; each separate zone is called a section. Moreover, many students do not change roommates during their entire period of study, which can last 4-5 years.
Kitchen layout places to sleep. In any, even the smallest dorm room, there must be a place to sleep and a work area. As for me, it's very important to have a separate place where I can type my essay and where I can eat. If there is a kitchen in the room, then it, too, should be allocated as a separate functional area. Ideally, each resident should be equipped with separate sleeping and workspace. If there is too little space in the room, then you can use double beds or beds-entresols as an alternative. Check out https://essayassistant.org/type-my-essay/
Arrangement and design of the room in the dorm
The walls in such a room can be wallpapered or painted with your own hands (in case the rules of residence allow it). Interior of the living room in light colors will help, on the one hand, to visually correct the space (visually increase the area, improve the geometry of the room), and on the other hand – to create a pleasant and unobtrusive atmosphere in it. Before proceeding to any manipulations, consult with your neighbors.
You can even draw a rough sketch of the location of the main areas and their design. To save space in the work area you can hang a few simple shelves for books and stationery. Each of the neighbors should have its shelf. If the room is large enough, the sleeping area can be separated with a curtain or screen. These are some of the simplest and most budget-friendly ways. If you pay attention to the creative works of novice designers, you can find a free apartment design project from students and apply it to your room.
In the case of a family dorm (communal apartment) is not just to form a cozy living environment, but also to create a space for a comfortable stay for the whole family. Often such rooms are very small and narrow, so we have to use every inch of space. In such a room must be present sleeping area and living area. If necessary, they can be combined. To do this, a special sofa transformer can be installed in the living room. What will be the purpose of each zone will help to decide the design of the narrow room.
It is most difficult to accommodate a family with a child in the dormitory. One way or another, he will need a separate sleeping and working space, as well as a place to play. The most convenient option, in this case, would be to use bunk structures, where the upper tier has placed a crib, and the bottom – a closet and a compact workspace. On the stairs, themselves are often installed sliding cabinets to store toys or clothes. It is especially difficult in a dormitory to think through the design of a children's room for a boy and a girl.
So to allocate zones can be used different colors of wallpaper or flooring. For example, in the children's area, you can glue a brighter wallpaper, while in the living room area it is better to use restrained pastel colors. As a partition wall, you can use a cabinet placed perpendicular to the wall. So you'll get a partition and a place to store things. Appropriate in such a space will be the division of the floor covering. To do this, you can apply carpets or combine in different areas coverings with different textures.
Comments on this guide to how to furnish a room: interior design in a dorm article are welcome.
Building Articles
Architecture Design Posts
Dortheavej Apartments, Copenhagen, Denmark
Design: BIG – Bjarke Ingels Group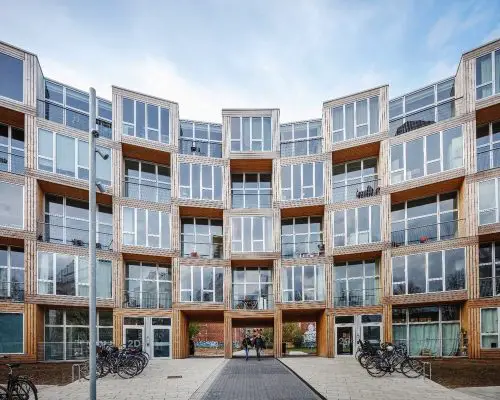 photo : Rasmus Hjortshoj
Dortheavej Apartments in Copenhagen
Essay Writing
Essays Posts
How to Write a Scholarship Essay that Wins
How to Write an Architecture Essay
Comments / photos for the How to furnish a room: interior design in a dorm advice page welcome