Glass Box Extensions, Home Expansion Advice Buildings, Global Projects, Architecture Images
Glass Box Extensions: Home Expansion
Discover 10 Great Examples – Architectural Article by Houzz
7 Dec 2016
Glass Box Extensions – Discover 10 Great Examples
From a simple square to something more impressive, contemporary extensions are light, bright and innovative
Article first published on Houzz
Joanna Simmons, Houzz Contributor
While an extension expands your home, a glass-box extension takes it in a new, stylish direction. Why have a solid roof and walls when a gorgeous glass structure is so much more exciting? It will pull in tons of light and give you views to the sky and garden beyond, and a glass-box extension suits almost any style of property. What's not to like?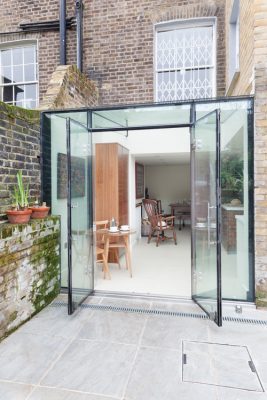 Squeeze into an unused space
A glass extension looks light and unobtrusive in a small, tight space. This example in Islington, North London, encloses a previously unused area.
What you need to consider when planning a rear extension
Frame it with wood
Wooden window frames give a softly rustic feel to this glass extension and the vertical lines help to frame the view.
Team with dramatic colour
When you have this much natural light flooding in, you can afford to be bold with paint colours. This extension is painted black, the colour taking on a dusky warmth in the bright daylight.
Fall for frameless
This impressive Queen Anne house has been modernised with a new glass extension. Because it's frameless, it doesn't detract from the beautiful period architecture, and, with nothing to block sightlines, the views from inside over the pool and beyond are spectacular.
Match up your floor levels
This spacious glass extension opens onto a wide terrace. The floor levels are exactly the same, so the doors can be pulled back to give the dining area a real alfresco vibe.
Discover more terraces and patios
Do the double
A double-height glass space allows diners in this London house to look out and up to the garden and the sky. From the living room above, you can look over a glass balcony onto the dining space.
Pair with period architecture
Glass can work with any type of property. This contemporary extension makes a gorgeous addition to a period cottage in Wales. Additional bay-style windows help to pull extra light into the cottage interior.
Explore 10 UK homes that mix old and new
Opt for barely there
This pared-back glass box was built to replace a semi-derelict conservatory. The idea was to create the most minimal structure possible, and it preserves and enhances the elegance of this Grade II listed Georgian house.
Think beyond the side return
Simple and elegant, this classic glass-box extension has been turned into a striking dining space. Rather than filling in the side return, the extension sits on the back of the house, leaving a good-sized space at the side for an intimate alfresco dining area.
Bring light to a dark area
A sleek addition to a detached house in London, this glass-box extension is now a living room with views over the garden. This side of the house is quite dark, so the glass roof, supported by glass beams, creates a light-filled space.
Residential Property Articles
Architectural Articles
Globalisation Architecture by Trevor Tucker
Barclays Center Brooklyn by Dimple Soni
Comments / photos for the Glass Box Extensions article page welcome